Samsung GT-N8000 resurfaces for Bluetooth testing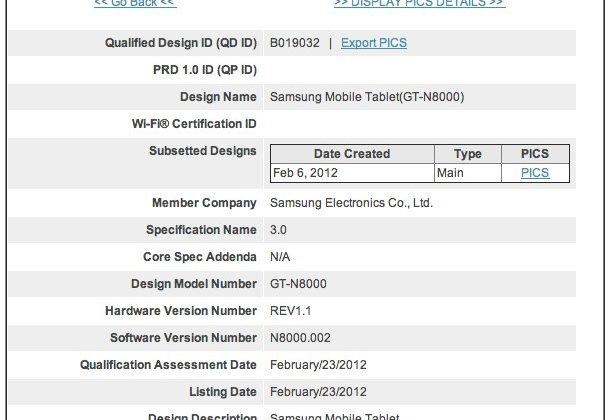 Samsung's GT-N8000 Mobile Tablet, believed to be a successor or companion device to the Galaxy Note, has resurfaced, with the device passing through the Bluetooth certification this week. Details on the N8000 are still largely unknown, with the device – listed only as a "Samsung Mobile Tablet" – initially spotted having its WiFi certified back in January.
That confirmed the device had dual-band WiFi a/b/g/n support, though described it as a "smartphone" rather than as a tablet as in the Bluetooth SIG's listing for its v3.0+HS testing. It seems opinions are still split as to whether this new type of hybrid is really a smartphone, or a tablet, or a Dilbert-frustrating "phablet".
The original Galaxy Note, announced back at IFA 2011 and hitting AT&T on Sunday, is the GT-N7000, leading to assumptions that this N8000 is either a more advanced model or the replacement. A GT-N8013 variant was also listed as receiving WiFi approval, along with the GT-N8010, potentially different international models.
Samsung is also rumored to be preparing a larger, stylus-enabled device – a tablet version of the Note – called the Galaxy Note 10.1 for Mobile World Congress next week.
[via GottaBeMobile]