Samsung Galaxy Note 10.1 tipped for MWC 2012 debut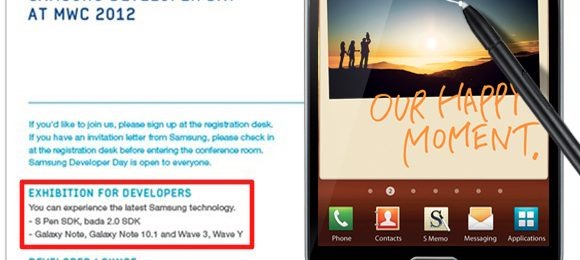 Samsung has apparently confirmed a 10.1-inch tablet version of its Galaxy Note pen-enabled smartphone, the Samsung Galaxy Note 10.1, with an S-Pen developer event to be held at MWC 2012 later this month. Mention of the device – presumably a version of the Galaxy Tab 10.1 with stylus input – is made on Samsung's official blog, and while it's possibly a mistype, other signs point to it being a legitimate product.
For instance, a casting call for a young actor to star in a Galaxy Note 10.1 commercial was spotted by The Verge, no longer available officially but still visible in Google's cache. The advert "will show a Galaxy Note 10.1 used for education, financial planning, and art" while the actor would play the role of a "teen student" that "uses his Galaxy Note 10.1 to record, take pictures, edit" and more.

It's not the first we've heard of Samsung looking to extend S-Pen functionality beyond the 5.3-inch Galaxy Note. Back in January, a Samsung product marketing manager hinted that the company saw obvious advantages for tablets with digital pens; "I think a pen interface continues to make a lot of sense across a number of screen sizes," Ryan Biden revealed, "like the larger is more obvious of those."
That Samsung would reuse the Wacom-based pen technology is unsurprising. An S-Pen SDK has already been released, allowing developers to create their own apps which use the more accurate input option, and Samsung has been releasing software tailored to the stylus through its own on-device app store.
With the Galaxy S III no longer expected at Mobile World Congress it looks like Samsung will still have a few interesting tricks up its sleeve for the show. We'll be in Barcelona at the end of February to bring you all the details.