Samsung Galaxy Note may have successor in GT-N8000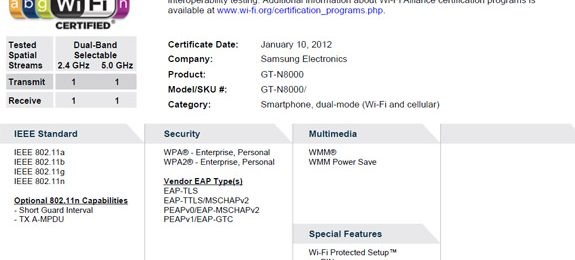 The Samsung Galaxy Note has just made its way to the US through AT&T, but rumors are already brewing around possible successors or even larger variants. Tipping off this speculation are WiFi certifications for two new Samsung devices with the model numbers GT-N8000 and GT-N8013.
The two model numbers fall in line with that of the Galaxy Note, which has model number GT-N7000. This suggests that the GT-N8000 could be a larger sequel to the Galaxy Note and that the GT-N8013 could be a variant of that device. Recently, another model GT-N8010 had also passed WiFi certification, suggesting three variants of this upcoming handset.
All this is speculation, but what we do know from the WiFi certification docs is that the device will support dual-band WiFi a/b/g/n and that it is a smartphone and not a tablet. With the Galaxy Note already sporting a massive 5.3-inch screen, it'll be interesting to see what these new devices have in store. Perhaps we'll find out more at Mobile World Congress next month.
[via Unwired View]