Can Samsung convince Dilbert on the Galaxy Note?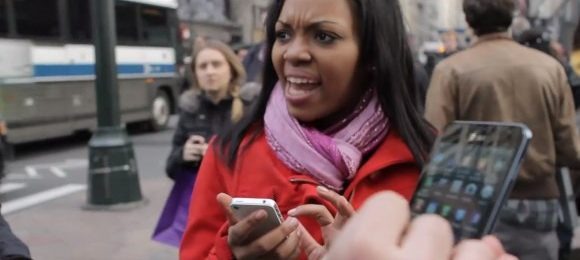 Samsung can't stop sniping at Apple, and the latest Galaxy Note street challenge seems to have convinced at least one disgruntled iPhone owner; however, the Korean firm still has Dilbert to persuade. For its latest commercial, Samsung apparently took  its 5.3-inch smartphone-tablet hybrid to the mean streets of New York City, giving Android users a few hours to get to grips with the "phablet", and then pitted them against iPhone owners on a series of challenges.
The street tasks go heavy on in-built functionality, with the Galaxy Note's annotation abilities as well as its photo editing tools each put through their paces. In contrast, the poor iPhone owner is left gaping at her Samsung-toting rival.
It makes for a good video, of course, but you could arguably find app alternatives in the iOS App Store to achieve most if not all of what the Galaxy Note manages on the iPhone. Still, by the end she seems convinced enough to plan to upgrade to the Samsung next time around.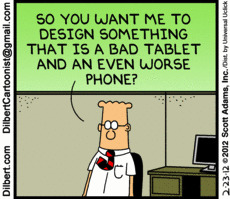 Unfortunately, not everyone is so readily convinced. Dilbert creator Scott Adams lampooned "phablets" in his strip today, describing the concept as "a bad tablet and an even worse phone." It's a stance shared by many, and the phone/tablet hybrid market is still yet to convince us whether it's a fad or a legitimate niche.
An entry by Google or Apple could go a long way to tip things toward the latter, but so far it's a two-horse race between the existing Galaxy Note and LG's new alternative, the freshly-announced Optimus Vu.
More on the Galaxy Note in our full review of the AT&T LTE version and of the original European model that went on sale last year.