Samsung Galaxy S8 leaks: Tiny bezels, moved fingerprint sensor, more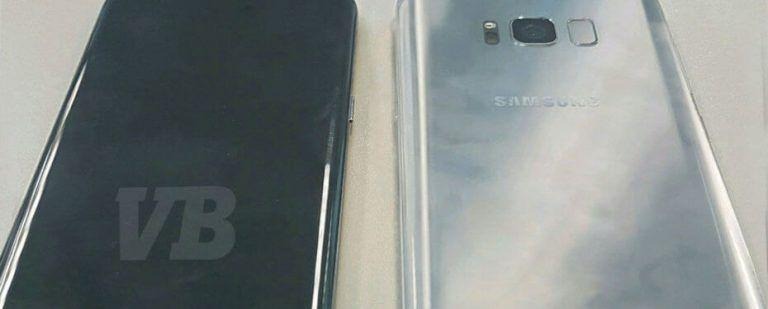 The Samsung Galaxy S8 has been caught in the wild, ahead of the new flagship smartphone's release in just a few months time. The hotly-anticipated Android device has been the subject of fierce speculation in the months since Samsung was forced to recall the Galaxy Note 7 following its battery meltdowns, with questions as to whether Samsung would condense Note and S-Series functionality into the same device. Now, confusingly, it looks like that's both true and not entirely the case.
According to VentureBeat, the Galaxy S8 – which will actually be offered in two forms, differentiated by two screen sizes – will be Samsung's largest S Series handsets to-date. Screens of 5.8-inch and 6.2-inch are expected, notable for being larger even than the 5.7-inch panel on the ill-fated Galaxy Note 7. Both will use Super AMOLED panels, running at QHD resolution.
Those larger sizes have forced Samsung to change the aesthetic of the Galaxy S8 considerably from its predecessors. Like the Galaxy S7 edge the screens will curve around both sides of the phones, something earlier reports already suggested, but they'll also use atypical aspect ratios of 18.5:9 rather than the more common 16:9. There, Samsung won't be alone in opting for an usually-shaped screen, as LG is believed to be doing something similar with the LG G6, albeit with a smaller panel.
By shrinking the bezels top and bottom, Samsung will supposedly keep the two Galaxy S8 phones hand-friendly. That, of course, will require the physical controls – usually on the fascia, below the display – to be moved. The fingerprint sensor, for instance, has been shifted from the now-nonexistent home button to a new place next to the camera lens on the rear.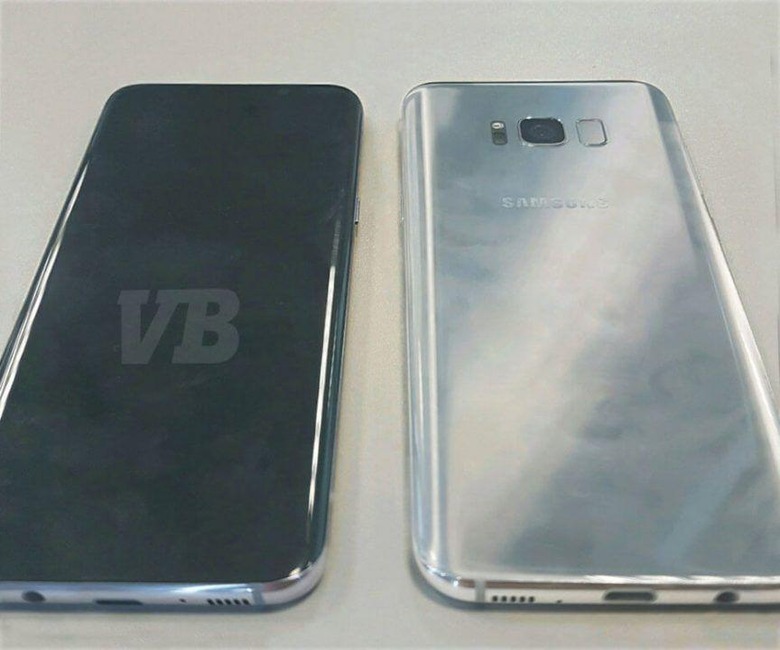 Meanwhile, Samsung is said to be using a version of Apple's Force Touch system, at least on the lower half of the display. Responding not only to touches but to pressure, it could be used for virtual versions of the usual Back and Task-Switcher keys previous S Series devices have. A dedicated button on the side, meanwhile, will trigger Bixby, Samsung's much-rumored alternative to the Google Assistant.
Bixby will apparently be able to answer questions and work as a virtual assistant, but also support visual search. Objects framed in the camera could be searched for on online shopping sites, for instance, while text could be translated, much in the way that Google's Translate app is able to. That camera itself will be a 12-megapixel example with f/1.7 optics – it's unclear how that differs, technically, from the Note 7's camera at this stage – while the front-facing camera will be 8-megapixels and also have an f/1.7 lens.
The Note 7's iris scanning security will be carried over, it's said, as will its USB-C port for charging. A 3.5mm headphone jack will be present, bucking the industry trend for pushing solely for wireless audio, and there'll still be a microSD card slot. That'll augment the onboard storage, which will be at least 64GB.
As for processor, that'll either be Samsung's own Exynos or, region depending, Qualcomm's newest Snapdragon 835, which is actually being produced on Samsung's own 10nm lines. Either way they'll be paired with 4GB of RAM. Non-removable batteries will clock in at 3,000 mAh on the Galaxy S8 5.8 and 3,500 mAh on the Galaxy S8 6.2, it's said.
The controversial Samsung DeX dock, which will turn the Galaxy S8 into a desktop computer of sorts, also gets second-confirmation. It will be sold separately, the report suggests, though it's unclear at this stage how much it might cost. As for the S8 itself, US pricing is yet to leak, but there's apparently a price increase for Europe: the 5.8-inch S8 will be up 100 EUR versus the old, smaller S7 to 799 EUR, while the 6.2-inch S8 will be 899 EUR.
As expected, you shouldn't plan on seeing the Galaxy S8 at Mobile World Congress next month. Instead of Samsung's usual Unpacked Barcelona event, the company is believed to be waiting until March 29 before it reveals the phone. There's speculation that it's to give Samsung more time to go through its multi-point check on battery safety, in the hopes of avoiding another Note 7 debacle. The Samsung Galaxy S8 release date, meanwhile, is believed to be April 21.
SOURCE VentureBeat & Evleaks