Galaxy S8 "Dex" device release coming to replace your PC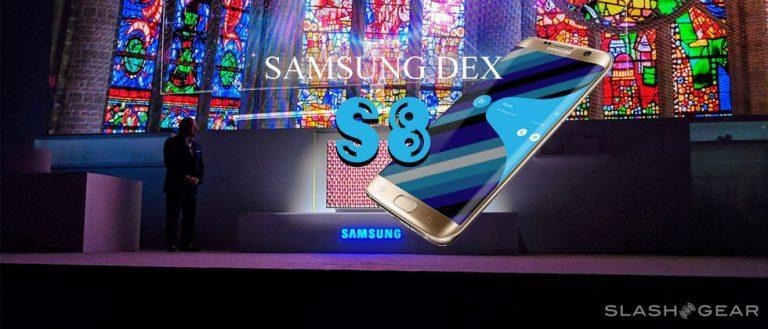 This week the folks at the United States Patent and Trademark Office have essentially confirmed the existence of the Galaxy S8's secret weapon. One of the strangest moves from Samsung – though not entirely unprecedented, with the Galaxy S8 will likely be this: Samsung Dex. This device has been rumored for a short while as a dock which allows the Samsung Galaxy S8 and Galaxy Note 8 to act as their own desktop-like computer.
Samsung has filed for a trademark on the name "Samsung Dex", attaching it to an interesting set of Goods and Services. According to the
, this trademark is for "Application software, namely, for projecting the screen of mobile device to displays via computer peripheral devices and wireless networks; computer peripheral devices; computer software for wireless network communications; computer software, namely, software for controlling user interface mode adaption."
Adaptation is a key word here – user interface mode adaptation, meaning the smartphone, when plugged into Dex, no longer relies on the same UI as it did as a smartphone. Instead, it's fairly obvious here that Samsung created something akin to the
That was an ill-fated attempt to turn the Motorola ATRIX smartphone into a laptop-capable device with software called "Webtop."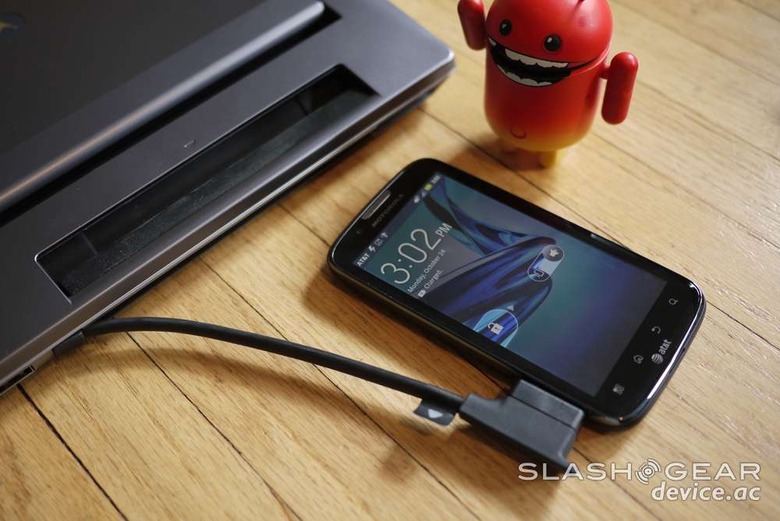 Unfortunate for Motorola, their hardware didn't add up to something that could take on their nearest competition. Their software was relatively decent for what it was, but smartphone processing power wasn't up to snuff. It was a great idea, well before its time. Or so it seemed to me, anyway.
As the folks at
show, Samsung has also filed for a trademark for a "Dex Station". The Dex Station is likely the device, while Samsung Dex is probably the brand for the ecosystem.
Just yesterday it was tipped that the Samsung Galaxy S8 would include "Infinity Display" branding and would be launched with
I would not be surprised if Samsung's big push for the Galaxy S8 included talk of how their experience goes beyond the edges of the display you keep in your pocket – smartphone, off the edges (2 nearly-borderless sides to the display), docked with DEX, off to whatever other massive displays the user has handy.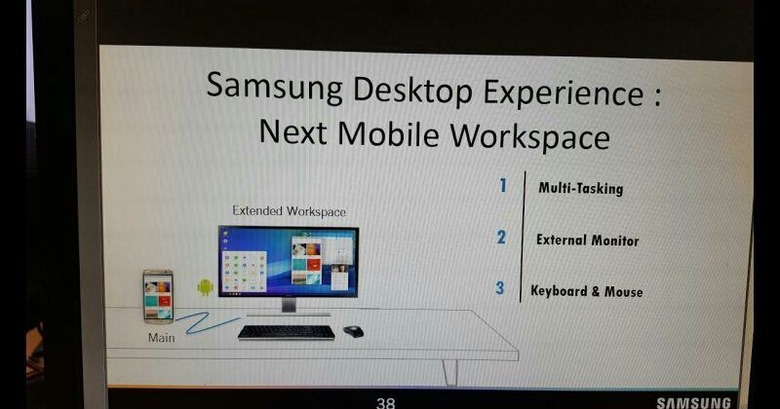 Above you'll see an image leaked earlier this year suggesting a
- as it was put by our own JC Torres. That's what Windows 10 has with the most recent Windows Phone devices, and – by all means – it appears that that's what we're getting with a Galaxy S8 with a DEX. This slide image seems to be very, very rudimentary, so we would not be surprised to see something wildly different by the time the Galaxy S8 is revealed.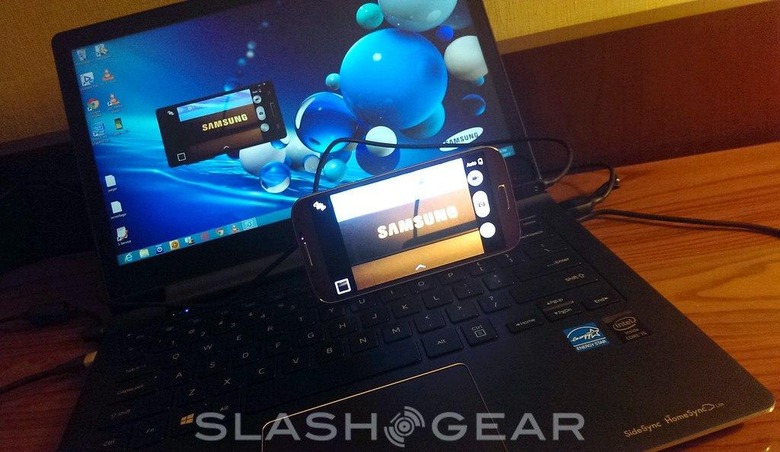 Samsung has also been working with software they call SideSync for quite a while. We took a brief look at how a
Samsung Galaxy S connected to a Samsung notebook
back in 2013. More like mirroring than running a full PC experience from a phone, that system wasn't quite what we're expecting here in the year 2017. Since then we've heard relatively little about Samsung's efforts in this space.
The Samsung Galaxy S8 will likely be revealed within the next several weeks. It's been suggested by several trusted sources that the Galaxy S8 will not be shown to the public during Mobile World Congress 2017 at the tail end of February, which would indicate a later reveal date and release date. Expect the Galaxy S8 and DeX and whatever else Samsung has ready to take on the mobile universe some time in March!