Galaxy S8 Leaked To Get Continuum-Like Experience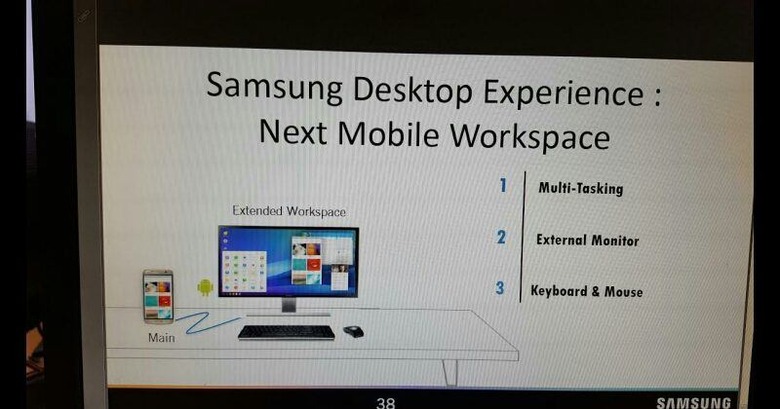 Our smartphones are very capable computers in their own right and some have even taken that to its logical extension. Features like Microsoft's Continuum and Ubuntu's Convergence give the promise of turning our smartphones into our desktops, give or take. It seems that Samsung might be joining the fray in just a few months if this leaked slide means what we think it means. Supposedly taken from a presentation for the Galaxy S8, it shows what Samsung is calling its Desktop Experience, which looks pretty much like Windows 10 Mobile's Continuum feature.
The lone slide shows a smartphone, presumably the Samsung Galaxy S8 connected to a monitor with a cable and to a wireless keyboard and mouse. On the monitor, one can see what is a familiar desktop environment, but one with an app launcher eerily similar to Chrome OS. It also shows what are most likely Android apps, like Samsung's Gallery app, in floating windows. That pretty much also describes how Continuum works, at least except for the floating windows part (coming in this year's update).
It would definitely be an unexpected surprise if Samsung made this real, given it has not made any hints it was at all interested in such a path. But it probably won't be too much of a big change for Samsung. It already has the technology and features in place, like floating windows. All that's left is to stitch them all up together into a coherent whole such as this.
If this does come to pass in the Galaxy S8, it would be a curious shift in direction for Samsung's flagship. This would give it a more productivity-oriented flair, something it usually reserves for the Galaxy Note line. Already, the Galaxy S8 is rumored to support the S Pen, another Note exclusive. Perhaps Samsung is indeed phasing out the Galaxy Note line in favor of a single but multi-talented Galaxy S champion per year.