Samsung ATIV Book 9 Plus Review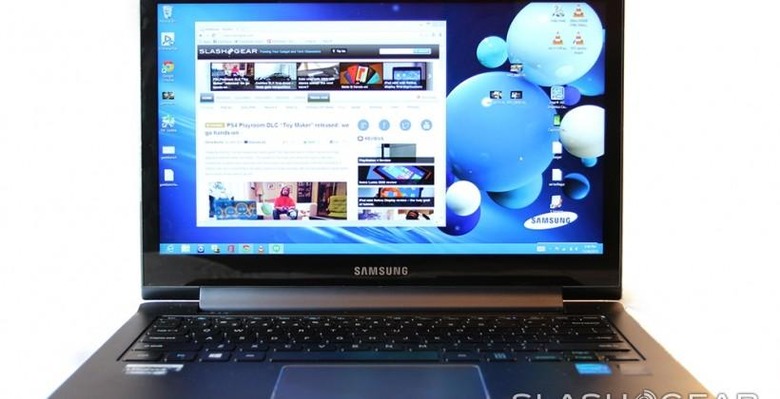 In the Samsung ATIV Book series, the company comes to a point in their history with notebooks that they're ready to go to battle with the highest-quality units in the industry. In the ATIV Book 9 Plus with 13.3-inch LED QHD+ (3200 x 1800 pixel) touchscreen display and Intel Core processor under the hood, there's scarcely a Windows 8 laptop on the market that we can recommend against it. Not one constructed of pure aluminum, at least.
Hardware
The unit we've been reviewing for weeks – top to bottom, with real-world tests in play – brings an Intel Core i5 4200U processor. At 1.60 GHz speed with a turbo boost at 2.60 GHz, this device is built for more than just the standard user. It's made to be able to handle every kind of entertainment and work usage you'll be able to toss at it.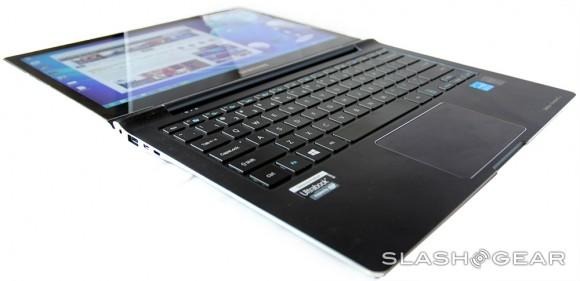 If you're aiming for the biggest and the most powerful workstation notebooks on the market today, you'll want to hit up the HP ZBook 15 – this Samsung machine isn't all-out work power. Instead you've got an experience that's optimized for performance at the same time as it is for thinness and aesthetic purity. The Samsung ATIV Book 9 Plus is certainly a fine-looking notebook.
The display on this notebook feels ahead of its time. If you've used a notebook with even 3/4 as dense an array of pixels on this size a screen, experiencing this notebook's display will seem a shock at first. With 350nit SuperBright Technology you'll also find that this notebook's display can get too bright for most everyday experiences – you can easily adjust direct from the keyboard, the same as you can volume and keyboard backlighting.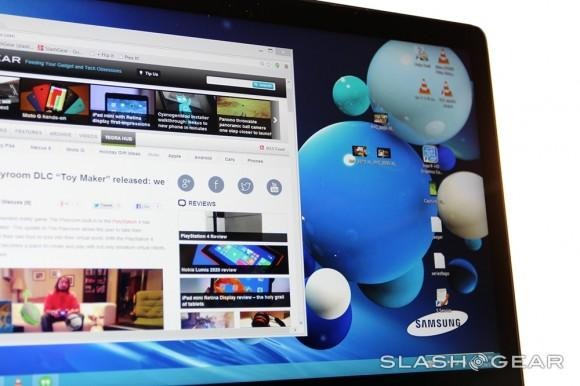 You've got 10 point touch up front which we've found to be as accurate as we've ever experienced on such a panel. Touchscreen response time on this notebook has been as good or better than any other touchscreen we've used on a notebook.
As for I/O ports, you've got a well-considered set of bits and pieces that'll run best for the massive cross-section of users that will see play with this machine. You've got 2 x USB 3.0 ports (full size) with excellent sleep-and-charge action. This means you'll be able to run USB cords out to your smart devices while this notebook is asleep, allowing you to leave the adapters at home while you're traveling.

Also along the edges you've got a single micro-HDMI for outputting to massive displays, VGA if you've got the correct dongle, and Gigabit Wired Ethernet LAN with a dongle included with the notebook in-box. There's a single headphone-mic combo port and a multi-card slot as well, able to work with SD, SDHC, and SDXC cards – and it swings inward rather than pulling out, just about as top-notch as we've seen in an otherwise open or awkward port situation.

The system weighs in at 3.06 pounds and is a mere 0.54-inches thin. With a full metal jacket – top and bottom, inside and out – save the reinforced glass front to the display. The top is able to fold back 180 degrees, allowing the whole machine to go essentially flat. This isn't a transforming notebook, and given the relative few amount of times we've ended up using the touchscreen, you may very well end up opting to turn that bit off as well. This notebook works just as well without touch, mind you, if that's the sort of way you'll opt to use it.
Software
Since we started this long-lasting review, Windows 8.1 was unveiled and we've made with the installation. While this update has made little impact on the overall Samsung-provided experience with this notebook, there are a series of boosts that we've found entirely helpful in the evolution of the Windows 8 experience. Have a peek at our Windows 8.1 installation guide and hidden gems exploration for a better look at what it means to work with this most current system.
As for Samsung's features in differentiating the software experience from the rest of the Windows 8 devices out in the wild, you'll find some interesting bits and pieces in the smartphone arena. One of these features is Samsung SideSync.
With SideSync you'll be able to connect a collection of Samsung smartphones – the most recent couple of generations of Samsung Android devices included – to your PC with ease. This connectivity goes well beyond that of Samsung's old Kies client which is made to look ancient by comparison. In addition to being able to mirror your device's display on your laptop's screen, you'll be able to easily transfer files to and from your Galaxy S4, Galaxy Note III, and more with or without a hardware connection.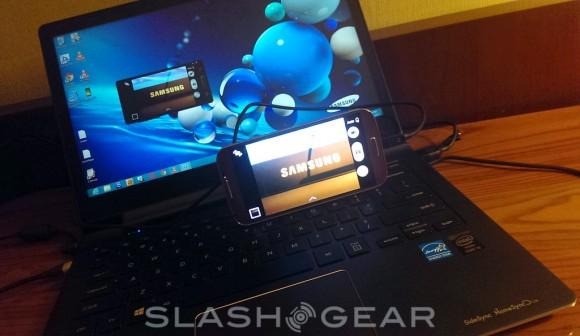 While we've seen this system work flawlessly over the past several weeks, we've found that it still feels more natural to send files back and forth with 3rd party systems like Google Drive and Dropbox. Samsung's SideSync system will be heavily appreciated by the hardcore Samsung fan, and those looking specifically to make their smartphone experience entirely integrated into their daily sit-down computing lives.
Windows 8 has otherwise performed as flawlessly as we've ever seen it run here with Samsung's hardware, making this device – again – one of the Windows 8 devices to beat here heading into 2014. That's including desktop machines to, mind you, not just the laptop arena.
Performance
Outside general everyday use, the Samsung ATIV Book 9 Plus rolled out some impressive numbers for its category in Geekbench 3, keeping well ahead of the pack whilst sticking with unassuming industrial design. In short, it would appear that the Samsung ATIV Book 9 Plus is a real contender amongst the notebooks in the arena today working with Intel i5 processor architecture despite it's ultra-thin and smooth looks.
This was likely Samsung's intent with this machine, making a show of power with an optimized combintation that has it running comparisons with the Apple MacBook Air lineup. While it's not entirely appropriate to compare the two due to their rather separate operating systems, it's easy to see how the two might meet in battle. Until we get them both in the video processing lab at once, we'll stick to recommending each as the best in their class for what software they run – Windows to Windows, OS X to OS X.
Battery
With an integrated rechargeable 7300mAh battery, you'll be rolling with a clean 8 hours of battery life in work-all-day situations. With a never-closing top and constant brightness held, our standard workplace testing showed the Samsung ATIV Book 9 Plus to hold its own against an honest day's blog publishing.
This puts the device right up alongside many of today's highest-end Windows 8 notebooks, showing itself to have no trouble getting through a rough day's work with ease. We've got no concern in bringing this device into the field for some field work in the technology reporting world, that's for certain.
Wrap-up
Utilizing the best in optimized hardware from the past several generations of Samsung notebooks and today's finest in processing power (save the slightly more expensive Intel i7 version of this device), the Samsung ATIV Book 9 Plus is easily one of the finest laptops on the market today. Even without the value-adding features like the ability to become entirely flat, a 10-point touchscreen, and unique connectivity options with Samsung smartphones, this notebook is well worth your time going into 2014.
Have a peek at the rest of our Laptop Reviews archive to see the best of the best in new notebook releases and consider the Samsung ATIV Book 9 Plus and its more powerful Core i7 relative as a couple of our reccomendations for best in the field.