Samsung ATIV Book 9 Plus and Lite official: AMD or Haswell inside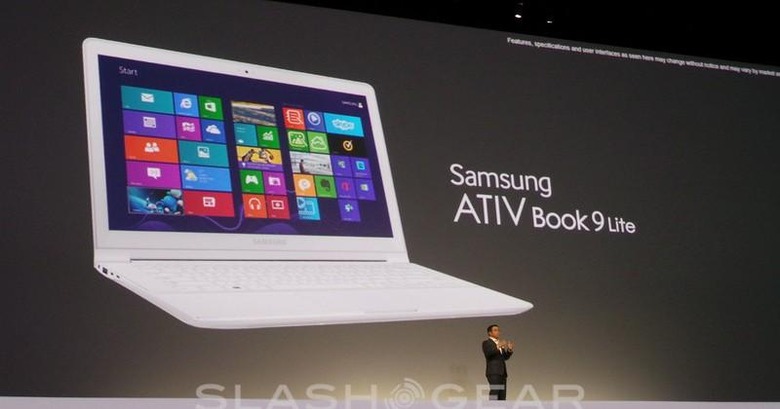 Samsung just intro'd the ATIV Book 9, which was leaked earlier today, and it looks to be the company's new flagship Ultrabook, succeeding their Series 9 lineup with this new set of laptops. This will be added on to the numerous other ATIV products that Samsung has and will headline the bunch from here on out.
Samsung's being quite vague and quick with the details, but what we know so far is that the ATIV Book 9 series comes with a 13-inch touchscreen display. As the names of the two laptops would imply, the Plus is the company's higher-end model, possibly their new flagship Ultrabook to replace the Series 9, while the Lite is the lower-end spec for budget consumers.
The laptops are fairly thin, as we would expect, and it looks they're bearing full Ethernet ports, which is a good sign if you prefer a hard connection to the interwebs while you're working on those expense reports — WiFi is great and all, but sometimes you need a more solid connection for desperate times.
The Plus is working with one of those fancy new 4th-generation Intel Core processors (Core i5), and it's said that both the Plus and the Lite will rock 4GB of RAM and a 128GB solid state drive. As for the processor on the Lite, it comes with an AMD A6 quad-core chip. Hopefully we'll hear more details soon, so stay tuned!