The Samsung Galaxy S7 is important to the VR-loving public for several reasons. First – it's a device that's made with VR in mind. The first wave is being released with a free Gear VR headset. Second – because it's ushering in a new age in the virtual reality market. An age in which virtual reality isn't just something that's on the horizon. An age when VR isn't only here, ready to experience – VR is here for you to capture and share, as well.
There are three steps involved in this virtual reality experience for Samsung devices. They aren't really even steps, they're options. If you want to experience virtual reality, all you really need to do is plug your Samsung Galaxy S7 in to a Samsung Gear VR.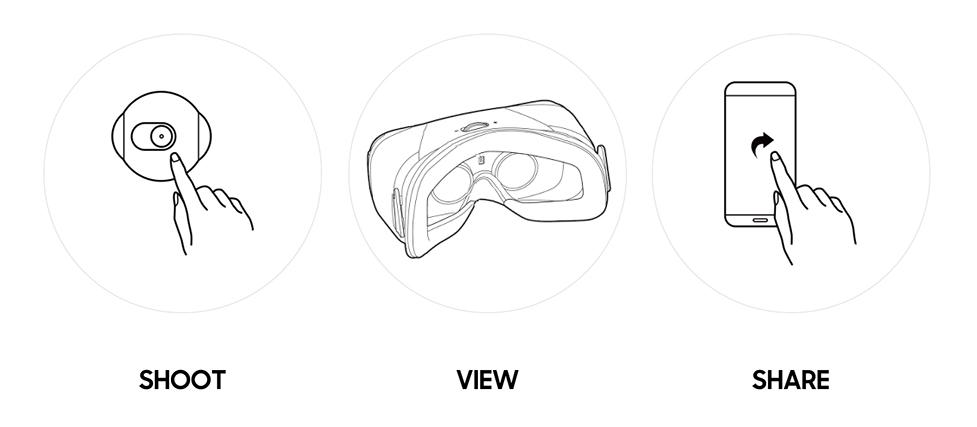 Above you'll see a set of graphics from Samsung. Their original setup showed how you're able to view your 360-degree media with hand controls on your smartphone without the Gear VR – and showed how you can edit Gear 360 media on the smartphone.
But what we're concentrating on here isn't the process with which you'll go through on that one device, it is the three forms of interaction you'll experience with Samsung's Galaxy S7 collection of devices.
Capturing VR
If you want to capture virtual reality media, you'll take out the Samsung Gear 360 and snap. Or long-press to take a video. As you'll find in our full Samsung Gear 360 hands-on, you can capture full spherical media (360 degrees around you) or 180-degree media – one lens or both.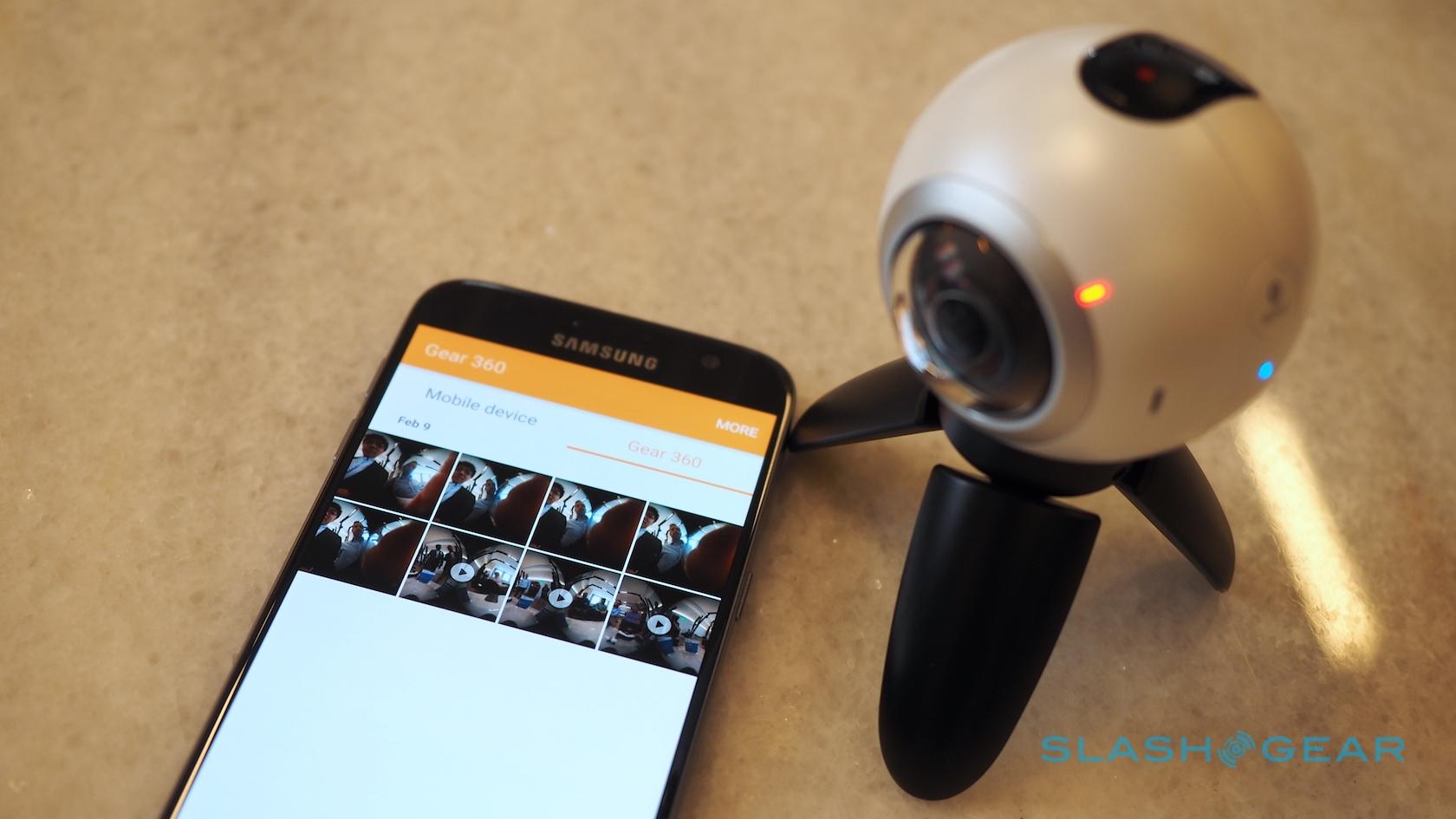 You can capture photos and video with the Samsung Gear 360 without a display – or you can connect the camera to your Samsung Galaxy S7 and see what you're going to capture before you capture it. The Gear 360's camera app can also allow you to see, live, through the camera in virtual reality.
Viewing VR
The Samsung Gear VR isn't strictly new. The first consumer edition was released to work with the Samsung Galaxy S6, in fact, and it's still going strong today.
The Samsung Gear VR is sold separately from the Samsung Galaxy S7, just as the Gear 360 is sold separately from the Gear VR. Three devices, three entry points.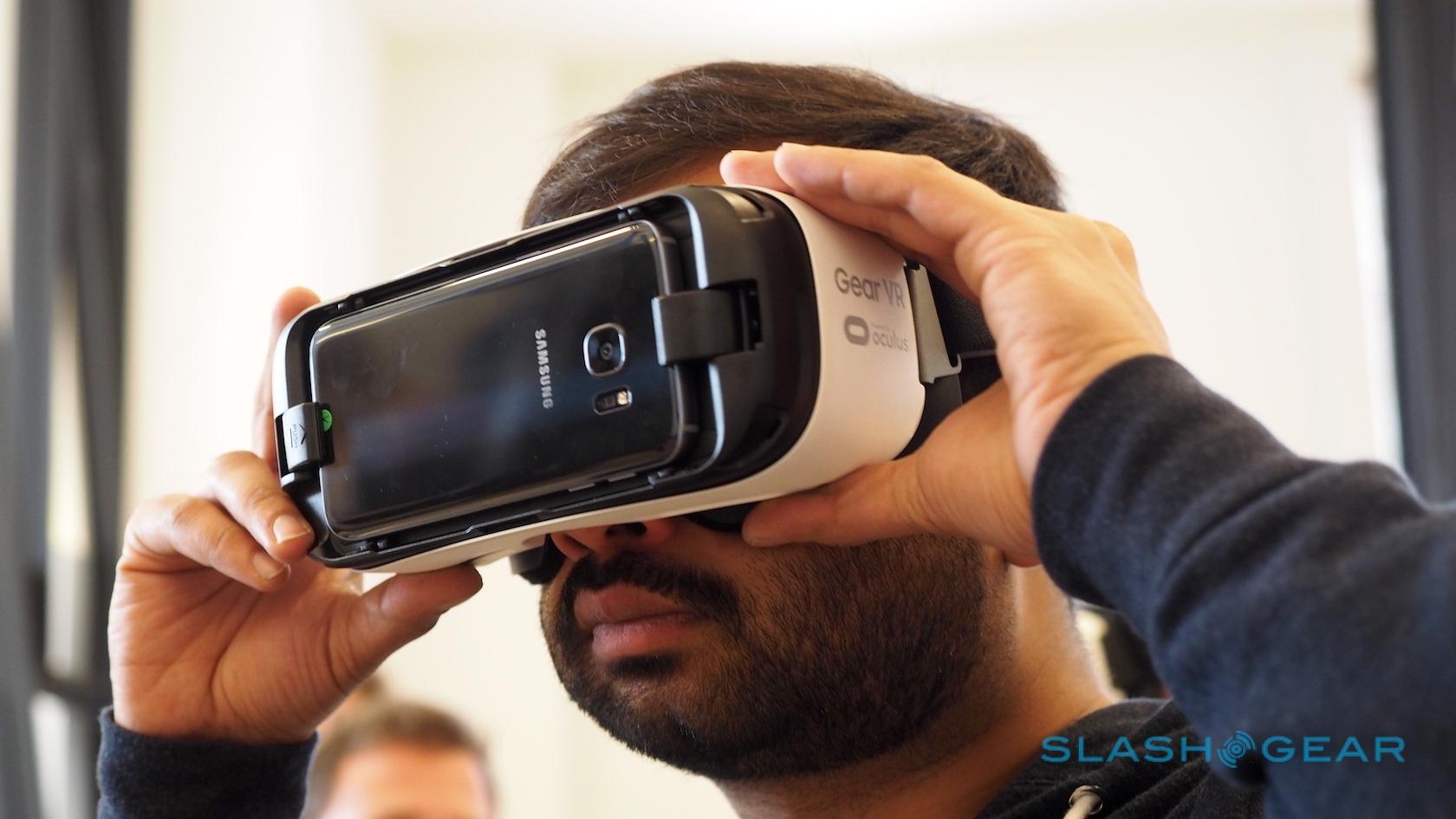 The Samsung Galaxy S7 plugs in to the front of the Gear VR, acting as the Gear VR's display. The Gear VR provides additional processing necessities (hardware-wise), eyepieces, and the straps to keep you in VR without the aid of your hands.
Sharing VR
There are several ways to share VR, some of which include keeping your VR headset strapped on your face. You'll be able to interact with others who also have VR interfaces – apps like AltspaceVR are trailblazing right this minute.
SEE: For Galaxy S7 users, Gear VR should be an obvious buy
The first way we'll share VR experiences with one another, though, is by sharing videos and photos. You'll capture a photo or video on a camera like the Gear 360, edit it if necessary on your Samsung Galaxy S7, then share it (also with the smartphone, on a flat plane.)
The person who receives the file you've sent will be able to experience what you captured, feeling then like they're right there with you.
As Mark Zuckerberg of Facebook suggests, "going back about 10 years, most of what we shared [with one another] was text. And then it was photos. And now we're entering in to a world where that's video."
"But pretty soon we're gonna live in a world where everyone has the power to share and experience whole scenes, as if you're just there – right there in person."
It's an amazing place we're at right this minute. Thousands of people have VR headsets as advanced as the Gear VR right now, and thousands more will have these and more advanced headsets by the end of the year. Millions of users have Google Cardboard!
We're entering a new environment right now. Keep your eyes open to how it evolves, and if you have the opportunity to participate, take it!
Have a peek at the timeline below to continue to explore this new VR universe.