Samsung Gear 360 hands-on: A pocket-friendly VR camera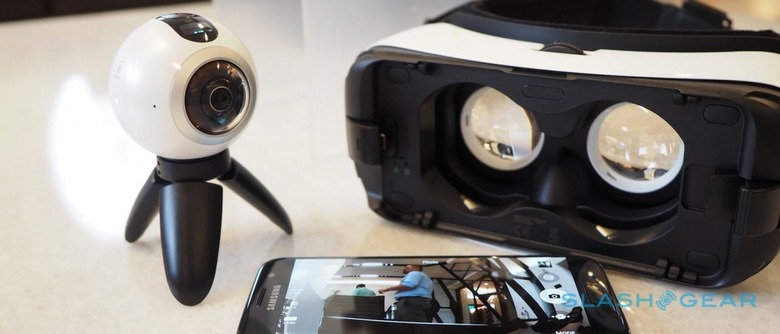 Samsung has pushed consumer virtual reality hard with the Gear VR, and now it's looking to put VR creation into the hands of the public with its new 360-degree camera. The Samsung Gear 360 is aiming at the consumer VR sweet-spot, the company says, offering much better resolution than most low-cost 360-degree cameras but without the huge price tag of professional kit like Nokia's OZO.
Slightly larger than a golf ball, at 66.7 x 56.2 x 60 mm and 153 grams, the Gear 360 has a sensor on opposite sides. Each gets an f/2.0 fish-eye lens: used together, they can capture 360-degree images and video, while the camera can also shoot 180-degree content by using one sensor alone.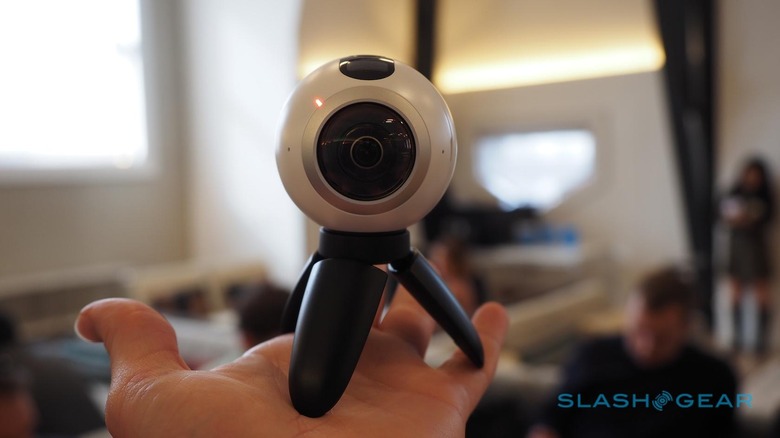 Physical controls are kept to a minimum. On the top there's a shutter button and a small OLED panel for showing mode and battery status; a power button is on the side, doubling as a back button, together with a combo menu/Bluetooth key.
On the opposite side, a hatch covers the microUSB port, microSD slot – for cards up to 128GB in size – and the removable battery. Samsung says a full charge of the 1,350 mAh pack will last for around 140 minutes of recording. A tripod mount is on the bottom; Samsung will include a tiny stand in the box, but you could also attach the Gear 360 to a regular tripod or, indeed, a car or helmet mount.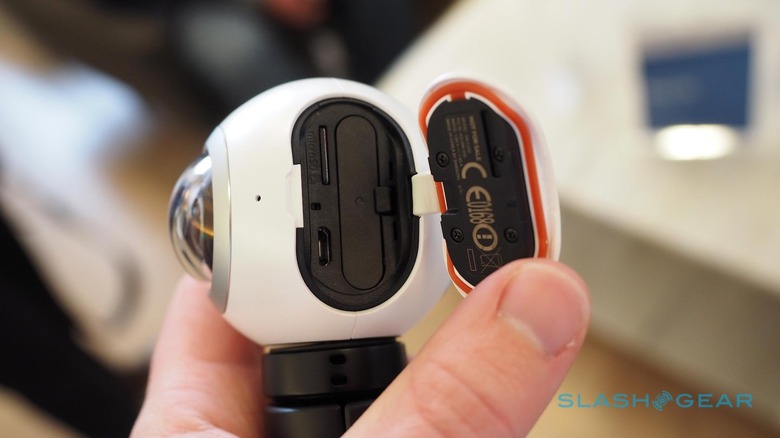 It's IP53 certified for dust and water resistance, which means it can withstand some dust and spray, though it's not a ruggedized action-cam.
Video is captured at slightly under 4K resolution – 3840 x 1920 in fact – while still images are up to 30-megapixels. There are four shooting modes, cycled through with the button on the side: video, photo, time-lapse, and video looping.
Though Samsung would understandably rather you pair the Gear 360 with the new Galaxy S7 or Galaxy S7 edge, those who're happy with their current phone will be able to use a free PC app called Gear 360 ActionDirector to generate the VR content.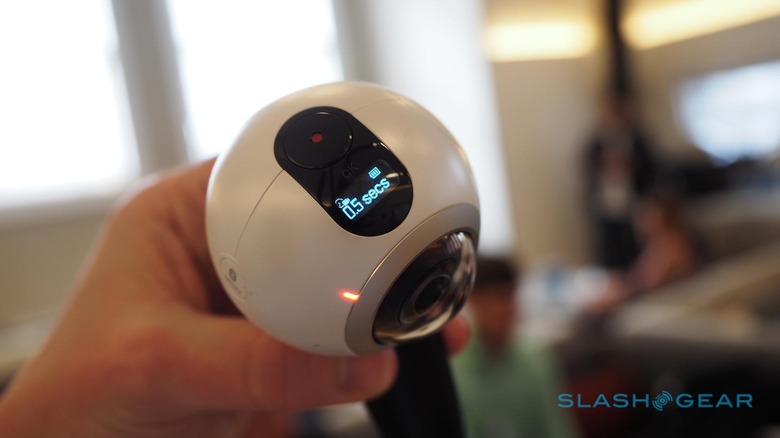 There'll be backward compatibility with select existing Galaxy smartphones, too, though Samsung is yet to confirm which exactly will make the cut. The auto-stitching is fairly GPU intensive, the company points out, which means it's more than likely to be limited to recent devices.
Assuming you have a compatible phone, the Gear 360 will use WiFi Direct to connect with it and allow you to preview what the camera sees as well as remotely trigger recording and copy across files from the onboard storage.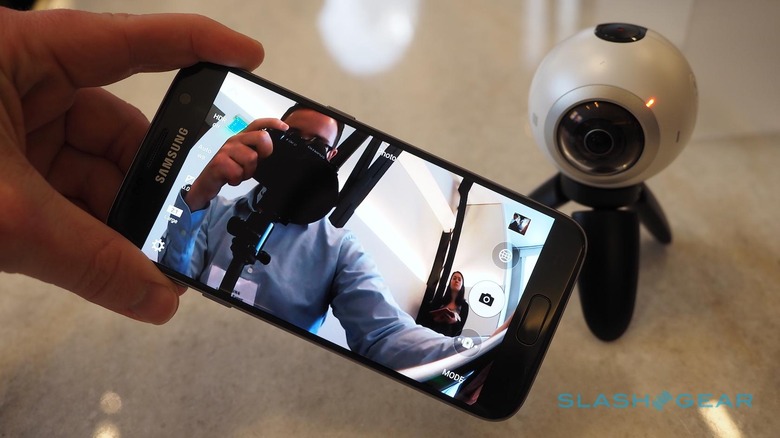 Whether you process on your phone or on a PC, the footage can be shared via Samsung's own Milk VR platform, through Facebook, YouTube, or various other online places.
It's certainly easy to use. Simplest is to treat the Gear 360 as a standalone camera, since you don't have to worry about positioning it. Simply turn it on, choose either the still or video modes, and hit the shutter button to start recording.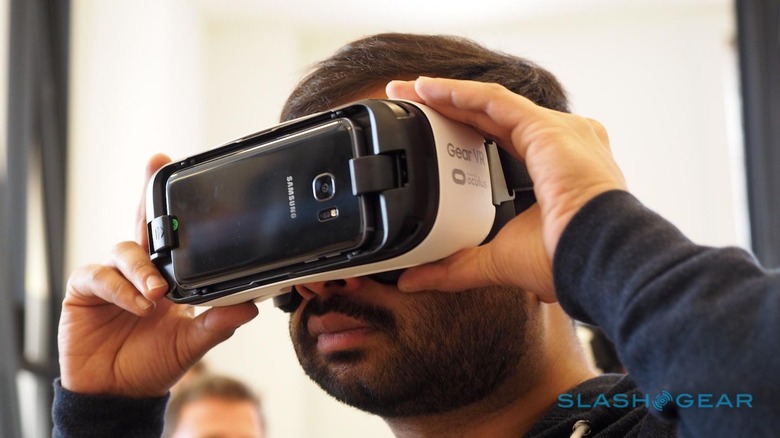 Still, since you can still end up with the lens obstructed depending where you place the Gear 360, live-tethering it to a Galaxy S7 allowed me to preview the shot as well as control it remotely. That means you can theoretically hide, assuming you don't want to be included in the shot. Swiping around the phone's display pans the portion of the image or video you're looking at.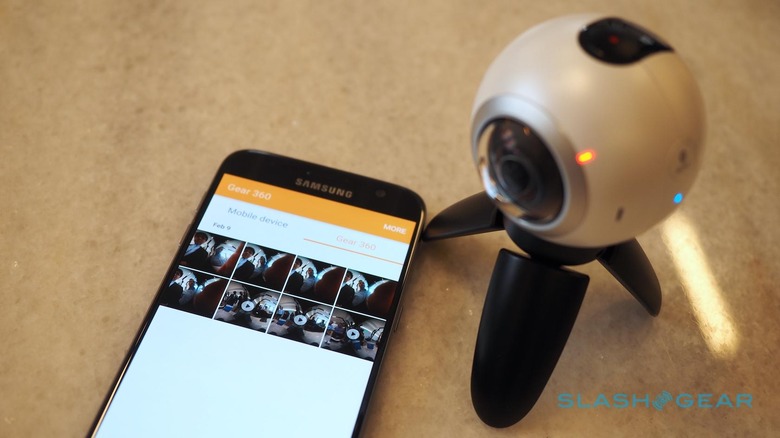 NOW READ: Samsung Galaxy S7 hands-on
Slot the Galaxy S7 into the Gear VR – the latest version of which was designed with forward-compatibility with the new Android smartphone in mind – and you can instantly drop into the virtual reality scene. Part of the charm is the immediacy; it's a lot easier to show someone the value of VR content when you can film something in front of them and then play it back straight away.
Exactly how successful Gear 360 turns out to be will depend on how much it costs, mind, and that's a detail Samsung is playing close to its chest right now. There won't be long to wait, however, with the virtual reality camera set to go on sale around in Q2 2016 "in select countries".
[gallerybanner p="427227"]