Samsung Galaxy S3 gets Carphone Warehouse namecheck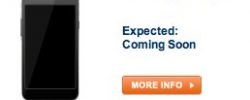 UK retailer Carphone Warehouse has joined the club of those promising Samsung's "next Galaxy", with the new flagship showing up as "coming soon" as the Samsung Galaxy S3. Expected "on all major networks" in the UK, according to the site's sign-up page, there's no more technical detail on the product than we've seen from carriers already, though this could be another sign that Galaxy S3 is the name Samsung has settled upon.
That would fit in with Samsung's own "Unpacked" app released ahead of the May 3 launch event in London, as well as the labeling of the leaked prototype phone. Amazon Germany also referred to the handset as the Galaxy S3 in its pre-order page, which suggested the unlocked, SIM-free version of the phone would be priced at €599 ($792) in Europe.
Of course, this could all be SEO and presumption on each parties' part, and Carphone Warehouse may simply be following the crowd in calling the new phone the S3 so as to be recognizable to users browsing its Coming Soon page. Previous leaks have suggested Samsung is working on finalizing details on the handset up until the very last moment, including potentially the name.
We'll know for sure next week, when SlashGear heads to London and the official launch event on May 3. Anticipation for the "Galaxy S3" is high – not least because it's tipped to have a 4.7-inch Super AMOLED Plus display, 1.4GHz quadcore processor and overclocked 400MHz GPU – with it representing Samsung's pre-emptive strike against Apple's iPhone 5 expected later in 2012.
[Thanks to everyone who sent this in!]