Samsung Galaxy S III hits Amazon pre-order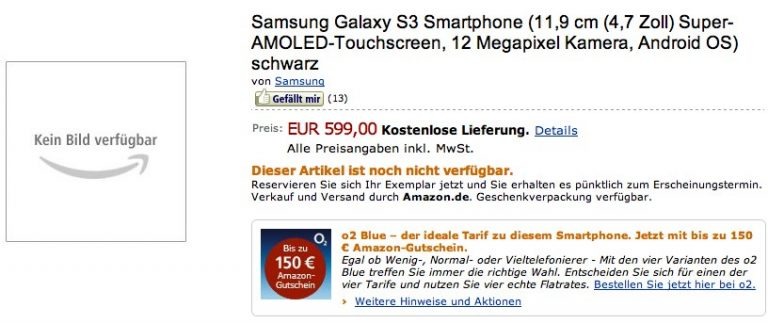 We may receive a commission on purchases made from links.
A product page for the Samsung Galaxy S III has gone live on Amazon Germany, apparently confirming the handsets price as well as specs including a 12-megapixel camera and 4.7-inch Super AMOLED display. The page, which suggests the unlocked, SIM-free handset will be €599 ($792) when it launches, does not have a release date estimate. However, some details differ from the hardware of the apparent Galaxy S III prototype spotted in the wild in Vietnam yesterday.
In that video, the smartphone had an 8-megapixel camera, and a screen that was, apparently, slightly smaller than that of the 4.65-inch Galaxy Nexus. This pre-order listing, though, seemingly confirms both a slightly larger screen than the Googlephone, and a more impressive camera altogether.
Part of the that could be down to the age of Samsung's leaked prototype. As we mentioned yesterday, the labeling of the phone indicates it dates back to December 2011, meaning it's now four months old; Samsung could well have upgraded the camera since then, perhaps using an old Galaxy S II camera module in advance of new, 12-megapixel sensors being available.
Other suggested specs include 16GB of internal storage, as in the prototype, and a microSD card slot. The camera has an LED flash, and the OS is Android 4.0 Ice Cream Sandwich; Amazon doesn't have a preview picture for the phone, so the external design is still unconfirmed.
Other details are scant, though the fact that this is a product Amazon – not a third-party marketplace seller – is offering does leave us a little more confident that it could be authentic.
We'll find out all the details for sure when we join Samsung on May 3 in London for the Galaxy launch event. For all that we're expecting, check out our pre-show roundup.
[via BestBoyz]