Galaxy S10 As Charger Leaks: Phone Charging Earbuds, Ceramic, Price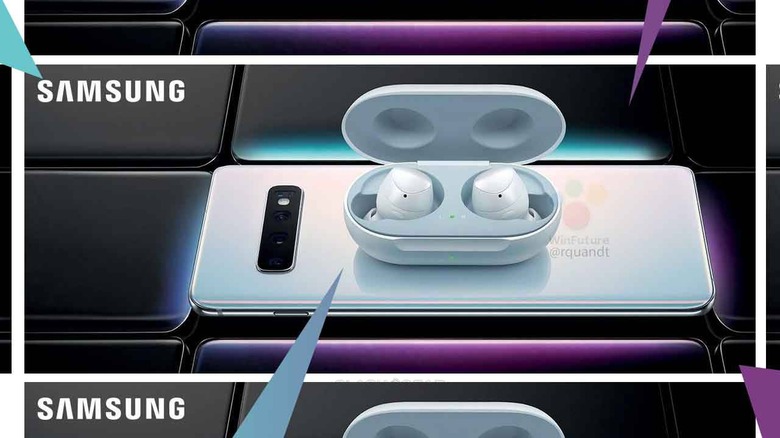 A mess of official Samsung Galaxy S10 images have leaked today showing the new phone family and accessories. Most importantly they show the new Samsung Galaxy Buds, which sit here on the back of the Galaxy S10 in a charging case. The charging case is charged here by the smartphone – there's a wireless charging pad inside the phone, allowing the device to be charged by wireless chargers and to act as a wireless charger as well.
This is not the first time this double-style charging action's come to the market – but it is the first time it'll be launched by a brand as big as Samsung. You can find the same feature on the Huawei Mate 20 Pro released back in October of 2018. It was cool then, and it's still cool now.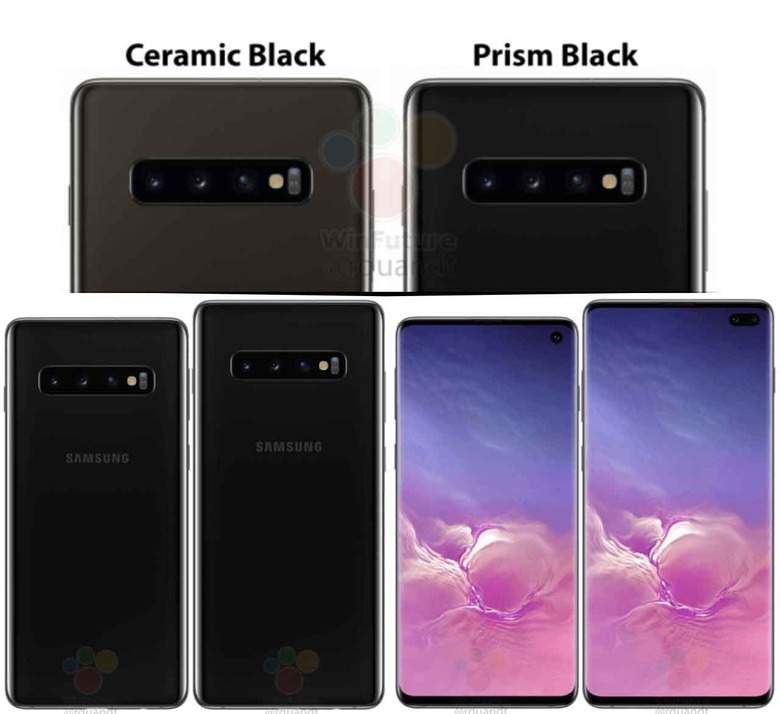 The Samsung Galaxy S10 was shown today in a set of images from WinFuture, where the Galaxy S10E was shown earlier this week. Additional details leaked today thanks to newly massive images and a new assortment of images include the following.
• Samsung Galaxy S10 Plus Ceramic Black
• Samsung Galaxy S10 Plus Prism Black
• Pricing at 750, 900/1150, and 1000/1250/1500 Euro
• Galaxy Buds confirmed, 150 Euro
• Backside charging for Galaxy Buds confirmed
SEE TOO: Galaxy S10 hands-on experiences begin this week
Pricing will likely be similar to that of the Euro pricing shown this week in leaks. These leaks likely translate to almost identical pricing in US dollars, despite the current exchange rate. That means the following for pricing in the USA, potentially.
Potential US-based Galaxy S10 Prices:
• Samsung Galaxy S10E: $750 or $800 USD
• Galaxy S10: $900, $1150 USD depending on 128 or 512GB storage
• S10 Plus: $1100, $1250, $1500 USD for 128GB, 512GB, 1TB (Ceramic)
• Galaxy Buds: Probably around $150 USD
Note that we uncovered the Samsung Galaxy Buds all the way back on... well... Monday. So we didn't beat others by much, but it's the thought that counts!
The Samsung Galaxy S10, S10E, and S10 Plus will quite likely be shown at a February 20th event held by Samsung – that's this month. Pre-orders for these devices will likely start the day of or the day after the event. The Samsung Galaxy S10 will be released for sale on or around March 9th, 2019 – or thereabouts. Stay tuned for our hands-on, up close and personal action, and our eventual reviews!