Samsung Galaxy S III vs HTC One X Hands-on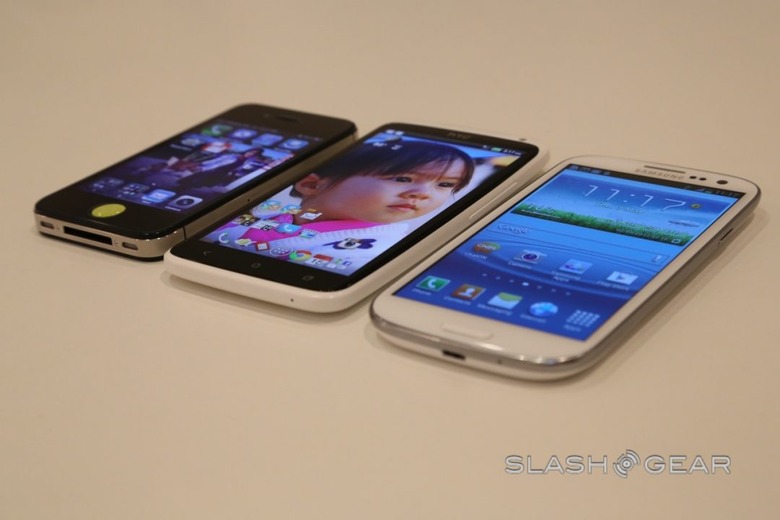 This week Samsung is bringing the heat to the smartphone world with their next-generation hero smartphone the Galaxy S III, its first big opponent being the HTC One X. The hero series of smartphones coming from HTC this year is known as HTC One collectively and here with the One X you'll find the display, hardware, and software to be as close as it gets to the Samsung Galaxy S III on the market today. Which one will hold your heart hostage for the summer of 2012? Let's have a look right here, right now!
The similarities between these two devices are relatively large, starting with the display size – 4.7 on the HTC device vs an equally massive 4.8-inches on the Samsung. Both devices run Android 4.0 Ice Cream Sandwich and both devices have advanced hardware construction, and both devices have awesome camera setups, 8 megapixels strong for photos and 1080p capabilities for video. That's where the comparisons end, essentially.
[vms f0309545110c592b6a63]
The Samsung Galaxy S III has a plastic polycarbonate shell with "hyperglaze" coating, its 4.8-inch display is 720 x 1280 pixel resolution and is working with HD Super AMOLED technology. The front-facing camera here works at 1.9-megapixels and is capable of 720p HD video. Inside you'll find Samsung's own Exynos quad-core processor (here in the European model, anyway) and 1GB of RAM as well as 16GB, 32GB or 64GB of internal storage and a microSD slot (compatible with up to the massive 64GB cards on the market today). Bluetooth 4.0 inside, MHL-HDMI for HDTV output, and a multi-colored notification LED on the front. Inside you've also got a 2,100 mAh Li-Ion battery.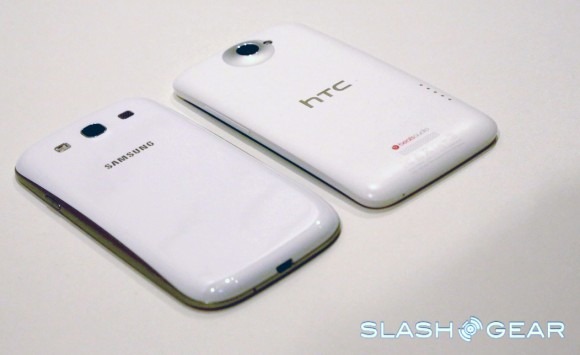 Software on this device is Samsung's newest version of TouchWiz running on top of Android 4.0 Ice Cream Sandwich, and you've got a brand new version of Samsung's S-Voice system, made to compete with the rest of the voice-activated helpers out there on the market. We're looking at you, iPhone. Have a peek at our Samsung Galaxy S III Official post as well as our Samsung Galaxy S III Hands-on for more details.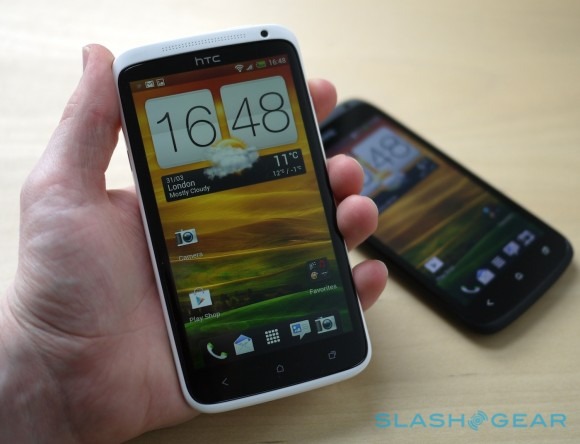 The HTC One X casing is also made of a plastic polycarbonate without the "hyperglaze" brand coating that Samsung is touting. You've got a 4.7-inch display with 1280 x 720 pixel resolution with Super-LCD display technology. The front-facing camera is a 1.3-megapixel shooter also with 720p video capabilities. The battery inside is 1800 mAh, and the processor inside (in the international version) is a quad-core NVIDIA Tegra 3. The USA version of this device has a dual-core Qualcomm Snapdragon S4 processor. The camera on this device is backed up by a separate chip called the HTC ImageSense processor and, like the SGSIII, has some rather impressive burst mode technology as well as camera improvements across the board.
Also inside you've got Bluetooth 4.0 as well as NFC and MHL-HDMI for HDTV output, you've got Beats Audio branded enhancements for audio, and no microSD slot for memory expansion. This device has 1GB of RAM and 32GB of internal storage and runs HTC's own Sense 4.0 made for Ice Cream Sandwich. Check out the original HTC One X official post as well as our AT&T and international version HTC One X reviews. Stay tuned here to SlashGear for more news on Samsung as well as HTC's super hero futures as well!