HTC One X Review
HTC needed to hit reset on its smartphone strategy. Lulled, perhaps, by several years of leading the Android device market, 2011 brought an incredibly strong push by Samsung and a growing mismatch between the agile software users desired and the bloated, over-stylized interface of HTC Sense. The HTC One X – and the One Series it leads – is the first of the company's attempt to reclaim its former position, a Tegra 3 toting powerhouse with a big screen, boastful camera and slick design. Still with the specter of the Samsung Galaxy S III on the near horizon, not to mention Apple's iPhone 5, the One X needs to do more than storm the spec sheet if it's to make the impact HTC requires. Read on for the full SlashGear review.
Hardware
The One X is a big device, there's no escaping it. Still, at 134.36 x 69.9 x 8.9 mm and 130g it's surprisingly lightweight considering the fact you get a 4.7-inch 1280 x 720 display. Build quality of the polycarbonate chassis feels slightly cheaper than the metal-bodied Sensation-series devices of last year, but the upshot is a more pocket-friendly device. It's creak- and flex-free, too, though the downside to that is the non-user-accessible battery. Beyond a microSIM slot – complete with an HTC branded tray-opening pin, no less – the casing is a solid lump.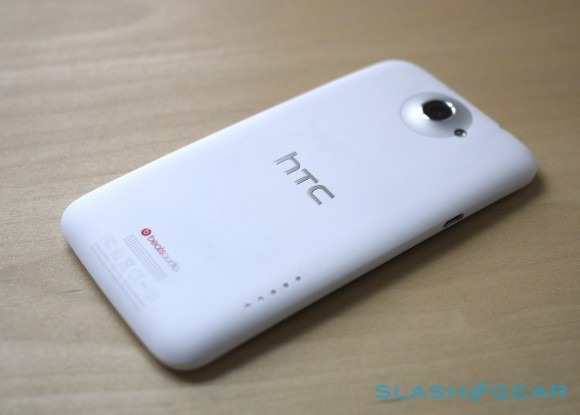 HTC has used a Super LCD panel on the One X, and it's an excellent screen. Bright and crisp, with great viewing angles and escaping the sometimes over-saturated colors you find on AMOLED screens, it floats nicely in the inset Gorilla Glass panel. Our main complaint is the banding visible on graduated graphics, noticeable in Android's many screens with shades of grey. The curved glass edges are reminiscent of Nokia's Lumia 800, too, catching the light and leaving the handset feeling more organic and tactile.
HTC One X video review:
[vms cbb7505cb641066f2859]
The polycarbonate itself – available in black or white – is bowed in cross-section though the glass itself is flat. That gives a little of the Galaxy Nexus' profile, though it's a fleeting optical illusion. Also unlike the Nexus are the dedicated buttons beneath the screen, HTC not following Google's own Ice Cream Sandwich implementation and instead insisting on touch-sensitive back, home and app-switcher keys. Despite accommodating them, the HTC is actually roughly the same length – though broader – than the Samsung, thanks to a narrower earpiece section.
Still, there's enough room for a 1.3-megapixel front-facing camera and a double-row of drilled speaker perforations; behind lurks a notification LED. On the left edge is the microUSB port while the volume rocker is on the right; the power/lock button is on the top edge, and thanks to the length of the One X can be tricky to reach at times. You also get a 3.5mm headphone jack and a row of five pins on the lower right hand corner of the rear panel for use with the optional docking cradle.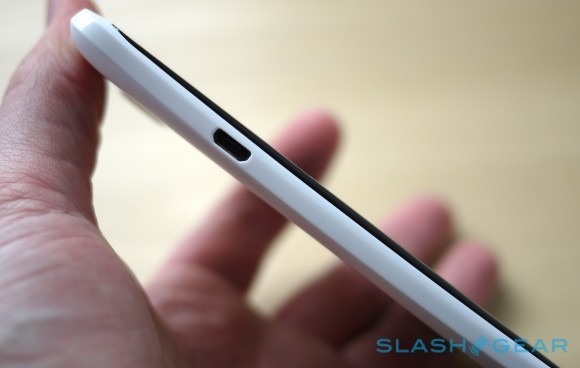 The back also plays host to a Beats Audio logo above a small but reasonably loud speaker. The One X has two microphones, one on top and the other on the bottom edge, for noise-reduction during calls and stereo audio recording in video clips. Finally, there's the camera, an 8-megapixel unit which protrudes slightly in a silver nub, and which packs autofocus, an F2.0 aperture, 28mm lens, a backside-illuminated sensor, "smart" LED flash and support for 1080p HD video recording.
Inside, this European One X packs NVIDIA's 1.5GHz quadcore Tegra 3 chipset, paired with 1GB of RAM and 32GB of non-expandable storage. It's an ambitious chip, especially given the non-accessible 1,800 mAh battery, though NVIDIA insists that its 4+1 core design means performance won't outweigh longevity.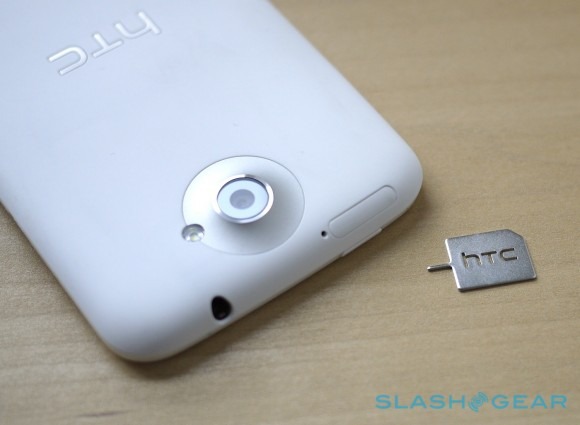 Connectivity includes WiFi a/b/g/n, Bluetooth 4.0 with aptX high-quality audio support, NFC and, in the European model, quadband HSPA/WCDMA (850/900/1900/2100) and quadband GSM?EDGE. The microUSB port supports MHL-HDMI with the appropriate – and not included – adapter – while there's the usual GPS, gyroscope, digital compass, proximity and ambient light sensors, and G-Sensor.
In the US, the One X will be sold on AT&T as an LTE version, ditching Tegra 3 in favor of a Qualcomm-supplied dualcore chipset but gaining high-speed 4G mobile connectivity.
Software and Performance
The One Series is the first of HTC's devices to run Android 4.0 Ice Cream Sandwich out of the box, woven through with the latest iteration of Sense. HTC's custom interface and apps suite had become over-stylized and unnecessarily hefty in its latter versions, and there's been a conscious move to pare it back to basics which is obvious from the start.
Gone are the eye-catching but GPU-sapping 3D homescreen widgets of last year, replaced with cleaner range more in keeping with Ice Cream Sandwich. You wouldn't necessarily realize Google's newest version is under the hood, with the app launcher controls and other buttons redesigned, and even the app-switcher UI has been replaced, a CoverFlow-style carousel of running software instead of the basic thumbnail previews of the Galaxy Nexus.
Some of HTC's changes work better than Google's own design decisions. Tapping and holding on the homescreen opens up the widgets panel, a more common-sense placement than as an addendum to the app launcher. Up to nine homescreen panes can be live – shown in a scrolling bar across the top of the widgets organizer – with the various sizes of widget themselves underneath. You can either side-swipe to see each preview, or select from a drop-down list. Tabs along the bottom of the screen offer app icons and shortcuts, the latter for things like Direct Dial contacts, bookmarks, Gmail labels, Dropbox folders – the cloud storage service now being baked into HTC phones – and music playlists. A pinch-gesture shows all of the homescreen panes in thumbnails from the desktop.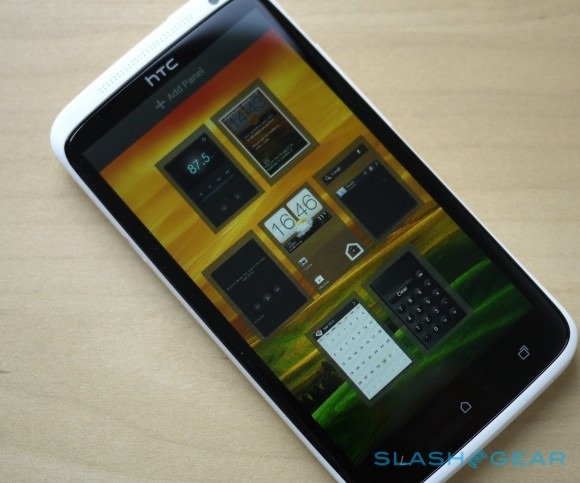 The app menu itself is now split into three sections – all apps, those frequently accessed and those downloaded – with search and Play Shop shortcuts at the top. However you can also choose to remove and rearrange these tabs, though even if you get rid of all categories bar "all apps" the same number of icons are shown on-screen.
HTC has a number of new widgets, including radio apps – which require the headphones to be plugged in and act as the antenna – and a selection of useful calculators. They look great, though they're all oversized: most of the widgets take up half or more of each homescreen pane, when even the calculators could be smaller and still usable.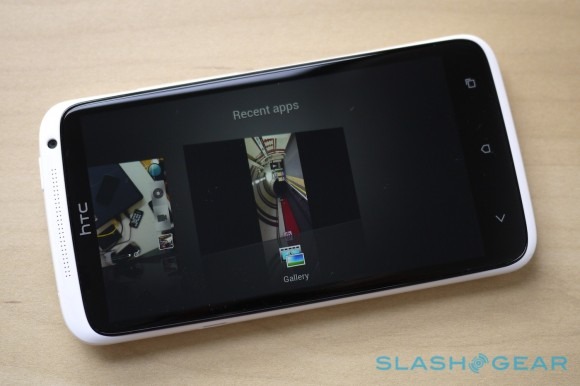 The new HTC Music hub pulls together shortcuts for all of the audio services – though not the FM radio, at least by default – and more third-party options can be added in. It's more like a launcher than a true unified media system, however. There's no way to combine tracks from different services into a single playlist, for instance, so your local tracks will always be separate from your Spotify streaming.
HTC has made a few modifications to the standard browser, adding a Flash Player toggle to the contextual menu alongside the option to force the desktop version of sites. There's also an incognito tab option next to the new tab button in the window switcher, making it more straightforward to browse without leaving a trail in the history. Panning, scrolling, pinch-zooming and Flash playback is all as smooth as you'd hope from a high-end phone.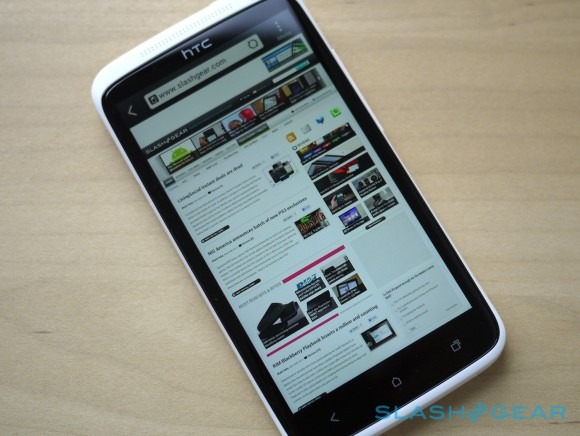 NVIDIA's Tegra 3 is a mainstay in recent Android tablets, but it's a rarer thing in smartphones. With 4+1 cores – the latter responsible, so NVIDIA says, for low-level tasks that might otherwise demand the main cores light up and consume more power – there's certainly no shortage of grunt for games and multimedia playback, both being smooth. However, the performance is also noticeable in day to day use, such as in the speed that a heavy Gmail inbox is ready for use. We ran Geekbench Advanced, and the One X scored an admirable 3399.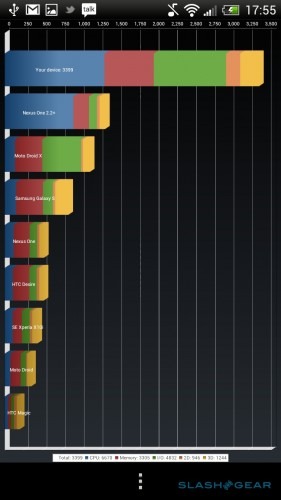 We're had our eye on the aptX Bluetooth stereo audio profile for some years now, but it's only now that the technology is turning up in more consumer hardware. Replacing the default audio codec – in devices that support it – it promises "true hi-fi quality"; in practice, with a set of Sennheiser PX-210 headphones, we found improved bass and treble clarity along with a reduction in background hiss. Of course, if you only have regular Bluetooth accessories then you won't see the aptX improvement.
Camera
HTC is particularly proud of its camera technology in the One Series; according to the company's research the camera is the number one deciding factor when a buyer eyes up their next phone. The One X gets an 8-megapixel CMOS with a backside-illuminated (BSI) sensor for improved low-light performance, along with an F2.0 aperture, 28mm lens and a dedicated imaging chip.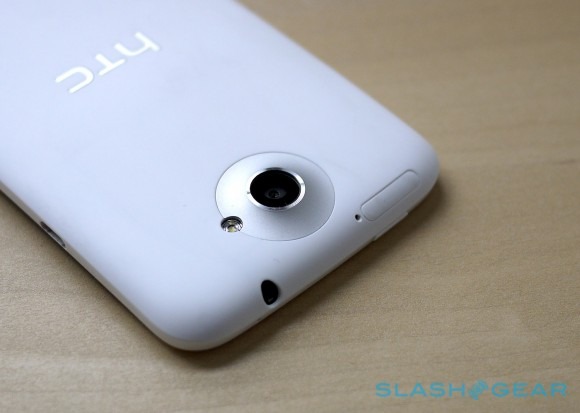 As well as 8-megapixel images, the One X can record Full HD 1080p video. In fact, the phone can shoot still images at the same time as recording footage: both the video recording and the shutter release button are on-screen at all times, along with a new effects control with a range of the image tweaking options.
There's also an LED flash. We've generally been unimpressed with LED photo-lights on smartphones – they usually have a narrow sweet-spot outside of which images are either washed out or hopelessly under-illuminated – but HTC's flash can automatically adjust between multiple levels of brightness according to the proximity of the subject.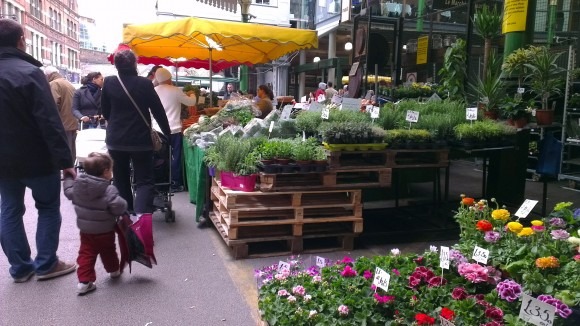 The extent to which it works is tricky to see; low-light images are still something of a pot-luck. Supply decent lighting, however, and the One X is capable of some very good stills, with accurate colors rather than the over-exaggerated hues some phones err toward, and crispness in all but the closest macros. Hold down the camera button and the One X automatically goes into continuous shooting mode, capturing up to 99 shots in a row; let go, and you see a timeline of the images so as to pick out the best, optionally deleting the remainder.
1080p Full HD video, meanwhile, shows some jerking in fast pans, though the picture quality itself is relatively strong. We also noticed an occasional jitteriness during the first few seconds of recording at times, though that's easy enough to trim out of the final clip. A camera button shown during playback allows 1920 x 1080 stills to be grabbed too.
Phone & Battery
The One X is a large phone, and making voice calls can be a little unwieldy; still, the end result is clear audio, thanks to the dual microphones and noise reduction system. The Beats Audio tuning is available to all media apps, not just HTC's own as in 2011 Beats-branded phones, and does its usual job of boosting bass frequencies.
By opting for a unibody design, HTC has been forced to make the 1,800 mAh battery non-user-accessible. It's larger than what's inside many handsets, but with a quadcore processor that seems something of a necessity.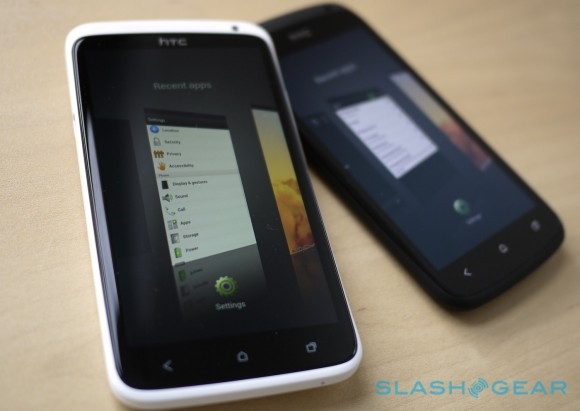 Still, we've been pleasantly surprised by the One X's runtimes. From a full charge, with push email turned on and a mixture of heavy browsing, messaging, Google Maps and some media playback, as well as use of the camera and a few voice calls, the One X lasted nearly 12 hours.
That's under somewhat extreme conditions; with more typical use, we managed a day before recharging was needed, and that "+1" Tegra 3 core seemed to justify its inclusion with low standby drain even with push services active. Turn to CPU- and GPU-intensive gaming and it's possible to drain the One X in relatively short order, unsurprisingly, but it's good to have the option of either hardcore performance or regular speed.
Wrap-Up
HTC has a lot to prove. Whether it was down to resting on its collective laurels, misreading the market, or simply getting its 2011 product line wrong, last year turned out to be something of an annus horribilis all round. Rivals accelerated past, Apple broadened its iPhone range across price points, and in contrast HTC phones looked derivative and lumpen.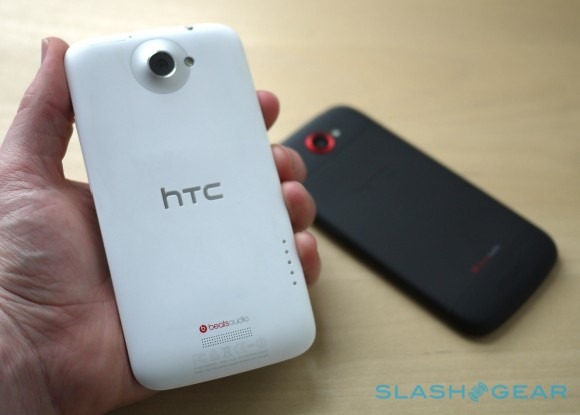 They're not accusations that could easily be levelled against the HTC One X. The new flagship is distinctively designed and well constructed, has an admirable camera and a solid screen. The Tegra 3 chipset is capable of both speed and endurance depending on what's demanded of it, particularly gaming and HD video, though the non-expandable storage could prove limiting if your connection isn't up to streaming from cloud storage such as Dropbox.
Is the One X enough to inure HTC against the incoming threat of the Galaxy S III or the iPhone 5? Both devices are shaping up to be worthy contenders, and HTC's 2011 range struggled to compete with their predecessors, but the One X is leagues ahead of where the Sensation series left off. It'll take more than good looks and a fast chip to make the One X an automatic success, but it's is a capable phone and, perhaps more importantly, a sign that HTC has finally turned a corner in its strategy and products.