Sennheiser PX 210 BT apt-X Headphones Review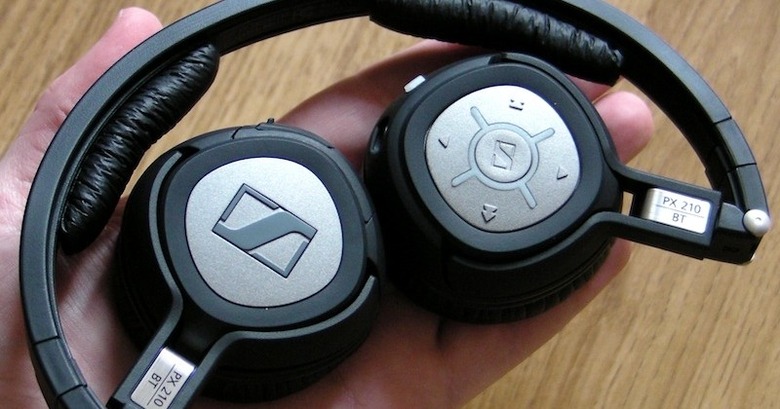 Bluetooth stereo audio has certainly helped many people cut the cord between their PMP, cellphone or laptop and their headphones, but the underwhelming default audio codec also generally means cutting out some of the fidelity, too. Sennheiser are hoping to change that with their PX 210 BT headphones, which use the proprietary apt-X codec for what's promised to be "true hi-fi quality". Question is, how do they hold up to existing wireless-quality kings Kleer? Check out the full SlashGear review after the cut.
In the box there's the headphones themselves, an AC adapter with interchangeable plug inserts for travel use, a USB to microUSB cable for charging, a zip-case, printed instruction guide and an "animated manual" on a CD. You also get a 3.5mm to 2.5mm stereo cable, for using the PX 210 BT as a set of wired headphones instead.
Physically, there's little to fault the Sennheiser design or build quality. Lightweight and made from a combination of sturdy matte black plastic, brushed stainless steel and faux-leather, the PX 210 BT's fold in on themselves for easy transport; they're not exactly pocket-sized, true, but it's certainly easier to drop them into a bag that way. As well as extending to suit larger heads, each earcup has a small amount of twisting adjustment so as to sit on the ear fully; they're comfortable though they do grip quite tightly.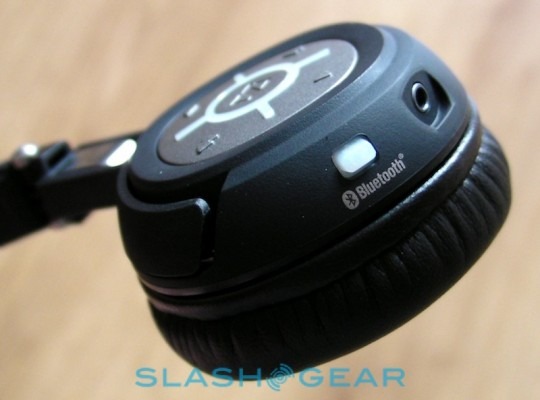 All of the controls are on the right-hand earcup, with a five-button cluster on the outside face – power together with pause/play in the centre, surrounded by volume up/down and skip/back – and a small Bluetooth pairing button on the lower edge. There's also the 2.5mm input jack for the included cable. On the right-hand earcup, under a small rubber flap, is a microUSB port for recharging; you can either use Sennheiser's bundled AC adapter or a USB port on your laptop. An LED next to the port shows charging status.
We paired the PX 210 BT headphones easily with various Bluetooth devices, including a MacBook Pro and an iPad. The default PIN is 0000, and it was simply a case of holding down the Bluetooth button until it flashed red. Of course, the PX 210 BT headphones will work with any regular Bluetooth source – as long as it supports the A2DP stereo profile – but you can't expect the higher-quality apt-X sound unless the device has that too. Sennheiser provided us with their BTD 300i apt-X Bluetooth dongle for Apple's dock connector, which not only supports the higher-quality audio but adds remote AVRCP track skip control too. That profile is missing from Apple's portable devices (iPod touch, iPhone and iPad) so with a direct Bluetooth connection the Sennheiser's track controls are non-functional.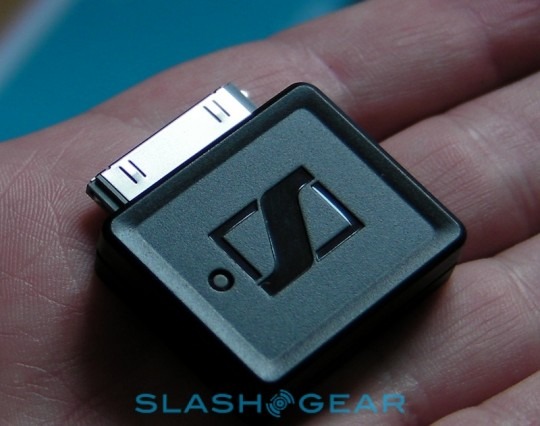 Paired directly – i.e. without using the BTD 300i dongle – the PX 210 BT headphones performed as we'd expect from any regular Bluetooth set. Audio sounded decent, though not up to wired standards (or indeed what we're used to from Kleer headphones, which use a proprietary 2.4GHz wireless link), with some mild distortion or hiss at times and obvious compression. Bass and treble clarity particularly suffered.
Switching over to the apt-X dongle, however, brought about a welcome boost in quality. Free of hiss, and with better delineation of high and low end frequencies, it was all but indistinguishable from using the cord to physically plug in the PX 210 BT's. The limitation then becomes the headphones themselves, which we found lacked sparkle in the treble range, and the maximum volume is still on the low side. It's not audio-related, but the constantly blinking – and surprisingly bright – blue LED on the side is something we could do without too.
So, how does apt-X compare to Kleer? Both technologies offer significant audio advances over regular Bluetooth, and of course both are predominantly restrained by the quality of the hardware they're paired with. CD-level wireless is no use if the headphones you're listening to it through aren't up to scratch, after all. Kleer offers some advantages in terms of multi-listener support – you can pair up to four receivers with a single transmitter – whereas the Sennheisers can at least be used with regular Bluetooth A2DP if apt-X isn't available. Like with Kleer there's a regular 3.5mm transmitter for apt-X use (handy if you don't have an iPod), but Sennheiser also offer a USB transmitter for use with a PC.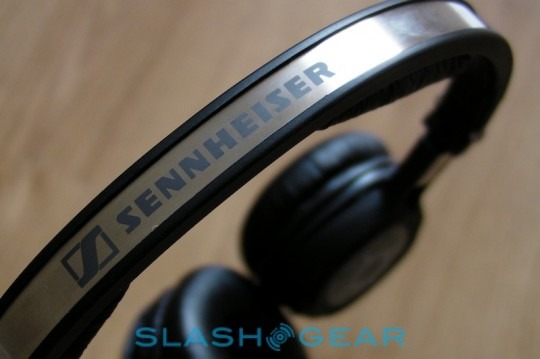 Battery life is worth considering too; Sennheiser reckon a full charge will see the PX 210 BT headphones running for up to 12 hours, though in reality we managed more in the region of 8 to 10 hours. Kleer systems we've used have generally managed similar times.
In the end, while we prefer the audio quality of the high-end Kleer systems we've tried, the flexibility of both regular Bluetooth and apt-X in the Sennheiser PX 210 BT headphones makes them appealing to users who regularly switch audio sources. We'd like an option to shut off the blinking LED, a microphone would be handy for making voice calls, and the absence of multipoint Bluetooth support for maintaining pairing with two devices would be a nice addition, but as they stand the PX 210 BTs offer above-average audio in the Bluetooth pack. With an MRSP of £149.95/$149 they're not cheap, though, and you have to factor in the roughly £59.95/$129 of the BTD 300i transmitter, too. For the money we'd probably opt for a set of Sleek Audio SA1 in-ear headphones with the Kleer wireless adapter, but if Bluetooth is your connection of choice then apt-X is an impressive step up from the default.