Samsung Galaxy S III hands-on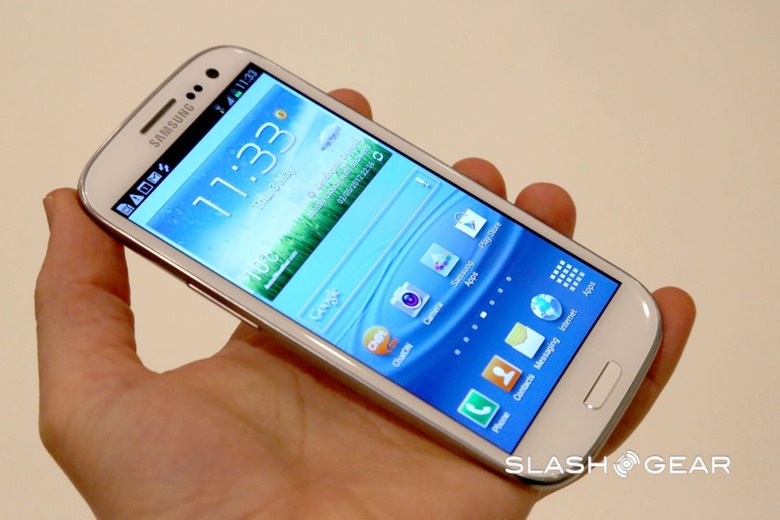 Hopes were high for Samsung's Galaxy S III, and while the crazier rumors may not have panned out, the new Android flagship is undoubtedly an appealing phone. Fronted by a beautiful, bright and color-rich 4.8-inch HD Super AMOLED display, and running slickly on the 1.4GHz quadcore chip, it's a fitting successor to the best-selling Galaxy S II. Read on for our first impressions.
At 136.6 x 70.6 x 8.6mm and 133g, the new phone is a little larger than the Galaxy S II that came before it, but the smooth-edged, pebble-like design shaves away at the angular feeling in the hand. In fact, it's surprisingly lightweight, and while Samsung may have used plastic in the construction – polycarbonate given a "hyperglaze" coating, we're told – and the Galaxy S III falls short of the HTC One X in terms of quality feel, it still nestles nicely into the palm.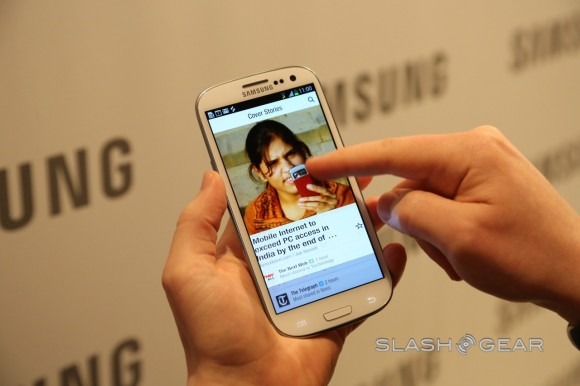 TouchWiz – on top of Ice Cream Sandwich 4.0.4 – looks considerably less "cartoon-like" than previous iterations, and is one of numerous software tweaks Samsung has introduced to better differentiate the Galaxy S III from what's likely to be a year of quadcore handsets. Unlike the Galaxy Nexus, there's no on-screen virtual buttons, with Samsung instead opting for an easily-pressed physical home button. It's flanked by menu and back keys; unlike HTC, which opted for a dedicated task-switcher button, you jump between apps with a long-press of the home key on the Galaxy S III.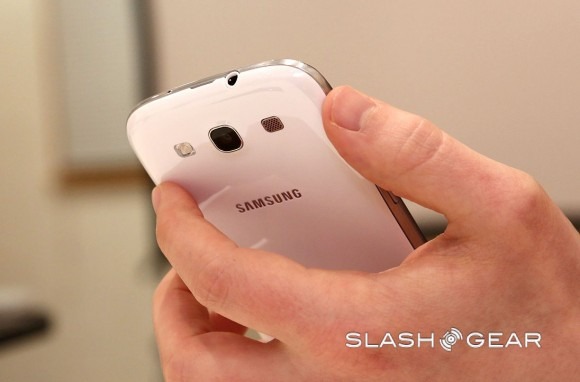 The new UI has a nature theme, with taps on the lock-screen accompanied by the sound of water droplets and sending ripples out to bounce off the edges of the display. Samsung's Smart Stay – using face detection with the front-facing camera to keep track of when you're looking at the screen and keeping it turned on for that time – works surprisingly well, though you can turn it off if you prefer the old-fashioned timer approach instead. There's also the ability to pick up the phone and automatically dial the on-screen contact in the Messages app, Call Log and Contacts, simply by holding it to your ear. Samsung couldn't tell us whether that feature will be extended to third-party apps, such as calling a contact when viewing Direct Messages from them in Twitter.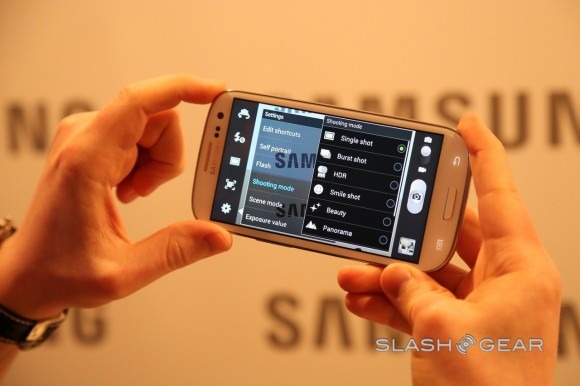 It's arguably the camera which shows the most improvement, Samsung tweaking the interface to support simultaneous video and still capture – albeit the latter at lower than 8-megapixel resolution – as well as adding a straightforward burst mode. That not only makes grabbing multiple shots simple, but uses a combination of facial recognition, image analysis and other elements to suggest which one frame you might want to keep. Of course, you can also opt to keep all of the images.
Samsung Galaxy S III hands-on:
[vms 10d9b7e9abed244dd2f2]
Face recognition is used again in the gallery, tracking known individuals based on their contact image and then linking them with their Facebook and Google+ profiles. Without our own contacts, social networks and photos it proved difficult to test, but the facial-tracking system seemed to work well as long as subjects were looking roughly in the direction of the camera.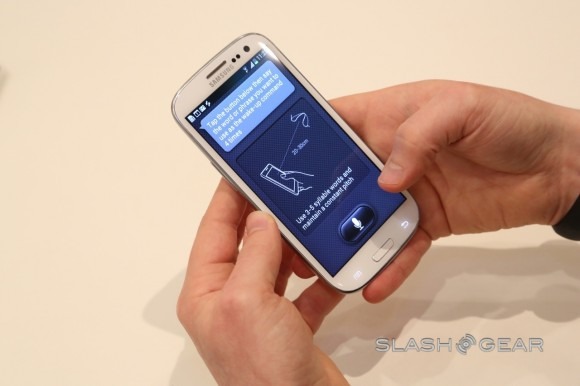 We had mixed luck with Samsung's S-Voice Siri rival, which promises to respond to voice commands to set alarms, tasks and appointments, call contacts, open apps, check the weather and more. As with Siri, server-side processing is responsible for making sense of your speech – Samsung has partnered with Vlingo, among others – and it's very much dependent on background noise.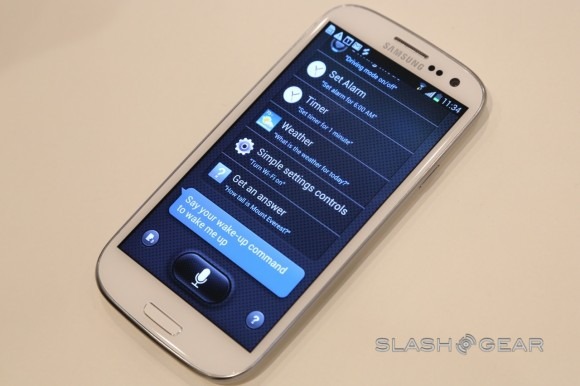 In a busy pre-brief room, S-Voice struggled to recognize even our customized wake-up command (set by repeating the same phrase until it's stored four times) but, when we found a quieter moment, successfully showed us the local weather and set an alarm for the following morning. How useful it will be in the real-world remains to be seen, however, but Samsung is keen to move lesser-used functionality – other things like DLNA streaming come under this heading too – further out into the limelight in the hope that owners will realize exactly what their handsets are capable of.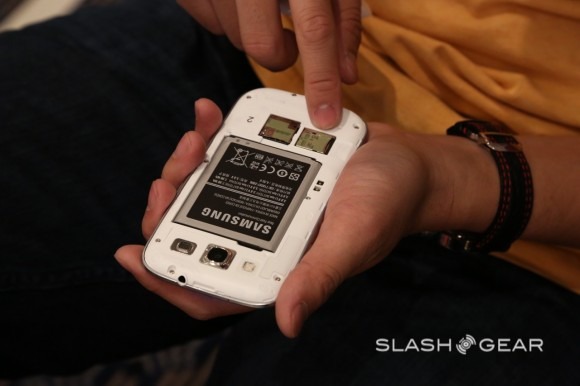 One thing we have few doubts will be recognized is performance. Samsung's Galaxy S II gained a reputation for the potency of its processor, and the Galaxy S III looks to be following the same trajectory. The company tells us that the new Eyxnos quadcore focuses not only on raw CPU grunt but graphics abilities too, which should turn the Galaxy S III into something of a gaming maven.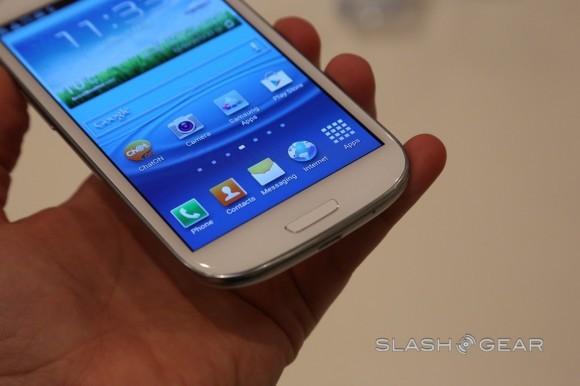 Ice Cream Sandwich ran slickly in our hands-on play, webpages loaded quickly and panned and zoomed with no delay, and even more graphically-intensive multitasking, such as the Pop-up Play mode where a playing video can be viewed on top of other apps, ran with no observable slow-down or lag. We could zoom around full webpages in the browser while simultaneously watching HD video clips with no problems whatsoever.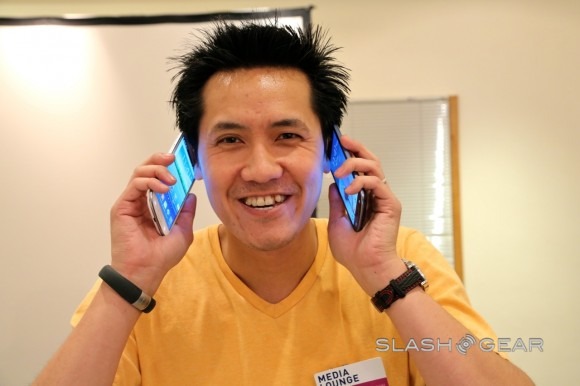 So, incremental upgrade or the revolution many have been hoping for? The rumor-mill has been running in overdrive in the months, weeks and days up to this phone, and to some extent Samsung couldn't hope to compete with what many desired from the Galaxy S III. Even so, from an early play it's clear that the rough edges that had become apparent on the GSII – its WVGA resolution, somewhat clumsy aesthetic and childish UI – have been successfully removed in the new handset. Yes, the plastic casing may not feel quite as premium as an iPhone or One X, but it's a handsome phone in both white and blue, and doesn't feel as cheap as its predecessor.
Is that enough to keep Samsung in its top-spot in the cellphone market, and make the Galaxy S III another best-seller? It certainly looks that way to us.