This week there's word on the expected range of dates for the Android 4.4 KitKat software update for the current and second-most recent set of Samsung Galaxy smartphones, including the Galaxy S III, Galaxy S4, and Galaxy Notes. This tip suggests that models GT-I9500, SM-N900, GT-I9300, and SM-N7100 will all be updated to Android 4.4 KitKat inside of 2014, with the newest set of devices seeing this update inside of January.
This tip comes from a supposed leaked document from an "insider" sharing with the folks at iTechAddict, showing the Samsung Galaxy Note III and Galaxy Note II as well. This push for Android 4.4 KitKat would be a surprise addition to the bulk of these devices so very soon given their recent updates to Android 4.3, but stranger things have happened. It's far less likely that the Samsung Galaxy S III and Galaxy Note II will get Android 4.4 KitKat in a timely manner than it is the newer range.
The document here suggests that the Samsung Galaxy S4 and the Samsung Galaxy Note III will be seeing Android 4.4 KitKat by January of 2014. The Samsung Galaxy S III and Galaxy Note II are said to see Android 4.4 KitKat between March and April of 2014.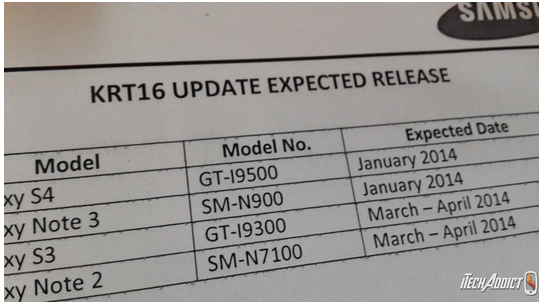 With the update to Android 4.4 KitKat, it's likely the Samsung Galaxy smartphone collection will see mostly feature updates in the speed department. The rest of the changes inside Android 4.4 KitKat have to do with elements that, while ready to roll for the likes of the LG-made Google Nexus 5, will not necessarily be suitable for the Galaxy smartphone collection as such.
For those of you wondering what the full KitKat software boost consists of, have a peek at our SlashGear 101 Android 4.4 KitKat: What's New guide and give a shout out if you think anything else might ring true for the Galaxy set. Meanwhile it's still the Nexus 5 that'll be seeing most of the action.
At the same time, the Samsung Galaxy S4 Google Play Edition has begun seeing the upgrade to Android 4.4 KitKat as of yesterday. This device joins the HTC One Google Play Edition and the Nexus 4, 7, and 10 in the update to the newest Google mobile operating system edition.
VIA: Neowin