Nexus 5 Review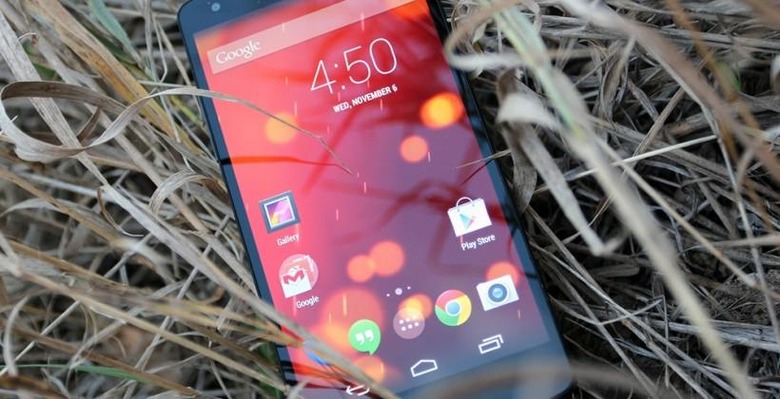 Let's cut to the chase: at $350 without the ties of a two-year contract, the Google Nexus 5 is an excellent smartphone and a bargain at that. Flushed with the positive response the sub-$300 Nexus 4 received last year, Google and manufacturer LG have again struck a balance between powerful portable computing, and cost. This time around, the LG Nexus 5 creeps up in cost a little, but at the same time buffs away most of the complaints we had about its predecessor, taking on rival flagships from other Android OEMs several hundred dollars more expensive in the process. Does that make it the best Android phone on the market? Read on for the full SlashGear review.
Hardware
Sober, minimalistic, and discrete; that's the Nexus 5. Two colors are available at launch, with LG producing the phone in black and in white. The black version – the one you see here – has a soft-touch treatment to the black back and sides, making it easy to grip though prone to gathering fingerprints and grease. The white version, meanwhile, is just as robust as the black, but the black sides have a more glossy finish while the back is matte white. Both have a large, embossed "NEXUS" logo on the back, and a pronounced camera lens bulge.
Up front, there's a 4.95-inch, 1080 x 1920 display using IPS+ LCD panel technology. It's extremely bright and the colors, while vivid, don't suffer from the same over-saturation you sometimes see on AMOLED screens; given the amount of pixels over the size of the display, you've also got one of the sharpest panels on the planet.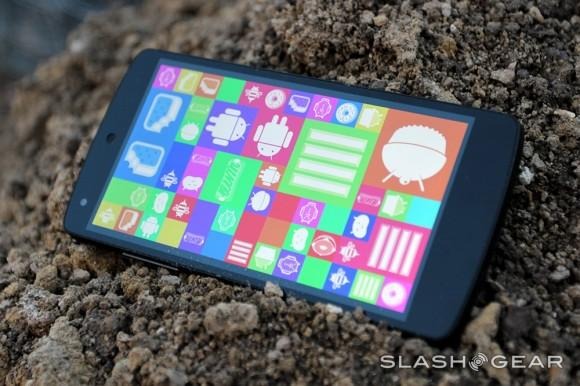 At 445ppi, the Nexus 5 has a pixel density that actually exceeds the Samsung Galaxy S 4 and the Sony Xperia Z1, both of which clock in at 441ppi. Of course, the HTC One with the same amount of pixels spread over a 4.7-inch display remains king of sharpness, with 468ppi. In the end, though, you'll find that devices with 1080p displays end up being so sharp you'll have trouble telling the difference between one handset and the next. You can rest easy knowing the Nexus 5's display is top-notch.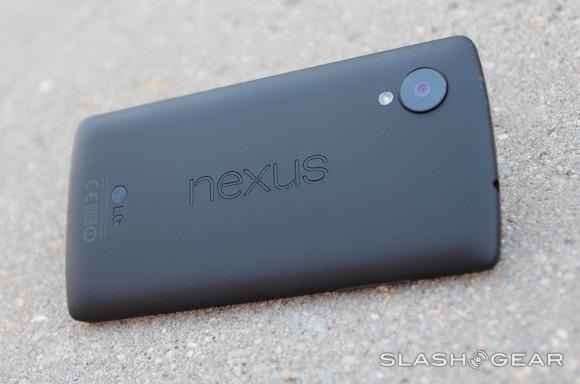 Inside you'll find a Qualcomm Snapdragon 800 quad-core processor, consisting of a 2.26Ghz quad-core Krait 400 CPU and Adreno 330 graphics, and all paired with 2GB of RAM. That's well and above what you'll need to run any app on the Google Play app store and essentially over-powered – as most smartphones today are – for what you'll need the device to do on a daily basis.
Also under the hood you'll find a 2,300 non-removable battery which we'll be returning to later in this review. At first glance, this battery does not seem to be doing better than any other machine in this class of smartphone, but it's certainly not terrible.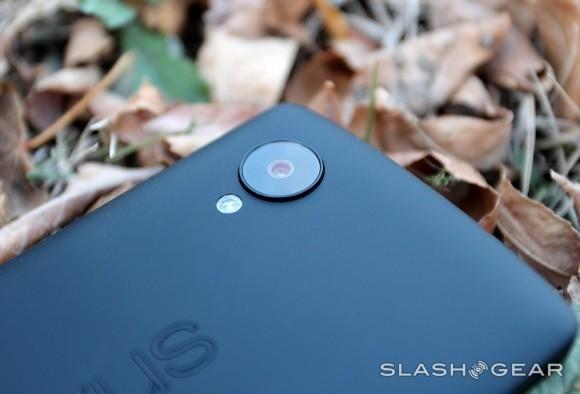 Up front, there's a 1.3-megapixel camera with the ability to capture 1080p video. On the back, meanwhile, is an 8-megapixel camera, also with the ability to capture 1080p video, along with optical image stabilization (OIS). This device also features a single LED flash on its backside for taking photos in the dark.
Inside there are the usual sensors and radios: dual-band Wi-fi 802.11 a/b/g/n/ac, NFC, Bluetooth 4.0 with Bluetooth LE (Low Energy) abilities, and wireless charging. Wireless charging is done with the Qi standard, meaning you'll be able to use essentially every one of the biggest-name wireless chargers released over the past couple of years. We've tested those released by LG for the Nexus 4, Nokia's chargers for the Lumia series, and others – we've had nothing but success.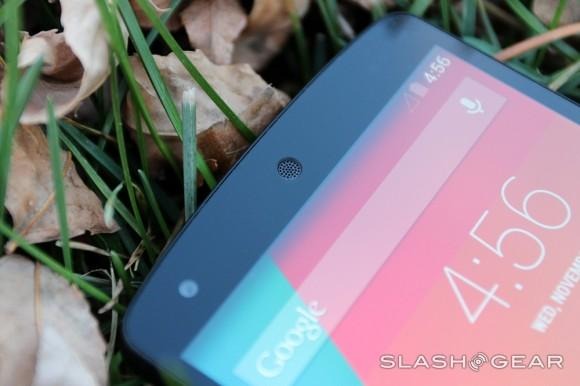 Also inside is a fully functional Miracast wireless display mirroring system as well as – and in a welcome addition over the previous-generation Nexus 4 – 4G LTE radios for connection to a variety of wireless carriers. There's currently no support for Verizon, however each of the other 3 of the top 4 major carriers in the USA have connected with no problems. Speed tests below should give you a basic idea of how fast you'll be rolling inside the USA.
Though a pair of front-facing speakers like those on the HTC One would be preferable to the bottom-facing blasters on the Nexus 5, sound is still relatively fine, if bouncing audio off of the cup of your hand is what you're willing to do. From the perspective of a person who rarely uses the speaker system of a smartphone other than for its ability to sound of a notification or an alarm, the Nexus 5 does fine – otherwise speaker placement almost feels like an afterthought.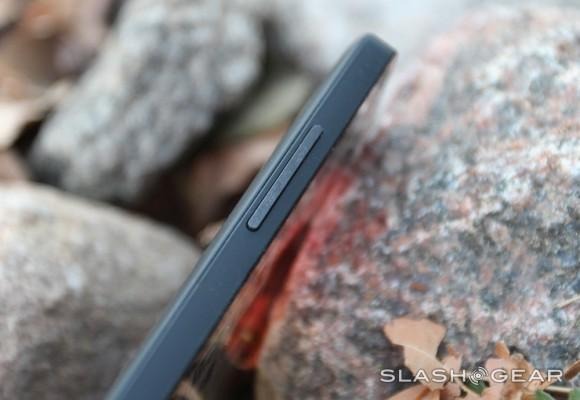 What you don't get with the Nexus 5 is the superlative build quality of, say, HTC's One, or the style of Samsung's Galaxy S 4 or LG's G2. Overall, in fact, this is perhaps the most "developer device" in feel of all the Nexus handsets we've seen so far. Physical styling seemingly took a back seat – even Google only really mentions the circular earpiece as the main distinguishing feature, and even then it's primarily to help you figure out, without looking, whether you're holding the phone the right way up – in favor of the internal components.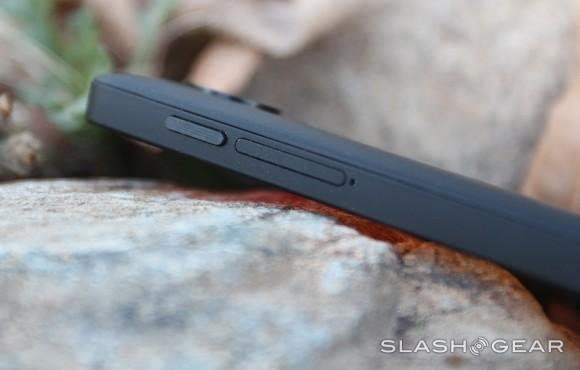 That's not to say it's cheaply made, or poor quality, but more that the aesthetics seem to have taken a relative backseat this time around. The edge of the display bezel is just on the sharp side of crisp, which some have told us leaves it feeling somewhat poorly finished, but it does at least match the ceramic power and volume buttons, the sharpness of which make them easy to find with a fingertip.
Software
The evolution to Android 4.4 KitKat brought what some have described as a change from "pure Android" to "pure Google" because of Google Now integration and the fact that you're using a service like Hangouts for SMS messaging. In reality, you don't actually have to use Google Now if you don't want to; in fact if you don't opt-in for Google Now from the outset, it's a bit complicated to even find the feature from that point on.
Google seems totally fine with keeping Google Now out of your Android experience if you don't want it to learn from your data, though we remain fans of the system overall. Agree to turning it on, and it gets its own homescreen pane on the far left, though you can still call it up from anywhere in the OS by swiping up from the home button. Similarly, the "OK Google" speech-activated search has been pulled out of the Now interface and baked into the search bar on the first homescreen pane; it works well, though unlike on the Moto X you can't wake the phone by talking to it.
Similarly, Hangouts doesn't need to be your SMS app, but it certainly works fine if you do so choose it to play that part in your life. Unlike competitor services that offer similar messaging abilities, Hangouts works within the Google+ IM ecosystem and out to regular SMS devices. While not every emoticon may translate, text seems to fly with great success.
If you're unaware of the full cross-section of new and/or improved features present in Google's newest OS, our SlashGear 101: Android 4.4 KitKat guide has the full run-down.
Android 4.4 KitKat brings on a user interface that's easy enough for any legacy user to work with right out of the box, yet modified in tiny ways that make the whole environment just a bit more user-friendly. The icons have been given a tiny boost in size, the text is just a bit easier to read – and Google uses a condensed version of its Roboto font, which is crisp and clear – and a few images have been modified.
In the phone app, there's now support for auto-lookup of incoming calls, useful if you don't have them saved in the contacts for caller ID, along with a list of the most common contacts based on both incoming and outgoing calls. There's a new low-power mode for the movement-focused sensors, emulating what Apple has done with the M7 chip on the iPhone 5s to persistently track things like steps and location and feed them into fitness and navigation apps without destroying battery life. All positive moves as far as the Nexus 5 experience goes, though of course OEMs are already working to bring it to other device.
Thus far working with the Nexus 5 with Android 4.4 KitKat has been an entirely pleasant experience. We've not found one single place where Android 4.4 KitKat doesn't do as well as Android 4.3 Jelly Bean, and we're looking forward to the KitKat universe expanding to other Nexus devices sooner than later.
As far as how the machine performs in benchmarks, the Nexus 5 is a mixed bag. Although in some cases it seems to be powered well above the rest of its competition, in others it comes in surprisingly low on the list of the best-of-the-best. Given what we've seen this processor do in other machines recently, it's a fair assumption that this low position on ranking lists is down to the tests themselves not being entirely ready for Android 4.4 KitKat, an OS that was just released this month.
Camera
Google's showing when it comes to cameras on Nexus devices hasn't exactly been award-worthy, especially over the last couple of generations. The Galaxy Nexus was a particular low point, but the Nexus 4 never really gelled cohesively either. Given the successes of the LG G2, however, we had cautiously high hopes for the Nexus 5.
At 8-megapixels, Google and LG opted to stick with a middle-ground in resolution but add in things like Optical Image Stabilization (OIS) to improve what you can achieve with those millions of pixels. In general, we've found the camera experience to be approximately in line with any Nexus device – especially since it's essentially the same camera UI – where capturing an amazing photo hasn't always been as easy as we've seen with some competitors.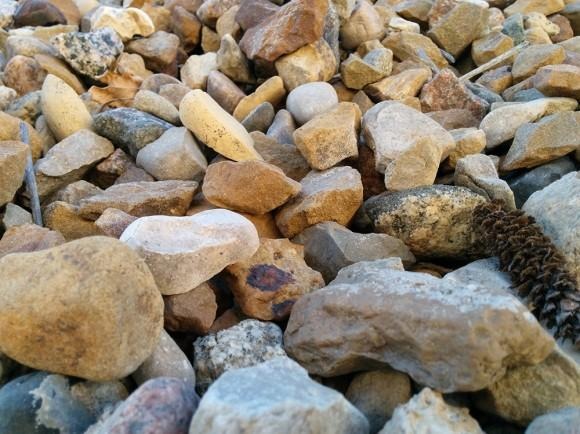 Up close and on a bright, sunny day we've had no trouble snapping a high-quality image. Detail is fine, colors are superb and very, very accurate. The same is true with indirect sunlight indoors. You'll find this (relatively close) photo showing sharp detail and coloration that's very near to the actual scene.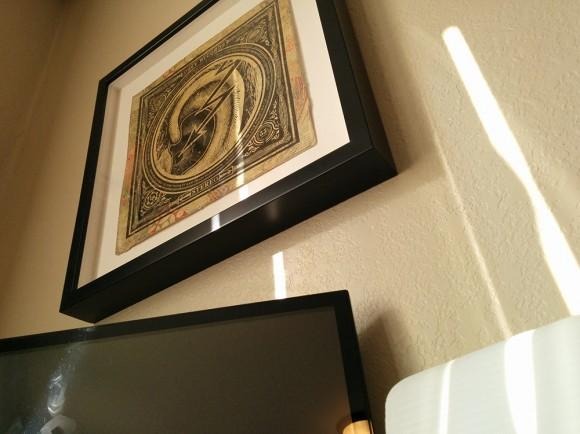 In a dark environment, though, things can get a little screwy. Photographing lights in the dark can either go very well or very wrong – most of the time it depends on how long you'll be able to keep the device still, a fact that has caught us by surprise on a couple of occasions as the Nexus 5 can sometimes take a half-second longer than rival phones to finish taking the picture. Start to move before that final part is complete, and you'll get a blurry mess instead.
With KitKat and the Nexus 5, Google introduces what it calls HDR+, which uses a cluster of burst-shots to enhance clarity of areas of particular brightness or darkness, as well as tease out more detail overall. In most cases – again, if you're able to hold the camera still in a dark environment – the HDR+ photos turn out great. Generally, in low-light conditions however, you'll want to stick to standard shooting; out in the light the HDR+ mode is quick enough that you'll suffer no blur essentially anywhere. The following photos are displayed in order: the first image is always with HDR+ on, while the second is with HDR+ off.
If you do have HDR+ on, you're going to experience a moment of "lag" after you click the shutter button. For those of you used to working with devices with shutters so quick that it happens just as you press the button, there'll be some getting used to it to do. The lag and periodic sluggishness are probably our biggest complaints about the Nexus 5's camera, and we're hoping Google can address them both with a software update much as Motorola did for the camera on the Moto X.
Above and below you'll find a series of 1080p videos shot with the camera – each of them are essentially in the same location at nearly the same time of day, but you'll find the subject matter to be a bit different in each case.
Thus far, video recording in relatively dark locations has had no massive effect on the quality of the eventual film. Light-sensor adjustments in the Nexus 5 appear to be working just fine, as you'll see when we pass between the ground and the sky in these demo videos.
Also included below are a series of shots both up close and far away, again, in a variety of environments. Remember that this is with the Nexus 5 right out of the box with the very first (public) build of Android 4.4 KitKat.
Battery and Call Quality
The battery on the Nexus 5 leaves something to be desired. We've been simultaneously testing multiple units across three different carriers, and on each we've found a normal day's usage seems to empty the battery out before we've made it through to the evening.
With push email turned on, a combination of LTE and WiFi connectivity, and a mixture of Google Maps, some brief media playback, SMS, a couple of short calls, and some photography, we've generally found that by late afternoon the Nexus 5 is complaining that it will soon want a charger. In a worst-case scenario, after a morning of IM'ing, some browser and navigation, and a few photos, we were keeping an eye out for a charger by 1pm in the afternoon.
As for call quality, so far we've had no problems for either ourselves or the caller across the three (of four) main carriers we've been able to test with. Call quality is obviously a mix of carrier signal and hardware involved, but we've found the combinations to be solid all round.
Frequent international travelers should take note that Google actually offers two versions of the Nexus 5, with different LTE and DC-HSPA+ bands supported. Effectively, there's a North American model (the D820) and a European model (the D821) and what delivers LTE in one region won't deliver it in the other. Meanwhile those in the US may find the absence of a Verizon version of the Nexus 5 to be most galling, especially since the D820's radios do support all of the carrier's LTE bands on paper at least.
The speed tests above come from AT&T LTE in Gilbert, AZ, AT&T LTE in San Francisco, CA, and AT&T HSPA+ in Bismarck, ND, respectively. Overall, the tests have stacked up to be essentially identical to those done with the LG G2, unsurprising given it has the same Qualcomm LTE technology inside.
Wrap-up
This isn't the only smartphone that Android will be rolling with this upcoming season, but it's arguably the best. The Nexus 4 found its way into more than one SlashGear writer's pocket, and it's a device that has stood the test of time since launch for many of the same reasons that the Nexus 5 prevails: price, quality hardware, and the promise of software updates direct from Google.
As our video comparison indicates, the Nexus 5 is an evolution of the Nexus 4, not a revolution, effectively polishing and refining each aspect of the smartphone experience from one generation to the next. If there's work to be done still it's on power management and the eagerness with which the camera snaps photos, but we've a suspicion both could be addressed with a timely firmware update.
The potential for just such an update is, if previous Nexus devices are anything to go by, a possibility we'd bet on. In fact, with at least as much Google software support and community – whether developer, friendly hacker, or accessory maker – support as was given to the Nexus 4, it's easy to see the Nexus 5 having massive potential for success. It'll be interesting to see how well the Nexus line continues to compete with the carrier-subsidized smartphone world, but in the off-contract environment, the Nexus 5 simply has no equal.