The Samsung GALAXY S 4 is official, and now that we got our hands on the new device, it's time to see how it compares to Samsung's previous Galaxy S handset, the Galaxy S III. Obviously the GALAXY S 4 is an improvement over its predecessor in almost every way, but what exactly has changed here? Let's take a look.
As for looks, both devices are almost look identical, save for a few changes to the edges. They both have the rounded top and bottom, and the earpiece and home button look very similar. However, the biggest difference cosmetically is the larger 5-inch display on the S 4, while the Galaxy S III is left with a smaller, lower resolution 4.8-inch screen.
However, it's really the internals that you'll want to focus on when comparing these two handsets. The GALAXY S 4 runs a quad-core Snapdragon CPU clocked at 1.9GHz (a 1.6GHz Exynos in some regions), while the Galaxy S III touts a Snapdragon S4 dual-core chip clocked at just 1.5GHz. There's also 2GB of RAM in the S 4, which is the same in the S III. However, the camera is where there's a big difference: a 13MP sensor in the S 4, while the S III only rocks an 8MP shooter.
Then again, the display is where the GALAXY S 4 really shines when compared to the S III. a 5-inch 1080p display is pretty much unbeatable right now. As for the question of whether or not you should upgrade from the Galaxy S III to the S 4, it certainly doesn't hurt to do such a thing. There's definitely faster internals, more features, and that larger screen and camera. However, if you're still rocking a contract with the S III, don't worry about having to wait it out. The S 4 will still be here waiting for you when you're eligible for an upgrade.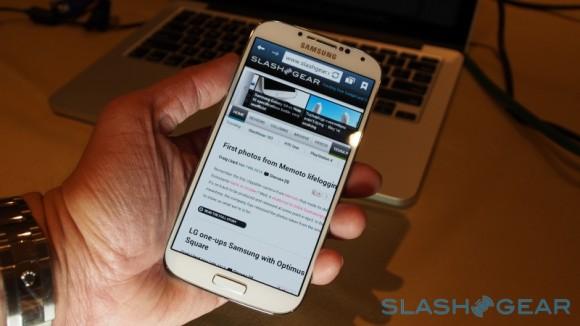 There's also a few new software features in the S 4 as well, including Smart Scroll and Smart Pause, both of which may come in a future Android update for the Galaxy S III, but that's simply just rumored at this point. Of course, we'll be taking the GALAXY S 4 and put it through its paces in a full review, but for now, this new device is quite the beast. We've already compared it to other new handsets on the market right now, including the iPhone 5 and the HTC One, which was just recently announced last week.