Now that the Samsung GALAXY S 4 has been revealed officially and the HTC One is out in reviewers' hands, it's time to do the first big battle royal between the two. With the GALAXY S 4 you've got Samsung's continuation of a legacy with a device that looks rather similar to the Samsung Galaxy S III, not to mention the Galaxy Note devices that've been revealed in the time since the smartphone's last iteration's reveal. With the HTC One we've got what appears to be more of an utter re-vamp of the company's wares from top to bottom – which approach suits you best?
Both devices work with Android Jelly Bean, though the HTC One's update to 4.2 is coming soon (perhaps by launch time) while the GALAXY S 4 has its 4.2 version of the software ready on the device right here this week as it's revealed. The HTC device has a user interface that's extremely different from what they've offered before with a whole new app drawer for Android and a feature called BlinkFeed – learn more about HTC's approach in our full HTC One review.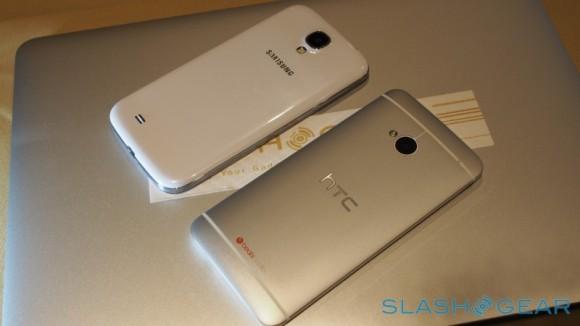 The Samsung GALAXY S 4, on the other hand, adds a collection of apps and features to its user interface with TouchWiz, leaving the UI in a more grand way pretty much the same as it's been on the newest updates to both the Galaxy S III and the Galaxy Note II. Have a peek at some specification comparisons here to see how the hardware differs, too:
Samsung GALAXY S 4
Display: 5-inch Full HD Super AMOLED 1920 x 1080 pixel display at 441 PPI
Processor: Qualcomm Snapdragon 1.9 GHz Quad-Core Processor / Samsung Exynos 1.6 GHz Octa-Core Processor – depending on market
Cameras: 2 megapixel front-facing, 13 megapixel back-facing
Dimensions: 136.6 x 69.8 x 7.9 mm, 130g
Storage: 16 / 32 / 64 GB internal storage, 64GB expansion microSD slot
Battery: 2600 mAh
HTC One
Display: 4.7-inch Full HD Super LCD3 1920 x 1080 pixel display at 469 PPI
Processor: Qualcomm Snapdragon 600 1.7 GHz Quad-Core Processor
Cameras: 2.1 megapixel front-facing, 4 megapixel back-facing (Ultrapixels in both cases)
Dimensions: 137.4 x 68.2 x 9.3mm, 143g
Storage: 32 / 64 GB internal storage
Battery: 2300 mAh
The Samsung GALAXY S 4 has been pushed with a set of four pillars of user experience excellence while the HTC One was given a similar push with more feature upgrades than you can shake a stick at. In the timeline below you'll be given a tour of our hands-on experiences with the HTC One and its features as well as a tour of the GALAXY S 4's four pillars. You'll find both approaches to be rather interesting if not utterly confusing until you actually have the hardware in your hands.
And here's one of the biggest key differentiators between the two of these devices: the Samsung GALAXY S 4 has a removable, replaceable battery as well as a microSD expansion slot. The HTC One has neither.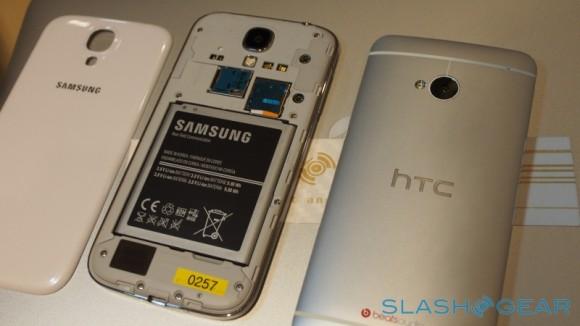 If one thing is true about both of these devices, its that their makers aren't holding back when it comes to putting features in full-force. Now we've got to see if the public will accept a whirlwind of software and hardware upgrades at once, or if they'll opt to stick with the simpler approaches on the market that are already available.