Samsung Galaxy Player 5.0 Review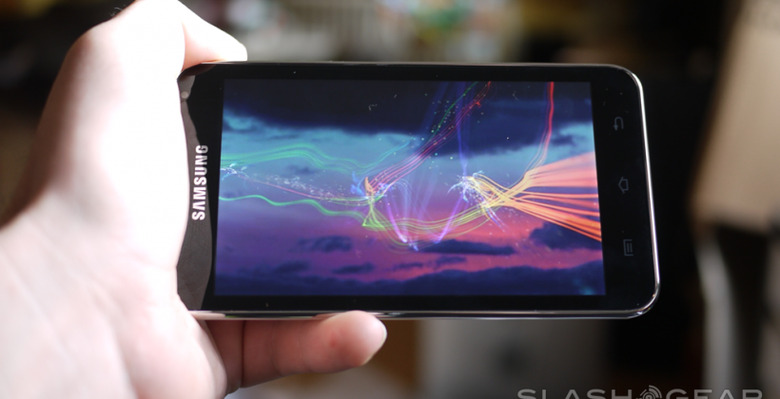 We may receive a commission on purchases made from links.
With the absolute barrage of Samsung Android devices having been released this summer, fall, and on into the winter, you'd think that they'd just skip sending out the Galaxy Player 5.0 altogether – it being a device essentially released internationally several months ago. Instead they're releasing it relatively silently in a way that wont defeat the iPod as many have said it would be aiming to do, but will fill the void where Samsung simply hasn't had a wi-fi only handheld media player before. Will it sell for what it is, or will it fall at the hands of its own much more impressive smartphone lineup?
Hardware
This is the 5-inch Galaxy Player, one of two, the other having a 4-inch display. This device has a WVGA TFT LCD display, this meaning it has 480 pixels across and 800 pixels down. This means that it's got the same amount of pixels that several Samsung devices out on the market have already, all of them with smaller screens. This means that the pixels on this display are spread over a larger space rather than being tightly packed as its family members display's pixels are, making the display on this device appear comically large. Notice the amount of icons on the screen on the Galaxy Player compared to these other Samsung devices, each of them with the same amount of pixels across different sized displays: Epic 4G Touch 4.52-inch, Galaxy S II from AT&T 4.32-inch, and Stratosphere 4-inch: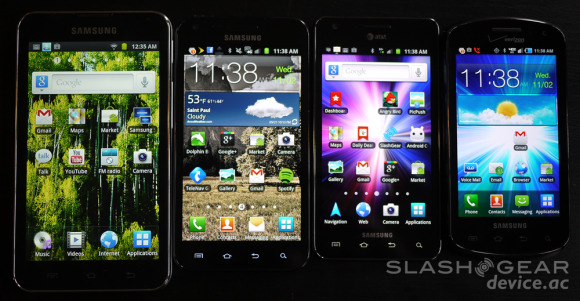 Of course these displays have different technology behind them, the Galaxy Player with a TFT LCD, the GSII devices with Super AMOLED Plus, and the Stratosphere with a Super AMOLED. That said, the image above showing each of these devices at full brightness says a lot. I'll be posting more on the comparisons between these devices in a future post here on SlashGear, but for now know this: this device isn't simply larger, it's essentially taffy pulled to a larger size, stretched if you will. That said, just like any other device, if you've not got each of the devices next to one another or your not used to a higher definition device, you won't know the difference.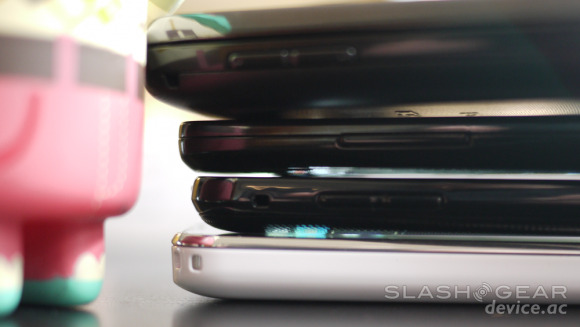 The Galaxy Player 5.0 is a total of 11.9 mm thick, meaning that it's thin compared to your laptop, but not compared to your smartphone. This media player isn't exactly meant for sticking in your pocket unless you've got absolutely nothing else in your pocket and you've got 141.3 x 78.2 x 11.9 mm left over. It's basically the size of a stack of dollar bills large, but of course much more precious.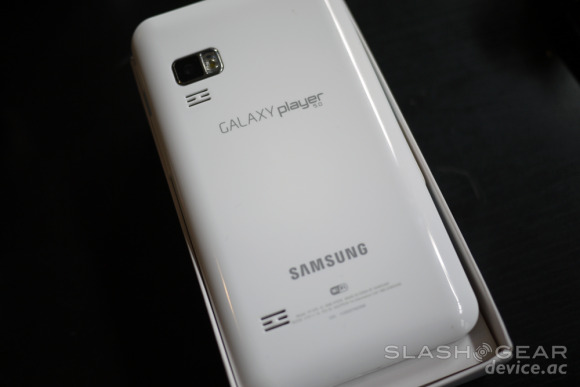 Inside you've got 8 GB of storage with a microSD card slot along the top so you can expand by 32GB, a single-core 1GHz processor made by Samsung, and two cameras: one VGA on the front for video chat, and a 3.2-megapixel shooter on the back. This device might not play some of the highest-powered apps of today, but it'll play most of them, and HD video and audio play fine, without a hitch. The only drawback here is that you'll only be able to play the video files on the device itself where most modern smart devices worth their salt these days have either a microHDMI or an MHL port so that you can use a converter to output to HDMI. Of course since the display is much smaller than your average HDTV and has an amount of pixels that's much greater than your average TV, you've still got a superb picture – and with two speakers on the back that sound rather nice, you've got a movie player for any occasion.
Software
You can play DivX, Xvid, WMV, MPEG4, and H.264 videos, MP3, AAC, WMA, Ogg, and FLAC audio files, and essentially any app you can imagine. Of course again this device only has a 1GHz processor where the top smartphones on the market have dual-core processors (at least twice as powerful,) there are some selections that wont run superbly. For these you'll want to wait for the Samsung Galaxy Note, the slightly larger and much more powerful new sibling of the Player. That said, your stock video player showing off some video on the WVGA TFT LCD doesn't look half bad, and be sure to check out the hands-on video again for a better peek.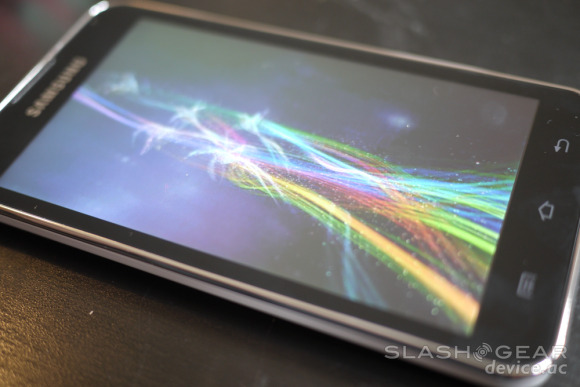 The Galaxy Player uses a version of TouchWiz that's been replaced since its original release earlier this year by the versions on the Galaxy S II as well as the in-between version on the Samsung Stratosphere. You'll notice the difference in that you have none of the perks outlined back in August and there'll be that memorable "candy coating" around your icons in the apps drawer.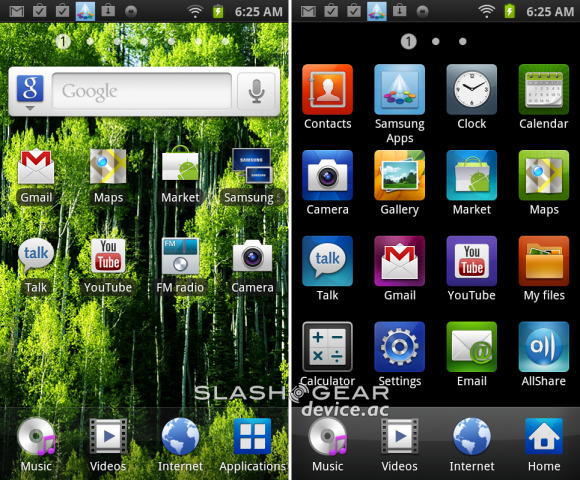 Have a peek at a couple of benchmarks here for good measure: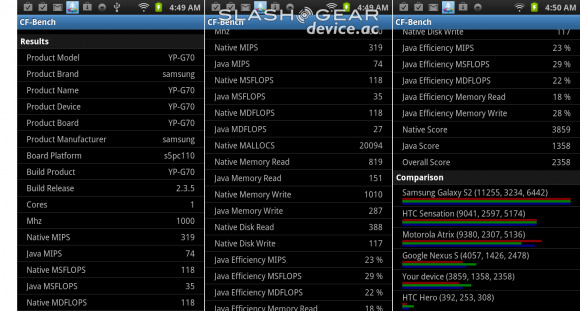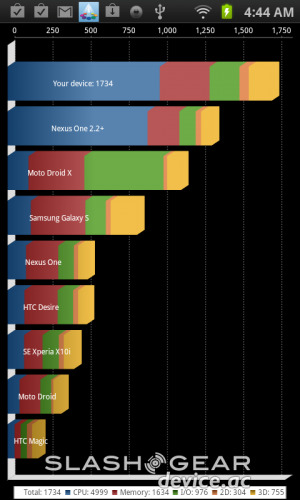 Camera
The camera is OK but by no means a replacement for the camera you've already got on your smartphone or your point-and-shoot. It's a 3.2-megapixel camera, that being comparable to many of the tablet-sized devices that've come out this year, and it's capable of 480p video recording. Have a look at a photo here, a few more in the gallery below, and a video recording demonstration to see what we're dealing with here.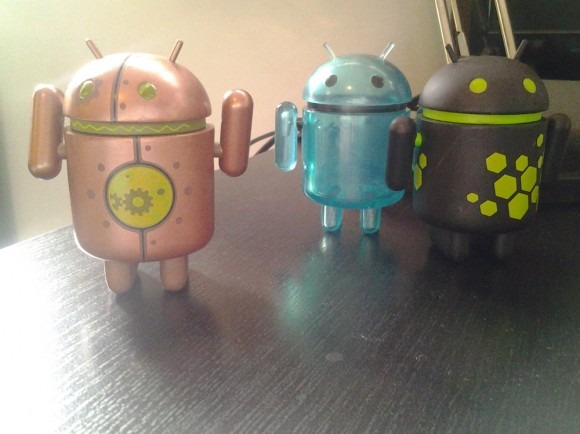 Battery
There's a 2500 mAh battery in this device, and you've got no phone signal to bog you down, so you'll be running in at least a full day's use if you're using it in a medium to heavy way. If you're watching videos all day or downloading or watching streaming movies for hours at a time, expect much less.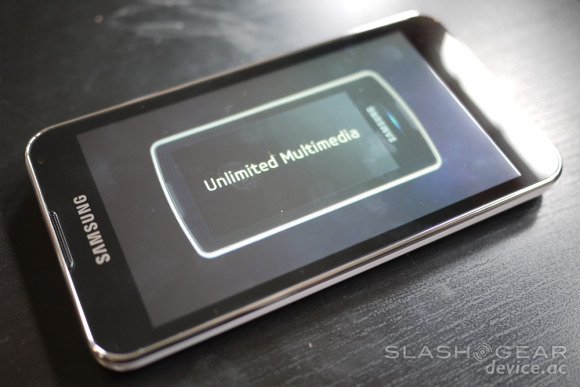 Wrap-Up
This review is just one part of a series we're doing on this device as part of our new initiative to give you a better look at the value of a reviewed product as compared to its competition. The devices we'll be looking at have been listed in this review earlier, those being the Samsung Galaxy S II, the Samsung Stratosphere, the Apple iPod Touch, and of course the Galaxy Note. As a preview, know this: if you've ever used a smartphone before and expect to switch to this device, you'll feel as though you're using an oversized handset as opposed to a tiny tablet.
This device is good for bringing along on the airplane to play some videos and play some simple games, for handing to your kid if you don't want him to smudge up your $400 smartphone, and for showing off your tiny portfolio. While I'm loath to say this, it's essentially true: your only other option for a device like this is an iPod Touch, and $262.94 for a 5-inch smart device with no contractual obligations, it's enticing! Stick around here on SlashGear for the rest of the review collection for this device.
Update: the review continues with Samsung Galaxy Player 5.0 vs Galaxy S II vs Stratosphere also seen here in short: