Samsung Galaxy Note hands-on [Video]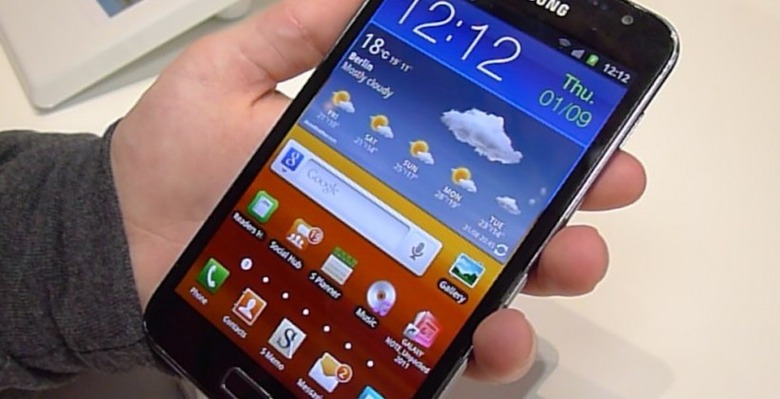 Can Samsung save the stylus? The Samsung Galaxy Note is the company's main surprise at IFA 2011 this week, a MID-scale super-smartphone that offers a blend of phone and tablet functionality with a dash of paper notebook thrown in too. We thought the Galaxy S II was big, with its 4.3-inch display, and then were slightly more surprised by the Inspire 4G when that stepped up to 4.5-inches. The Galaxy Note, though, surpasses them both, with its huge 5.3-inch panel. Samsung brands it as HD Super AMOLED, and claims it's the statistical midpoint discovered when consumers were polled for their thoughts on ideals of front visibility, single-handed operation, pen input and calling. Read on for our hands-on first impressions.
What makes it a whole lot easier to stomach is the resolution. The Galaxy Note actually goes beyond 720p with its 1280 x 800, 285ppi display, and like Super AMOLEDs before it it's a stunningly bright, clear and crisp panel with incredibly broad viewing angles and vivid colors. Thanks to those extra pixels, however, there are no oversized icons as on the Infuse 4G; instead, you get a deliciously crisp Android playing field, fonts that look sliky-smooth almost until the full level of zoom, and webpages that can be read without needing to first resize them.
Our humble stylus hopes were only partially met with the HTC Flyer – the 7-inch tablet lacked the sort of precision we were familiar with on regular digitizers – but Samsung takes a definite step ahead with its S Pen system. The company isn't saying whose digitizer tech is inside, only that it has come up with a system that combines what's best on the market today, but the end result is free-flowing, jaggie-free ink, and noticeable pressure sensitivity. The stylus itself is markedly thinner than the Flyer's but gets a dedicated silo inside the Galaxy Note; on the side is a small button that, when you hold it down and tap, activates some of the pen-specific features.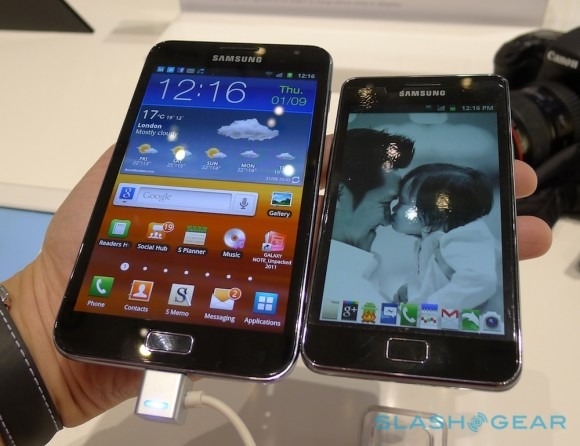 They range from handwriting recognition – which did a mixed job with cursive, but handled individual letters well; it's worth remembering that Samsung is still finalizing the software – to clipping, sketching and annotating. Hold down the pen button and double-tap the display and you take a screenshot, which you can then mark up or clip in regular and freehand shapes. In the messaging apps, you can draw maps or handwrite replies rather than tap them out on the on-screen keyboard (which itself, thanks to the relative broadness for a phone, is well-spaced and easy to use), while you can also write into emails. The Samsung S Memo app supports photo, voice, text, handwriting and drawing capture, and is added as a regular Android "Share" option to make adding content, like photos you've just snapped with the 8-megapixel camera, straightforward. A virtual whiteboard app, intended to be released through Samsung's own appstore, will allow two Galaxy Note users to collaborate remotely on a single shared workspace.
Where HTC limited what the Flyer's stylus could be used for – fingers, for instance, were the only way to select and navigate apps – the Galaxy Note will respond to pen or touch throughout. The new photo and video editing apps support pen control over the media timeline and clip cuts, and you can write handwritten text into the frames of both stills and video. Samsung's S Planner is a comprehensive scheduler integrating a to-do list, making good use of the screen size and resolution; you can pinch-zoom to shift between year/month/week/day views, or pull in a Filofax-style tab bar down the side. Even with that bar in place, there's still plenty of room to see your appointments, which can be dragged and dropped across the calendar.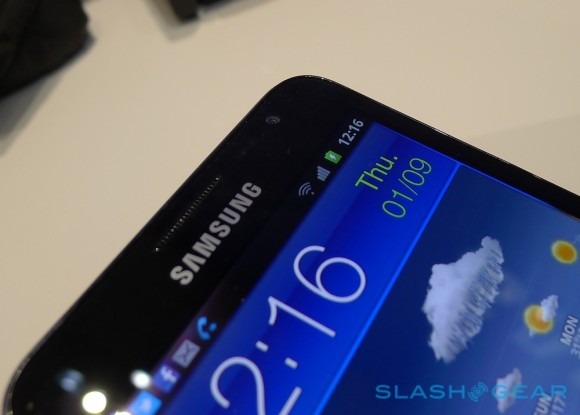 Android 2.3 Gingerbread may be the OS, but Samsung hasn't left the native apps alone. Like the S Planner, the email, messaging/IM and music apps, along with the company's own social hub, have all been tweaked to suit the 1280 x 800 resolution. In the mail app, for instance, landscape orientation offers a two-pane view of your inbox and a specific message preview, with a draggable split-point. Samsung is also hoping that third-party developers will add support for the S Pen, and is releasing an SDK for building in compatibility. Whether app creators will jump on board is a similar question to that HTC is asking about its own stylus-specific SDK, and remains to be seen.
Samsung Galaxy Note hands-on:
[vms af599e06ad9bf1ba03cb]
From the specs and our initial hands-on time, it's tough to find an obvious flaw in Samsung's positioning of the Galaxy Note as a consolidation of the core mobility tasks. The 1.4GHz dual-core processor is swift, the HD-capable 8-megapixel main camera and front-facing 2-megapixel camera aren't the underwhelming low-resolution units we've seen used in tablets, and the HSPA+ and LTE support promise solid wireless connectivity. Battery life is an unknown at this stage, but at least the 2,500 mAh pack is user-replaceable, while the 9.65 mm thick design (and 178g weight) means the Galaxy Note slips easily into a front jeans pocket. Strangest of all, moving from the Note back to our Galaxy S II, the smartphone suddenly felt small. Nonetheless, it's the GSII's huge sales success that Samsung will be hoping to replicate with their stylus-toting new model.