Samsung Galaxy Note Official, HD Super AMOLED in Tow [Updated with Video]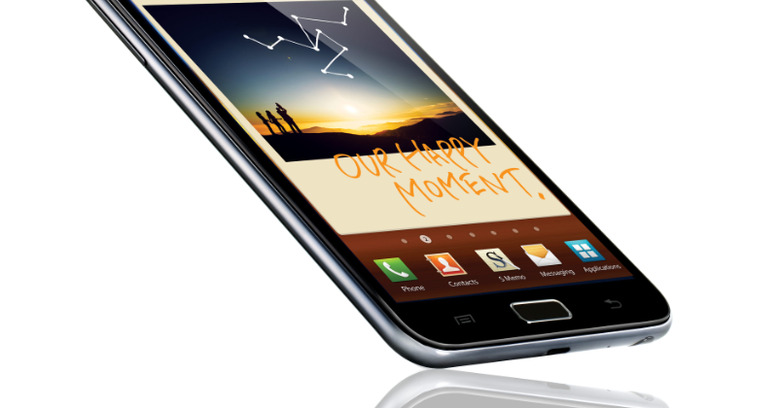 This week Samsung revealed several new devices at their "Unpacked" event in Berlin at IFA 2011, perhaps the most impressive of these being the Samsung Galaxy Note. This device is what Samsung will be promoting as the ultimate single device for all of your mobile needs, bridging the gap between smartphone and tablet, with a size that's small enough to fit in your pocket yet large enough and brilliant enough to provide you with any and all of your interactive screen-based needs. In addition, this is the first device on the market to feature such a brilliant resolution and brightness with Samsung's own brand new "HD Super AMOLED" at 1280×800 pixel WXGA resolution, 285ppi that is, on a cool 5.3-inch display – a new level of WOW factor at play in the Galaxy Note for sure.
No longer will you need (nor will you want) to carry along a phone, a tablet, a camera, a notepad, pen, and paper, nay! Now you've got the Samsung Galaxy Note – not stuck in one category as a smartphone or a tablet, this device is being marketed (very intelligently) as its own entity. Inside you'll find a 1.4 Ghz dual-core processor, 1GB of RAM, and the most current handset-optimized Google mobile OS Android 2.3 Gingerbread. On the back you'll find an 8 megapixel camera with LED flash, on the front is a 2 megapixel camera for video chat, and the entire device weighs in at 178 grams and is 9.65mm (0.37-inch) thin. Samsung will be releasing this device in at least two configurations, those being LTE and HSPA+ connectivity options.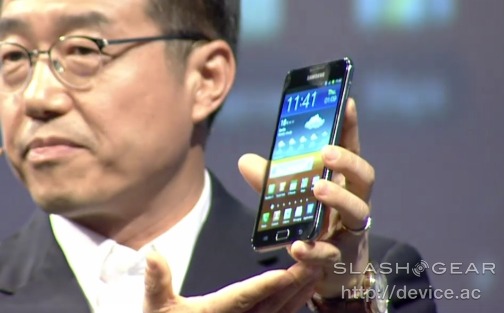 What this device's existence represents is Samsung's extensive research into the ideal balance point for portability, ease in use, and a wholly optimized on-the-go experience for both everyday consumers and enterprise users. The largest screen size possible while ensuring a smartphone's portability. Consolidation is the name of the game, this device taking a slew of ideal situations, including the analog pen and pad classic form of taking notes, and adding them all together to come up with this one perfect blend.
And what about the "Note" bit exactly, then? Is there actually a stylus? Why yes there is! And with a silo inside the device so that you might store the stylus while you're not using it. You'll find from our hands-on look at this device that this is the most responsive and best-laid bit of stylus technology yet laid down on an Android tablet. There's a single button on the pen that'll activate several features, the one we're of course most interested in being a hold down and double-tap activating a screen-grab. The Samsung S Memo app (included out of the box, of course) supports photo, voice, text, handwriting, and drawing capture, all of it working with your regular Android sharing options for optimal cloud-working experience. Finally, the pen takes stylus working to a new level as you're able to use it for all manner of activity, not just drawing. Open apps, flip through pages, and write in text to still frames amongst a whole slew of other awesome new features.
Get to know this device twice as well soon here on SlashGear as we post our hands-on look at the device straight from Berlin!
Then continue to follow along with us LIVE for the rest of the Samsung Unpacked event at IFA 2011 for total coverage of every Samsung device we'll be marveling over for weeks and months to come. Also stay tuned to SlashGear for our hands-on look at the devices we've revealed from Samsung today, and get ready to take em out a whole new door!