Samsung Galaxy Note 2 specs allegedly leak in full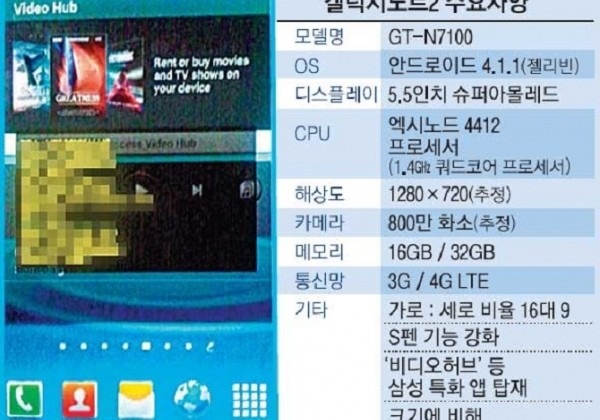 Samsung's Galaxy Note 2 phablet is believed to be only days from its official release, but a Korean newspaper claims to have jumped the gun on what, exactly, the stylus-toting handset will bring to the table. The Note 2 GT-N7100 will have a 5.5-inch 1280 x 720 display, so the Seoul Newspaper claims, along with 3G/4G connectivity and a 1.4GHz quadcore Exynos 4412 processor. Somewhat surprisingly, it's also tipped to arrive running Android 4.1 Jelly Bean, not the older Ice Cream Sandwich.
The screen itself uses one of Samsung's Super AMOLED panels, according to the leaked spec sheet, and there's an 8-megapixel main camera along with either 16GB or 32GB of internal storage. Physically, the blunter edges of the original Galaxy Note have supposedly been rounded off, the newspaper says.
None of those details come as any particular surprise, given what we've seen of the Galaxy S III and heard whispered about the Note 2 already. Some details, like the camera, are seemingly unchanged from the current-gen model too – at least on paper – though if Samsung can trim down the physical design to make it more pocket-friendly then that might be enhancement enough. That might take advantage of Samsung's flexible screen tech, allowing the display to curve somewhat around the body of the phone.
Although it met with some confusion when first announced, the oversized Note soon built up a following of loyal users thanks to its accurate digital stylus and expansive screen size, ideal for media consumption, note-taking and browsing. It also prompted rivals to consider larger phones, such as the LG Optimus Vu.
Samsung is expected to reveal the Galaxy Note II at its Samsung Unpacked event on Wednesday, August 29. SlashGear will be right there to bring you back all the details; keep an eye on our IFA 2012 hub for all the news.
[via Latinospost]