Samsung teases Exynos quad-core mobile chips ahead of MWC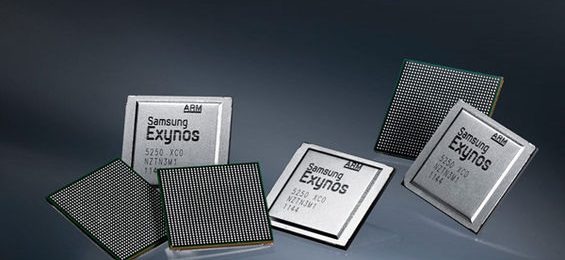 Among several new mobile chips we'll be seeing at Mobile World Congress next week, will be Samsung's new Exynos chips. The company teased the first samples at the ISSCC event this week and is expected to showcase two of these next-gen processors at MWC. Although one of the models still uses quad ARM Cortex-A9s, it's built on an improved 32nm process, which should mean both faster speed and longer battery life.
The new quad-core Samsung Exynos chip is expected to be 26 percent faster, while using 34 to 50 percent less power. Each core can be shutdown independently to conserve energy depending on the tasks at hand. The Exynos 4412 model can run from 200MHz to 1.5GHz, and will include four ARM Mali graphics cores, a 64-bit Neon media engine, and a dual-channel memory controller.
The Exynos 4412 is said to be powerful enough to support a phone with an integrated projector and a 1080p 3D display. It will directly compete with Nvidia's Tegra 3 quad-core processor for a place in tablets and high-end smartphones this year.
Although, we did see earlier today that TI has its own OMAP 5 that will be a strong contender and has already been shown to smoke the Tegra 3 with its dual ARM Cortex-A15 cores. Samsung has its own answer to this with the Exynos 5250, which is built on a 32nm process and also features dual Cortex-A15 cores.
[via Tom's Hardware]