TI OMAP 5 blows past quadcore Tegra 3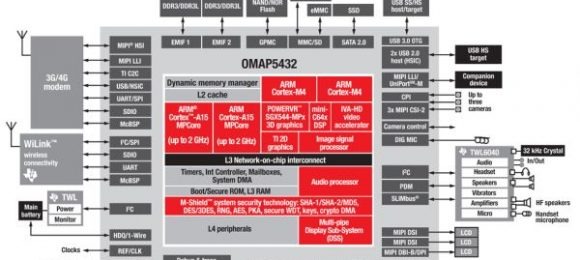 Texas Instruments recently released a new demo video showing off the performance of its upcoming OMAP 5 processor, pitting it against a quad-core ARM Cortex-A9 processor that's presumably a hit at the Tegra 3. Quipping that "sometimes less really is more," TI proceeded to show how its dual ARM Cortex-A15 smoked the quadcore rival.
TI's OMAP 5 will be making a showing at next week's Mobile World Congress, but this new benchmark battle video should help whet our palettes for what processing advancements lay ahead. The video shows two tablets downloading videos, playing MP3s, and running through 20 pages of EEMBC's BrowsingBench test.
One tablet uses an 800MHz TI OMAP 5 SoC, which is built on a 28nm process and consists of two ARM Cortex-A15s and two Cortex M4s along with a SGX544 MP2 graphics. The other tablet, similar to a Transformer Prime, features an unnamed 1.3Ghz quad-core ARM Cortex-A9 setup, much like Nvidia's Tegra 3.
And the results show that the TI OMAP 5 is more than twice as fast. And with the capability of ramping up the OMAP 5 from 800MHz to 2GHz, the speed could be even faster. However, TI doesn't expect its chips to ship in products until late 2012 or early 2013.
[via AnandTech]