Samsung Galaxy Note 10.1 and Tab 2 Jelly Bean upgrades bring "Premium" delight

This week Samsung will begin rolling out the Premium Suite Android 4.1 Jelly Bean software update to their Galaxy Note 10.1 and Galaxy Tab 2 tablet devices. This set of feature updates includes enhancements for both devices such as Multi-window, Air View, and Quick Command, while the Galaxy Note 10.1 will be getting a set of features working with its S-Pen specifically. Android 4.1 Jelly Bean, of course, also offers a set of its own features from Google, but brings with it here items such as S Voice, Smart Alert, and an enhanced user interface from Samsung as well.
This upgrade will be hitting the Samsung Galaxy Note 10.1 and the Samsung Galaxy Tab 2 (10.1 and 7.0), the wi-fi versions of each, with Android 4.1 Jelly Bean's core experience as well as an overall faster bit of performance across the board. This experience is enhanced in the Galaxy Tab and Galaxy Note lines uniquely with an upgraded bit of Multi Window functionality, including Cascade Vies, Air View, and Quick Command. While the Galaxy Note 10.1 worked with Multi View from the start, these three new views update this universe once more.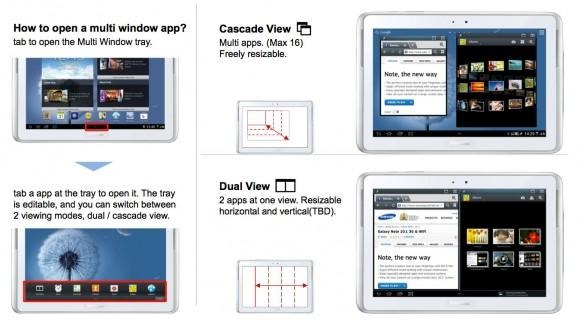 NOTE: a total of 14 apps are currently supported officially by Samsung for Multi Window use, these including their own Alarm, Calculator, Contacts, Email, Gallery, Internet browser, S Planner, Video Player, World Clock, Task Manager, S Note, My Files, Music Player, and Polaris Office.
With Cascade View you'll be able to see a second application open and able to be freely resized, moved, and pinned. Air View brings on your ability to preview content without having to open it, and Quick Command allow you to open or otherwise activate apps and services with customized S Pen strokes. The S Pen itself has also been upgraded with the ability to select writing or color modes or launch a unique home-screen when you remove the unit from its dock – not unlike the Galaxy Note II.

The Galaxy Note 10.1 has a set of enhanced "Personalization" features in this upgrade starting with Easy Clip – circle a bit of content and it'll be snapped and captured for you in your image gallery for later use. Photo Note allows you to write notes on the "backs" of your photos for later reference. You'll get enhanced handwriting abilities like the ability to knock out personalized handwritten notes via email as well as a newly template-carrying S Note with the ability to insert video.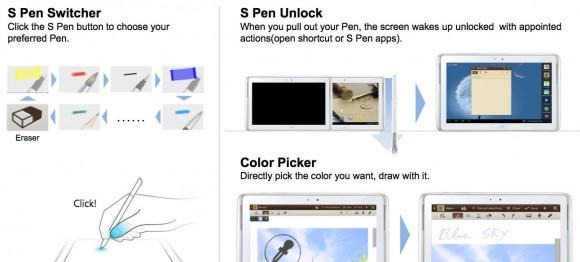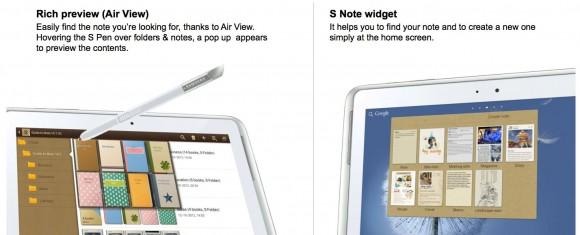 Android 4.1 Jelly Bean brings on several features you'll be familiar with if you're already also working with a Samsung Galaxy Note II. One of these is a gigantically impressive version of the Samsung Gallery for your images, including Grid View, Timeline View, and Spiral View. Also coming in for the Galaxy Note 10.1 and Galaxy Tab 2 (both sizes) are a couple of Samsung Galaxy S III features: S Voice (for voice commands) and Smart Alert: a collection of notes about missed calls (where applicable) and messages with vibrations to boot.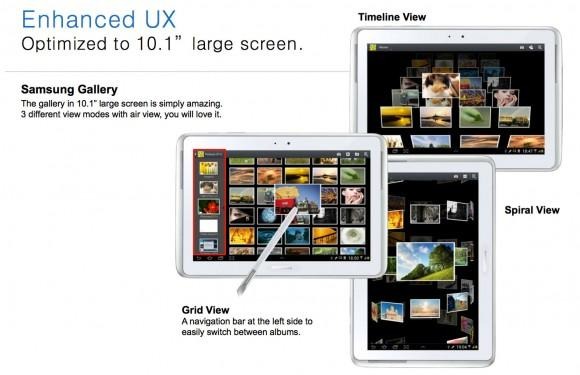 This update will be appearing on your device wirelessly (and automatically) starting this week. You'll find the update appearing in your notifications drawer as you'd see any email, note, or update as normal. Let us know how you like it!