Samsung Galaxy Gear Smartwatch Android Compatibility Expands

This week the aforementioned update to the software for several Samsung devices has taken hold, allowing the Samsung Galaxy Gear to work with devices beyond the Samsung Galaxy Note III. This week the Galaxy Gear will be able to work with the Samsung Galaxy S 4, the Samsung Galaxy Note II, and the Samsung Galaxy S III. This brings the total number of devices the Galaxy Gear is (officially) able to work with up to a grand total of four.
The key to working with the Samsung Galaxy Gear is the Galaxy Gear control app: Gear manager. Samsung controls this app through their Samsung apps hub, and allows control of the Galaxy Gear through the app with code that connects only to certain smartphones. Even if you do have the Gear Manager app for your HTC One, you still wont be able to use it.
Of course hacks have taken hold. The software update to the Galaxy phones listed today will be appearing "over the coming weeks". Hacking of the Galaxy Gear has already been initiated.
If you're all about opening up the odd possibilities with the Samsung Galaxy Gear from a hacking perspective, you'll be glad to know that the device has already been rooted. We won't point you directly to instructions on how to do so, but will remind you that heading to XDA Developers forums isn't a bad place to start looking. Hacks have also included connectivity to non-Samsung devices (like the HTC One, since we're already chatting about it) and the turning off of the camera shutter noise – easy peasy!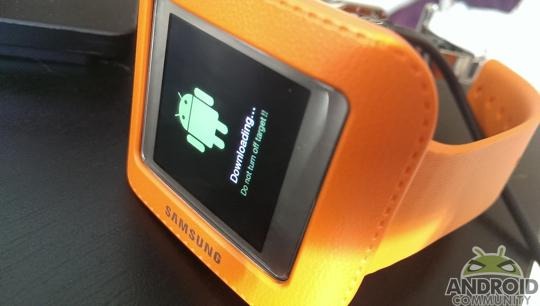 Have a peek at our full Samsung Galaxy Gear review for more information on this machine and keep an eye out for additional pushes by Samsung to increase its multi-device power!