Samsung freeze US ereader plans due to "current market dynamics"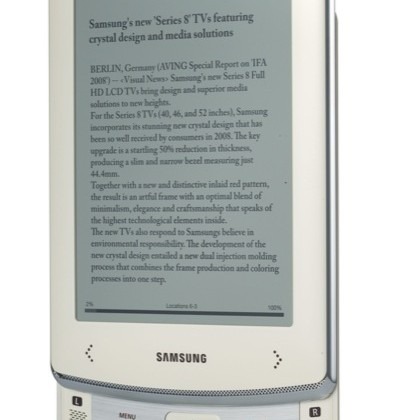 Samsung have seemingly decided to drop out of the US ereader race, at least for the moment, telling The Digital Reader that they are "revisiting" their approach to ebook devices based on "current market dynamics".  The news follows the Samsung SNE-60's launch in France being detailed earlier this week, as well as UK preorders kicking off in May; it seems likely that Samsung has decided that, after significant price cuts for the Kindle and nook, the US market lacks the profit margins of other countries.
"Based on current market dynamics, Samsung is revisiting its approach to the eReader market in the US at this time. We remain committed to the mobile entertainment market and expect to have new announcements soon." Samsung
While the company hasn't altogether counted out the possibility of a US release, the whopping $399 estimated MRSP Samsung expect the SNE-60 to command would likely leave it floundering in comparison to $189 Kindles and $199 nooks.