Samsung E6 and E101 WiFi/Bluetooth ebook readers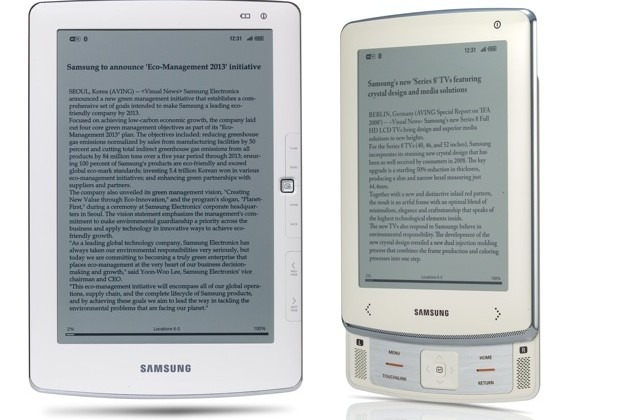 Samsung have announced their first entries into the burgeoning ebook market, and as you'd expect they're not doing anything by halves.  The Samsung E6 has a 6-inch E Ink display and the Samsung E101 has a larger 10-inch display; both have touchscreens that respond to a dedicated stylus, WiFi b/g and Bluetooth 2.0 for wireless downloads and exchanging content.
Meanwhile Samsung have also partnered with Google for ebook content for the two devices, presumably for the large part using the search giant's huge repository of out-of-copyright Google Books titles.  As for the form-factor, each ebook reader has a slide-down control panel which reveals navigation and menu controls together with stereo speakers.
Samsung are estimating up to two weeks use from a single battery charge, though we'd guess that's with wireless shut off.  Both new ebook readers are expected to arrive on the market in early 2010, priced at $399 for the Samsung E6 and a whopping $699 for the Samsung E101.
Press Release:
Samsung Unveils Its First E-Book for Reading, Writing and Sharing On-the-Go

Samsung's New E-Book Series Boasts First-of-its-Kind Functionality with a Precision Stylus Pen

LAS VEGAS –(Business Wire)– Jan 06, 2010 Samsung Electronics America, Inc., a subsidiary of Samsung Electronics Corporation, today unveiled its first e-book devices, with six-inch and ten-inch screen size offerings, at the 2010 International Consumer Electronics Show (CES) in Las Vegas. The E6 and E101 further solidify Samsung's position as a global leader in display technology by raising the bar on the quality of writing capabilities for e-books.

"We've used our expertise to create a high-quality e-book with today's on-the-go consumer in mind," said Young Bae, director of display marketing, Samsung Information Technology Division. "Samsung is addressing a common frustration that users experience with many of today's digital readers with a stylus that allows them to annotate their favorite works or take notes. Coupled with wireless functionality that enables sharing of content, this is a truly multi-faceted device."

Handwriting Capabilities

Unlike other e-book devices, Samsung's E6 and E101 enables handwriting directly onto the display, allowing users to annotate their reading selections, calendars and to-do lists with a built-in electromagnetic resonance (EMR) stylus pen. This dedicated pen prevents mistypes caused by hands and other objects that may graze the screen's surface. A variety of pen and eraser thicknesses makes the Samsung e-books perfect for drawing and writing.

Low Power Consumption

The Samsung e-book displays reflect light naturally and deliver an appearance similar to that of printed paper, allowing people to read more naturally than they would with other backlit electronic paper devices. The E101 boasts a ten-inch screen, while the E6, is the more portable sibling at six inches. Because Samsung's e-book is not backlit, the power consumption is lower than that of other portable display devices. Only four hours of charging prepares the battery for up to two weeks of use, depending on the extent of daily use.

Bluetooth and Wi-Fi Wireless

Samsung's e-books are equipped for wireless connectivity as well. Wi-Fi 802.11b/g allows users to download content such as books and newspapers from a server wirelessly, as well as to share certain content with other devices. Bluetooth 2.0 is also a built in feature.

The Samsung E6 and E101 will be priced at $399 and $699, respectively. They will be available in early 2010.

The e-book line and more new display products from Samsung will be on display at the LVCC Central Hall, booth 11026 during the International Consumer Electronics Show at the Las Vegas Convention Center, January 7 – 10, 2010.