Samsung SNE-60 ereader to make expensive French debut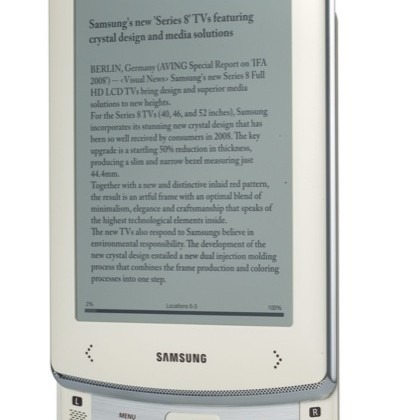 Samsung's SNE-60 ereader continues to pop up across Europe, with its recent UK preorder debut followed by a pricey French launch.  According to Actualitte, French retailer Carrefour will be offering the E-60 at its 228 stores across the country, though the price will make your eyes water: €329 ($411).
That's more than double what the Kindle and nook are currently selling for, even though Samsung have partnered with Barnes & Noble to access the same database of ebooks that are available on the nook.  Retailer Carrefour aren't making any comment on provision for European readers as yet.
As for the SNE-60 itself, that has a 6-inch E Ink display that can be annotated using a special stylus.  It also gets both WiFi b/g and Bluetooth 2.0, which can apparently be used for exchanging content between units, while a slide-down control panel hides the main buttons.  Still no word on an official US launch, but Samsung initially said the SNE-60 would retail at around $399.
[via The Digital Reader]