Samsung SNE-60 eReader Landing in UK Soon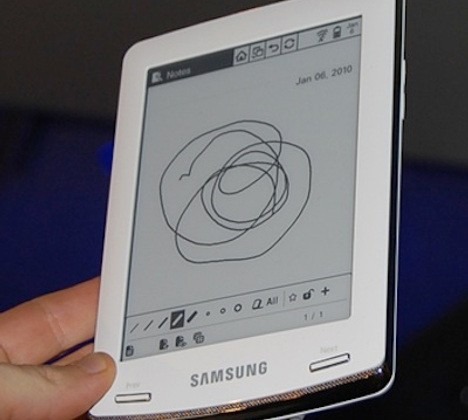 If you're a fan of eReaders, and you like knowing that you've got options out there, then hopefully you'll welcome the Samsung SNE-60 eReader into a loving home. If you're in the UK, that is. Despite the fact that the iPad is currently on it way overseas, it seems that Samsung wanted to go ahead and try to steal away some of Apple's thunder by releasing their own eReader. Either that, or it was just bad timing.
There's nothing all that exciting about the SNE-60, but then again, if you like eReaders, perhaps there's nothing all that bad about it, either. It's got a 6-inch, 600x800 greyscale e-ink display, and it weighs just 315g. There's WiFi built-in, but you shouldn't expect to find any 3G embedded within your shiny new toy, because Samsung didn't include it. There's built-in memory, too, which should hold about 1,200 eBooks of your choice. There's a MicroSD card slot if you just have to have that extra space. But the coolest feature has to be the handwriting recognition, which can be done thanks to a stylus.
It can also play back your MP3 files, and it even has a text-to-speech feature. It supports ePUB, PDF, and TXT files, too, so that means you' should have all of your bases covered. Samsung couldn't provide a date for its release and availability, but they seem to think it's coming in the next month or so. Price wise, you'll probably be looking at something around £187, so not too bad. It could definitely be worse, right?
[via Electric Pig]