Samsung Epic 4G Touch, HTC EVO Design 4G, Motorola Admiral Android Devices Leaked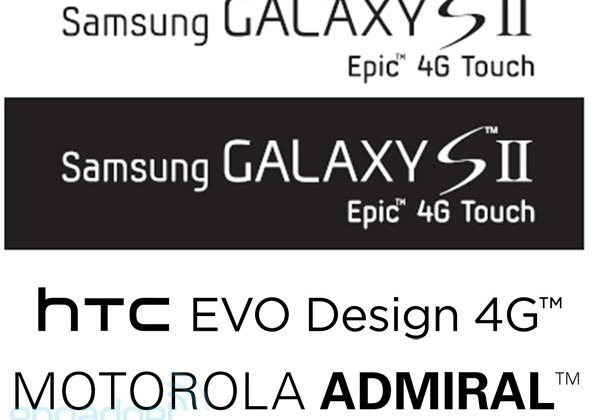 Three new Android-based devices have been leaked for release in the USA, the first of which is destined to be another iteration of the soon approaching Samsung Galaxy S II. All of the following information comes from an anonymous tipster lending some logo-marks to the fray in a two-tone look at the Samsung Galaxy S II Epic 4G Touch (aka the longest name for a handset in the history of the world,) HTC EVO Design 4G, and Motorola Admiral. The tipster offers no additional information on any of the devices in this short list, but many conclusions can be inferred.
It seems clear that given the names of at least two of these three devices that the Samsung Galaxy S II variant by the name of Epic 4G Touch will either indeed be a variant of the Samsung Within or will be replacing it entirely. Another notion you may find interesting is the previous set of tips which have decidedly shown the Epic 2 to be a WiMAX version of the Samsung Galaxy S II with a round-sided keyboard sliding out from beneath it while the Samsung Epic 4G would then be the simple touchscreen-only device on the same network more reminiscent of the already-released version of the Samsung Galaxy S II which we've got a full review of for your convenience.
The HTC EVO Design 4G is likely the next and slightly downgraded version of an HTC device being released directly in line with the HTC EVO 3D. This device will more than likely be the store name for the code-named HTC Kingdom, a device we now believe to be essentially the same device as the HTC EVO 3D but with a single-core 1.2GHz Qualcomm processor instead of dual-core and with a single 5-megapixel camera on the back instead of the 3D capable set of cameras of the already released EVO 3D, which we've also got a review of, conveniently.
The Motorola Admiral we're not so sure of. With the dual-core wave of devices coming out lately on several carriers, we've got to guess that this is Motorola's next-generation echo of the DROID 3, it being the first dual-core full-QWERTY-keyboard-toting device on the market, currently only on Verizon – also note the lack of the 4G in the title. Will it only run on 3G, or are we over the so-called "4G" naming racket finally finished? – Just kidding, we're in for a long "4G" ride.
[via Engadget]