Samsung Series 3 Chromebook (Late-2012) Review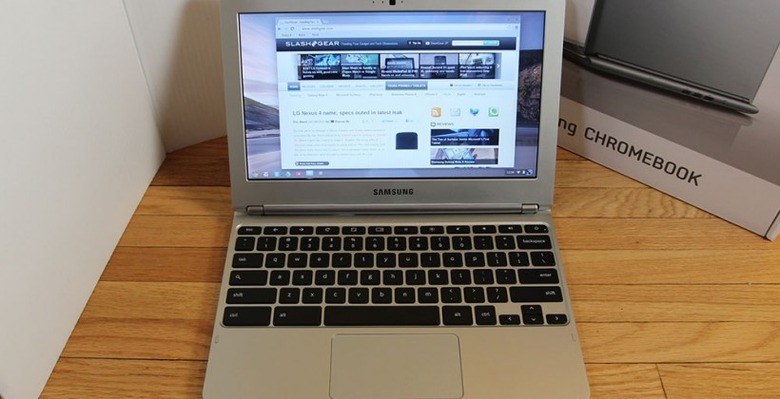 It's no secret that Google is aiming to create a whole new segment in the world of portable computing with Chrome, and here with the newest Samsung Series 3 Chromebook, especially at its eye-opening $249 price point, it appears that the big G will make that move. If you've got a need for an internet machine for school, for fun, or for a present for your mother who doesn't use her desktop anyway, this device might just be perfect. It's light, it's extremely inexpensive, and most important of all: it's a high quality machine. Samsung and Google have made some fabulous strides forward since September of 2011, of that you can be certain.
Hardware
This piece of Samsung hardware is the most basic Chromebook you can buy right this minute, but it's not the low-quality piece of hardware the price suggests. Instead you've got a machine that Samsung and Google very obviously went through a lot of work to perfect, and they've taken all the bits from the machines that have been successful in this arena and stuffed them into a quality package here without a doubt. This rings true especially in the keyboard and the trackpad.
The real test a person such as myself must go through to decide if a notebook is going to work long-term is if the keyboard is able to take my non-stop usage and real need to be able to type relatively quickly. With this keyboard I certainly can do both of those things. One of the main reasons for this is that the keyboard is so extremely close in shape, size, setup, and spring to the MacBook series from Apple. It's absolutely uncanny, in fact, with the main differences being in the special buttons that Chrome uses to execute commands like Full Screen, Back, Forward, and Reload (all of which work directly with the Chrome web browser which is, of course, at the center of your Chome OS experience.)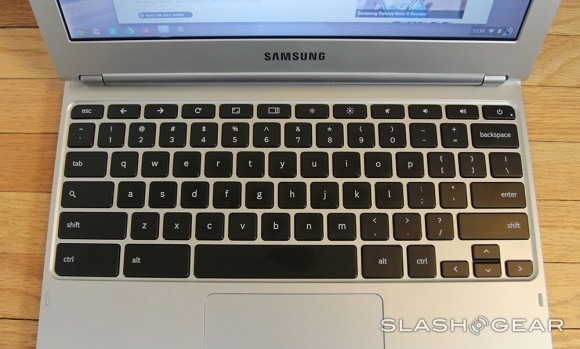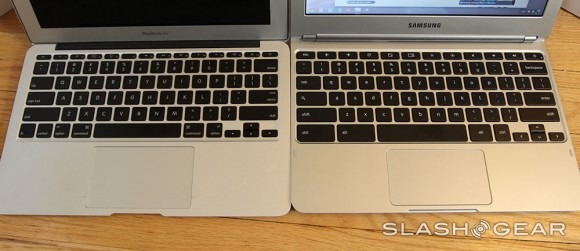 The trackpad is also extremely nice – the only more perfected trackpad I've ever used has been on the MacBook (Pro and Air, the same in the end). You can do the soft-tap we've seen running rampant over every Windows-toting notebook here as well, but unlike many notebooks, it's not something you'll do on accident. You've also got keyboard and touchpad settings in the Chromebook just incase you do want to increase or decrease speeds and such – but you'll likely be fine right out of the box.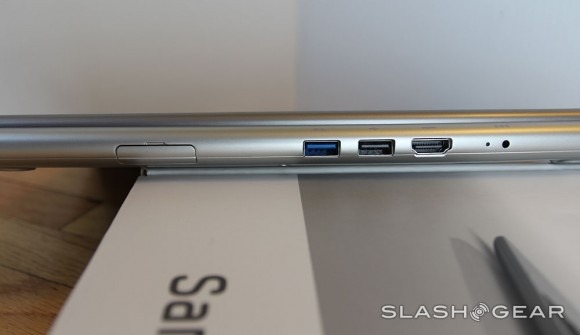 This Chromebook weighs in at 2.5 pounds and is 0.8 inches thin, working with what Google and Samsung say is 6.5 hours of battery life. It would appear very likely that Google has been modest in its estimation of how long this machine will stay active, even while movies are playing and oddities are rendering. Even with the 46% battery left I'm looking at right now, the machine has nearly 6 hours quoted as being left – and the machine has been out and on for at least 12 hours without need for a charge. This machine has some undeniable standby power abilities, that's for certain.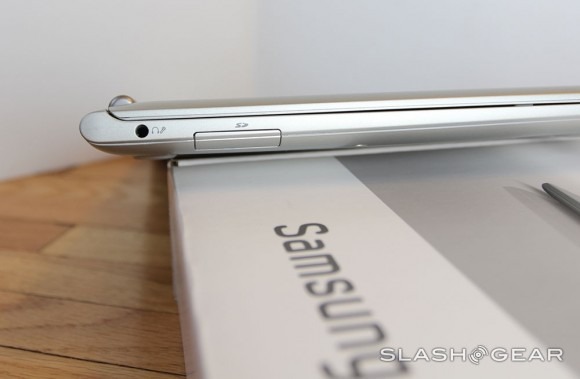 The display is 11.6-inches large with 1366 x 768 pixel resolution across it, this making for a display that's certainly OK, but not the best in the industry by a long shot. What you've got here is Samsung providing you with the amount of pixels you'll need to watch relatively high definition videos without making a case for having a display that's mind-blowing. The viewing angles on this device are also far from perfect, but certainly usable in most single-user situations. You won't want to use this for a YouTube party, if you know what I mean.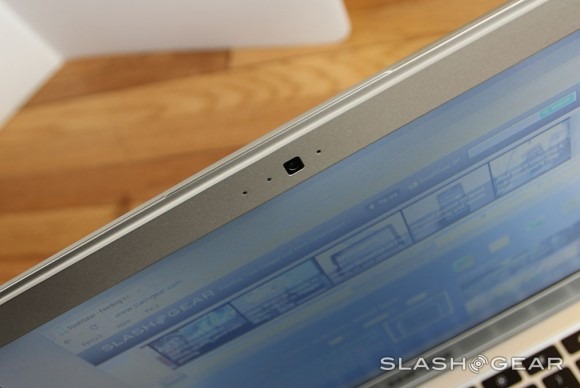 You've got a VGA camera built-in for average video chat on the web (on Google+ Hangouts, of course) as well as a full-sized HDMI port for video output. You can connect to this device with 1 USB 3.0 port, 1 USB 2.0 port, and Bluetooth 3.0. Inside is a Samsung Exynos 5 dual-core processor – this is the next generation of processors working for mobile devices Samsung introduced last year and made available here in 2012, only available on this Chromebook thus far. The next-newest after this is a Samsung Exynos 4 quad-core which you'll find on the Galaxy Note II.
Software and Performance
The newest version of Chrome OS provides you with the ability to download and upload files to storage on your Chromebook – this is one of the biggest stumbling points for people who only know the operating system to be an "internet only" sort of situation. Now that I can download an image from one webpage and upload it to another, I can write articles in a blog – I now have a machine with the most basic set of requirements I need.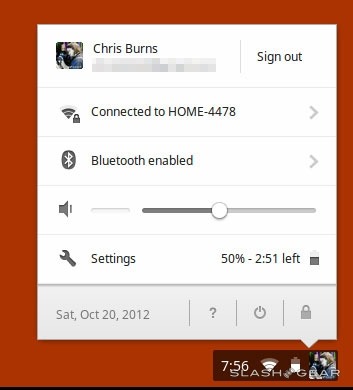 Its worth noting that it appears the quality of this machine is above that of every tablet we've had our hands on thus far – if only because the operating system is made to handle notebook operations. One should not expect that since this device uses a processor from the Exynos lineup with two CPU cores (two less that the Galaxy Note II) that it wont work as hard on everyday tasks as a smartphone or tablet would. On the contrary – this is a minimally powered notebook with all the non-web elements stripped away – that's all.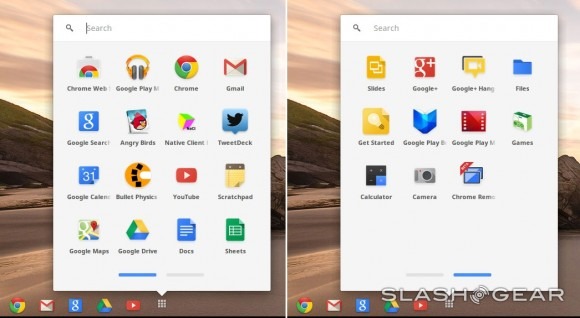 You've got 2GB of RAM that will not let you down unless you absolutely push the limits of the device on purpose. If you've got 20 or more tabs open, each of them playing videos or keeping up with Twitter feeds, for example, you're not going to see as fast a performance speed as if you're being a reasonable person working with just a few tasks at a time. This machine is not made to be a workhorse – it's made to take care of basic tasks, management of your daily duties, and web browsing.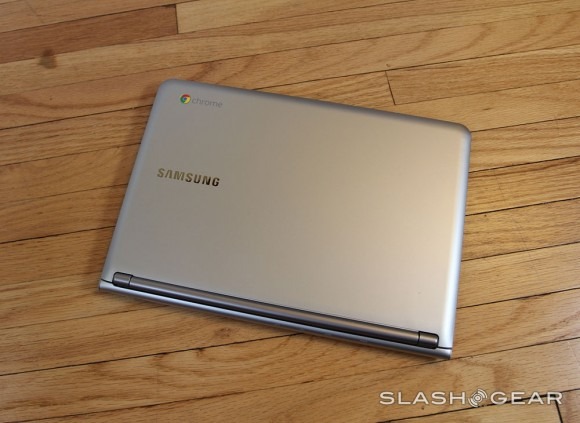 Access to the entire range of Google services here means you'll be working in the Chrome web browser – the only offline items here are changing your wallpaper, storing files in your local downloads folder, and working on a calculator. You can also use a Beta product on the machine if you want to go bigger: Chrome Remote Desktop. With this environment you're able to access your larger machine virtually, seeing it through your browser window and controlling it as if you were there at that other machine in-person – though it's significantly more laggy than real life, when it comes down to it.
What you're seeing above is a connection between the Chromebook and a MacBook Pro, both of them connected to the same wireless network. It's not a perfect system, by any means, and it's a bit difficult working with a display that's mean to be much larger inside a browser window that shrinks it, but it's interesting to say the least. This system is not limited to your local network, mind you, you can do tasks remotely, just so long as both devices are connected to the web.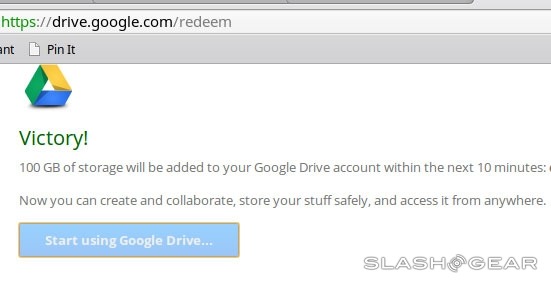 This is all topped off by the fact that current purchases of the Samsung Chromebook come with 100GB of Google Drive storage for two years. That would cost you $100 if you bought it outright.
Wrap-up
This Chromebook from Samsung is a value offer you might just need to think about, if only because the quality matches the price so very closely. Considering the alternatives start at several hundreds of dollars higher, you risk being called "silly" for not considering the Chromebook in your decision making process in purchasing a new notebook. Where this device leaves off at a price of $249, the MacBook Air picks up – starting at $999.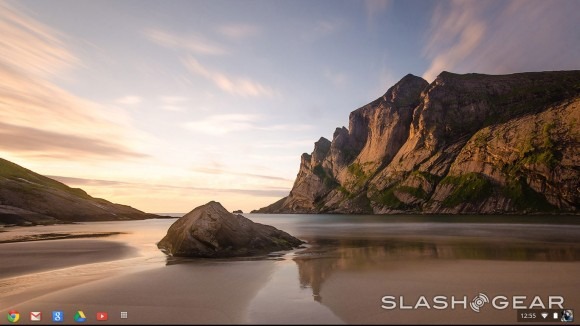 Google and Samsung have created a machine with a price point that's impossible to ignore. We'll be using this device for an extended period to see how "game changing" it really is. Meanwhile, please feel free to let us know if you've got any questions about this device and we'll certainly do our best to answer to the best of our ability. Have a peek at the Chromebook tag portal as well to keep up with all things Chromebook through the future!