Google announces new $249 Samsung Chromebook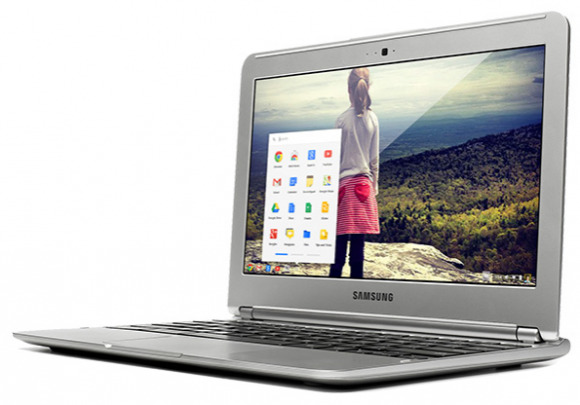 Google has been looking to make a statement with its Chromebook line for some time now, and it's continuing its push for affordable laptops by announcing a new Chromebook from Samsung that's just $249. The laptop has an 11.6-inch display and features an ARM processor, which is certainly a rare thing to find in laptops these days.
The new Chromebook features 16GB of storage, 2GB of RAM, Bluetooth, WiFi, and an SD card slot to expand the storage past its built-in 16GB. The laptop weighs just 2.5 pounds and is only 0.8 inches thick. On the sides you'll find two USB ports and an HDMI-out port. Google says that all of the internal hardware is designed to keep the price down while keeping the device fast. In fact, the company says it's able to run 1080p video at 30fps without a problem.
The Exynos 5 Dual ARM processor means that there are no fans and no moving parts of any kind inside the laptop, and the chip's low power consumption allows the machine to run on battery for approximately 6.5 hours. The 11.6-inch display has a resolution of 1366x768, so while it may be able to play 1080p, it won't really be needed.
The overall Chrome OS user interface remains relatively the same, so you won't see many changes on the software side. For anyone who purchases the new Chromebook, Google will give them 100GB of Google Drive storage. You can also buy Samsung's Series 3 Chromebook or the original Samsung Chromebook and will still be able to redeem the 100GB storage offer up to two years from now. Google's new Samsung Chromebook will be available for purchases starting Monday, but you can pre-order it today.