RIM's first BBX phones to mimic PlayBook display, support BES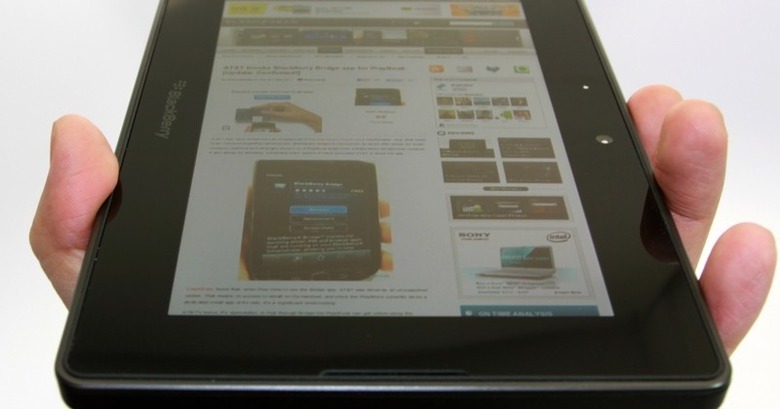 RIM's BBX-based next gen smartphones will squeeze PlayBook resolution displays into pocket-scale form factors, the company has confirmed, promising 1024 x 600, 16:9 handsets. RIM VP of developer relations and ecosystem development Alec Saunders told PCMag that developers who produced apps for the BlackBerry PlayBook could also be confident that it would run on the company's first BBX smartphones, expected in the new year. However, there are suggestions that alternative screen sizes and resolutions are also in the pipeline.
"Look, if you build [an app] for the PlayBook, then it will run on BBX" Saunders confirmed. "We have maintained aspect ratios, BBX also has the ability to upload multiple dimension graphics ... [and the standard resolutions] are the same as PlayBook." The VP's reference to "multiple dimension graphics" has led to suggestions that while initial BBX models may be akin to mini-PlayBooks, later versions could drift back toward the traditional BlackBerry handset design.
Analysts tipped a 4-inch BBX "mini tablet" back in August, while other rumors indicated that the first product was internally codenamed "Colt" and could ship without BES support. That's something Saunders denies, claiming that BBX phones will launch with the same functionality the PlayBook should have at that point, including native email support and BES integration. That puts the first BBX handsets in February or beyond, given PlayBook OS 2.0 isn't expected until February next year.
RIM announced BBX last month, building on QNX on the PlayBook and set to be the company's single OS across phones, tablets and embedded devices. BBX will support 2D and 3D gaming, Android apps and feature a new Cascades UI Framework.