First BlackBerry QNX phone a 4-inch "mini-PlayBook" says analyst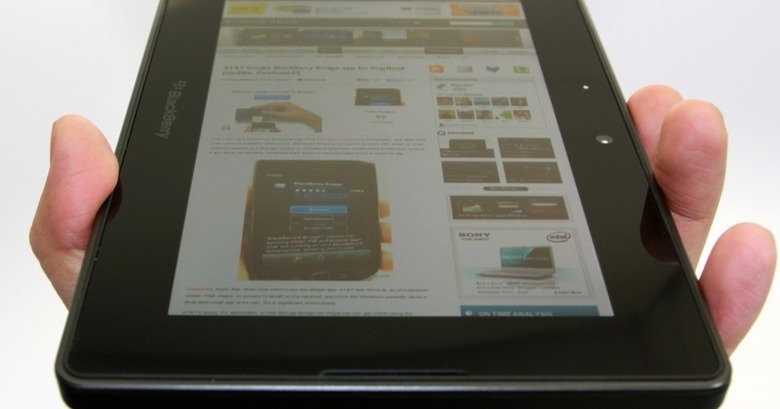 Contrasting rumors over RIM's QNX smartphone plans for 2012 today, with an RBC Capital Markets analyst suggesting that, rather than the Colt handset tipped earlier this week, the BlackBerry manufacturer's first device will be a "mini-PlayBook." The handset, Mike Abramsky suggested in an investor note today, will look like the 7-inch BlackBerry PlayBook tablet but smaller, using a 4-inch display and a dual-core processor.
There'll also be twin cameras, he expects, together with a standalone email app and the RIM Android app player available from launch. Both software items are expected to be added to the PlayBook tablet later this year.
In contrast, the earlier Colt rumors suggested RIM was currently testing a 1GHz single-core smartphone likely to be a more traditional QWERTY/touchscreen hybrid in the manner of the Bold series. It's possible that RIM could release two new phones at once, of course; earlier this month the company launched the BlackBerry Torch 9810 and Torch 9850/9860 simultaneously.
However, Abramsky isn't confident that RIM will have much success with its 2011 range. "BlackBerry 7 is unlikely to reverse deeply negative investor sentiment over RIM's future," he argues, "pending improved visibility to success or failure of pending QNX handsets expected 2012." The analyst expects seven new BlackBerry 7 devices in 2011.
[via BGR]