RIM planning 10- and 7-inch PlayBooks for 2012 tips roadmap leak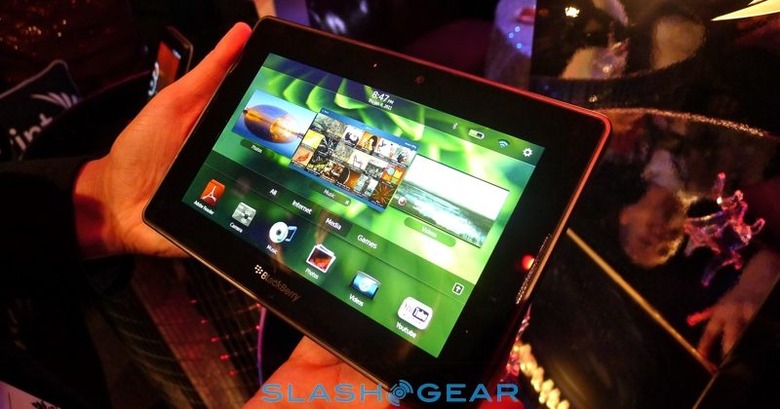 RIM has two more BlackBerry PlayBook tablets in the pipeline for 2012, according to a roadmap leak, including a 10-inch LTE-enabled model targeting late holiday sales. Despite the poor reception of the first-gen PlayBook – recently slashed to just $299 apiece – product information leaked to N4BB indicates a new 7-inch "3G+" PlayBook is expected in April, with a 10-inch LTE-equipped PlayBook due in December. There's also word on when we might expect to see the first BlackBerry 10 smartphones; more after the cut.
Hardware details on the two new PlayBook models are uncertain. The 3G+ of the new 7-inch version is apparently a chipset limitation, preventing LTE being included. However previous leaks of PlayBook OS 2.0 revealed LTE iconography and support for 1280 x 800 resolution, which could indicate one or both of the new models are stepping up to a more pixel-packed screen.
The first BlackBerry 10 handset isn't expected until September this year, according to the source, in keeping with RIM's own public "late-2012" timescale. Exactly what the device will be is unspecified, though it seems likely to be the BlackBerry "London", the only phone believed left uncancelled from those we've seen leak from the Canadian firm.
Before that point, however, there'll supposedly be two new BlackBerry Curve handsets, targeting emerging markets; one will be 2G-only. PlayBook OS 2.0 will drop at the end of February 2012, while the PlayBook Admin Service will drop this coming summer. Meanwhile, BlackBerry Mobile Fusion - which will allow remote configuration, locking, secure wiping and connectivity management across BlackBerry phones, the PlayBook, Android smartphones or tablets, or an iPhone or iPad – will arrive in April, a month later than RIM previously expected.
RIM is expected to preview BlackBerry 10 at Mobile World Congress 2012 late next month – a timescale that would fit in with the tipped PlayBook OS 2.0 release, suggesting the two could well coincide – though that's said to be a behind-glass showcase with no hands-on devices available. In the meantime, RIM is supposedly working with investment bank Goldman Sachs on exploring the potential of selling off the company.