PlayBook put on desperate $299 sale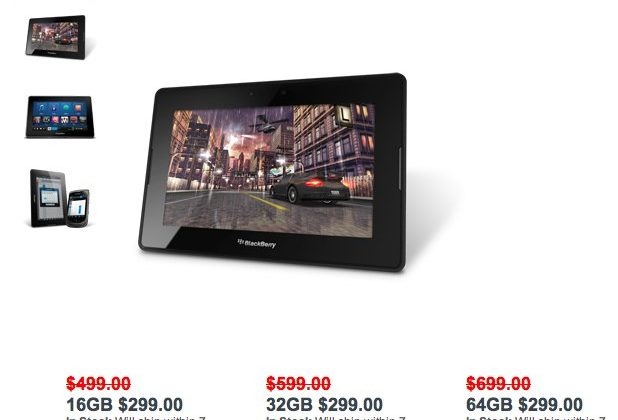 RIM has kicked off another round of BlackBerry PlayBook discounts, and this batch could be the most desperate to date: all models, whether 16GB, 32GB or 64GB are just $299. Slashed in price until February 4, the deal means a whopping $400 off the max-capacity PlayBook, as RIM attempts to offset its $485m hit on unsold stock.
The US isn't the only territory to get some whopping deals. UK buyers can get the 16GB PlayBook for around £169 ($263) though the 32GB and 64GB models are still more expensive at around £199 ($310) and £329 ($513) respectively.
RIM's deals in the US are obviously better if you're looking at the 64GB PlayBook; previously the 16GB version was selling, from RIM's store direct, for just $199. All stock is expected to ship in 7-14 business days, though we expect supplies may go fast, just as in previous sales.
If you're wondering what, exactly, you might do with a bargain QNX tablet, there's always Android apps. Enterprising modders have fettled a release of the Android Market for the PlayBook, for those willing to spend some time tinkering with their new toy.
Is $299 low enough to make you consider the BlackBerry PlayBook? Or are you waiting for the real firesale to come? Let us know in the comments.
[Thanks Carl!]