Razer Tactical Bag Review: the gear backpack of your dreams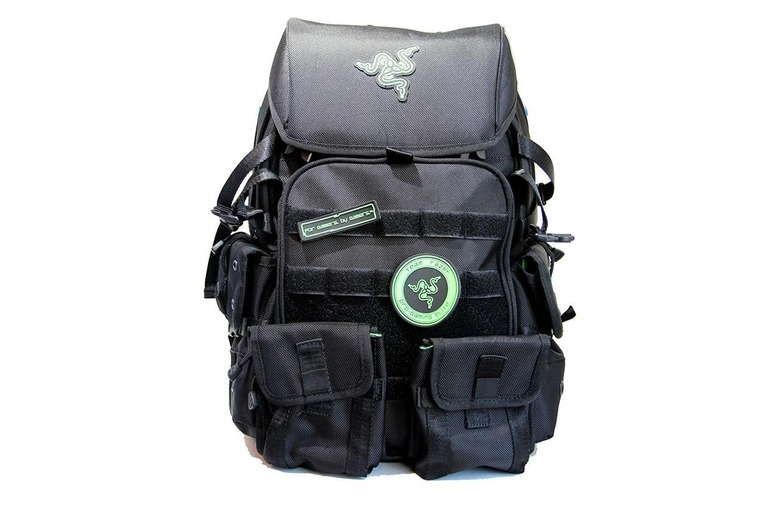 My review of the Razer Tactical Bag began in January of 2015, about a month and a half ago. The bag was delivered to me right in time for CES 2015 – easily the most action-packed week for me out of the whole year – for tech, that is to say. During the week I carry a lot of weight. In past years, I've brought bags that weren't up to the task. I've had bags whose handles rip partway through the week. I've had bags that didn't end up having nearly enough space or pockets for organization of oddities. The Razer Tactical Bag was up to the task.
I've used many different backpacks over the past several years from many different brands. Some were made for students, some were made for the average, everyday, gadget-carrying worker.
With other bags, features like fur-covered interiors provided some fancy feel and protection for my laptop.
Some backpacks came with built-in power – more than one had power, in fact – to keep my devices charged. I ended up using the power features on these backpacks very, very few times. If I'm going to stop to charge, I may as well find an outlet.
None of these bags ended up being as useful and as tuned-in to what I needed in a backpack as this Razer model.
• Made from robust 1680D ballistic nylon
• Tear- and water-resistant exterior
• Scratch proof interior
• Soft padded shoulder straps and back panel
• Adjustable chest buckle
• 2 large interior compartments
• Interior 15" laptop divider and headphone holder
• Medium-sized front utility pocket with accessories organizer
• 2 small modular front pockets
• 2 small side pockets for easy access
• Velcro modular webbing front
• Hidden underside pocket compartment with weather proof bag cover
• Designed to fit notebooks of up to 17.3" in size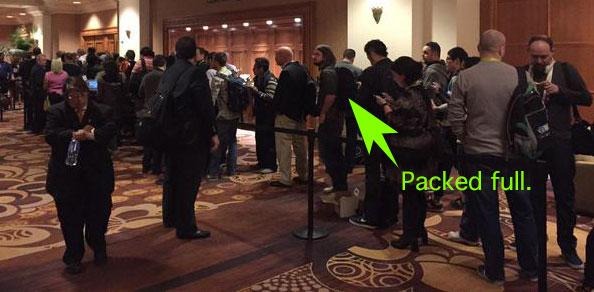 The photo above comes from writer Shara Tibken of CNET.
Approximate dimensions:
• Weight: 2000grams / 4.41lbs.
• Width: 320mm / 12.608"
• Height: 470mm / 18.518"
• Depth: 190mm / 7.49"
The rear holds my laptop kindly with a bit of cushion below – I end up dropping this machine in a less-than-kind way more often than I'd like to admit.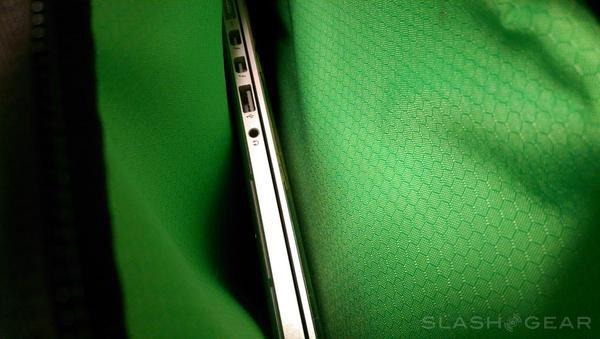 Two front pockets make for great smartphone/memory card case holders. I use a smartphone to connect to the web via USB while on-the-go, and one of these pockets is ideal for both a smartphone and a cord for easy access.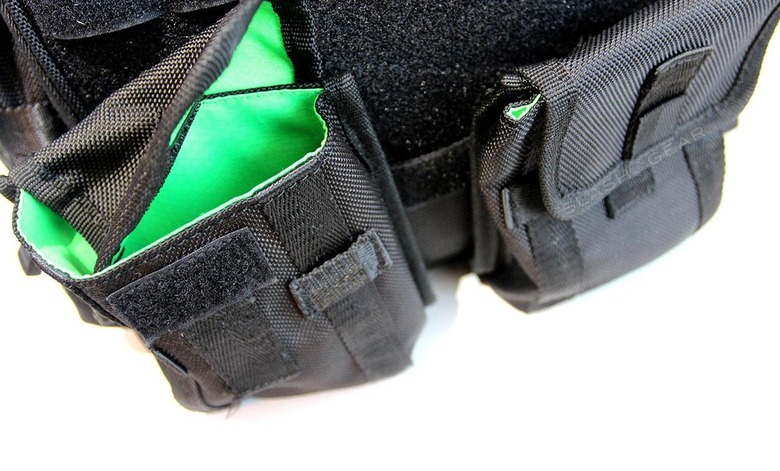 The front flap is excellent for carrying slightly larger devices like an NVIDIA SHIELD Tablet, keys, and my laptop power cord.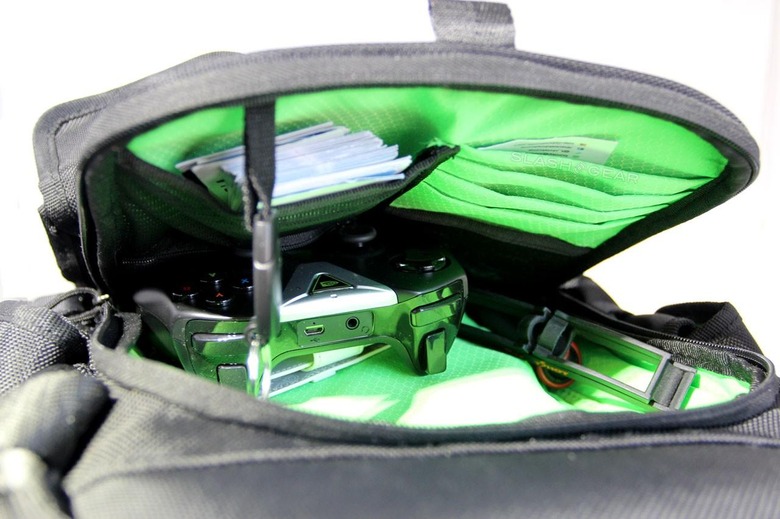 On the left and the right of the bag are pockets that are perfect for holding drinks and snacks. Even when I put a bottle of water in one of these pockets and it leaked, it was fine – these pockets are separate enough from the main bag that nothing was damaged.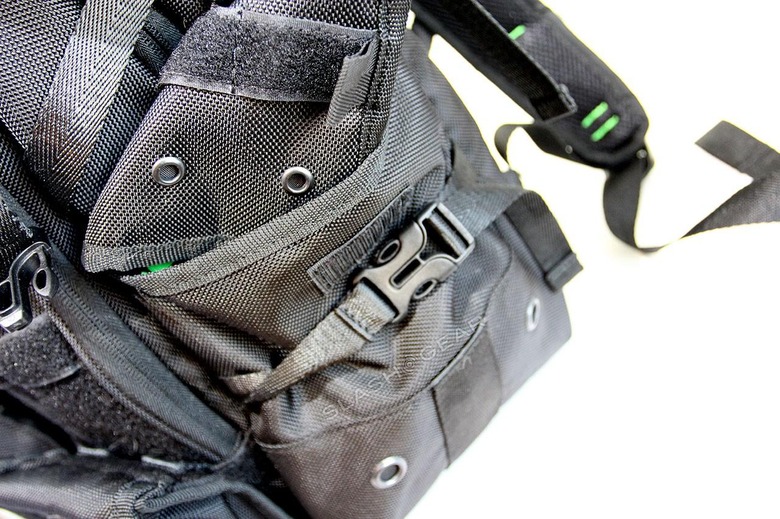 The ONE thing I found potentially problematic about this bag (at first)* was the open pocket situation. It's sort of a double-edged sword – I want pockets to access my stuff, but I also don't want pockets because they give access to strangers to my stuff. The Falcon Backpack provides a sort of "shell" setup that keeps prying hands from my back – but then I'm back to having fewer pockets than I want.
* Of course there's also a cover included with the Razer Tactical Bag that you can pull up and over the whole unit. Easy solution.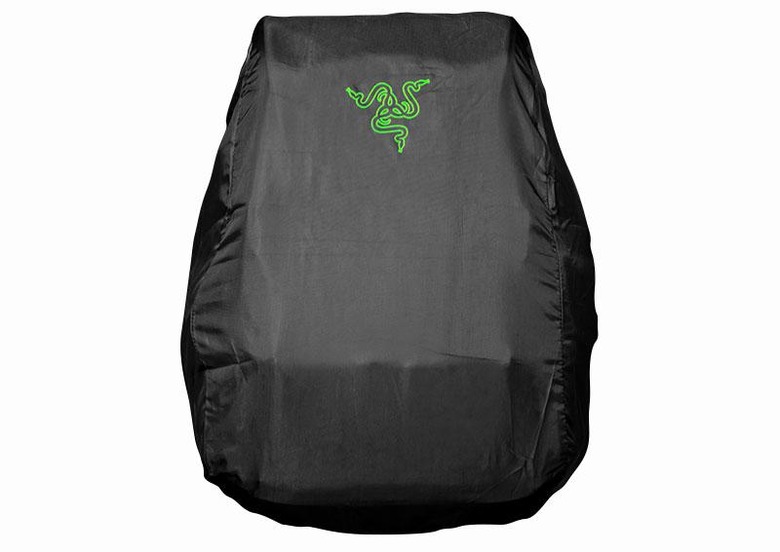 Where other bags failed, the Razer Tactical Bag succeeded. I can't imagine a better bag without a self-powered levitation system installed so that I don't actually have to carry anything at all.
The Razer Tactical Bag is out online with Razer for a cool $159.99 USD. If you're lucky, you'll also find it wherever fine gaming accessories are sold.