Razer Forge TV hands-on: Android TV-based gaming supercharged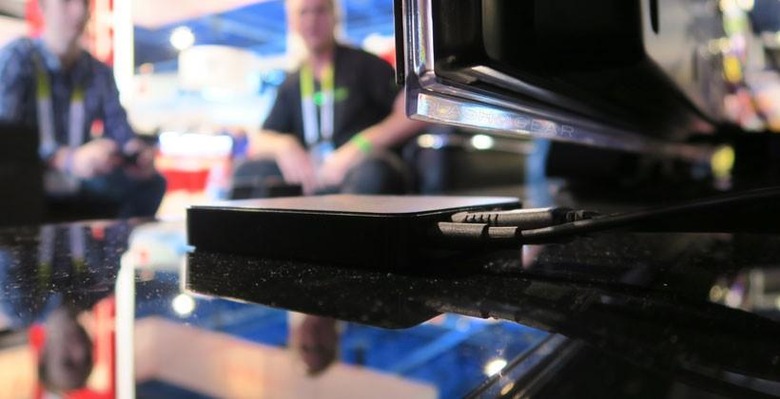 This week at CES 2015, Razer brought their first Android TV product to the masses. With a dedicated wireless gaming controller that doubles as a media remote (Razer Serval) as well as a wireless gaming keyboard (Razer Turret) made for the couch-surfing gamer, there's no mistaking the fact that Razer is aiming its cannons directly toward the living room this year. With the Forge TV, Razer is preparing to put the likes of Amazon Fire TV, Google's Nexus Player, and Apple TV on notice.
Razer Turret
The Razer Turret is a Living Room Gaming Mouse and Lapboard. That's a keyboard with a fold-out space to use your mouse, all prepared for your lap for when you're sitting on your couch at home.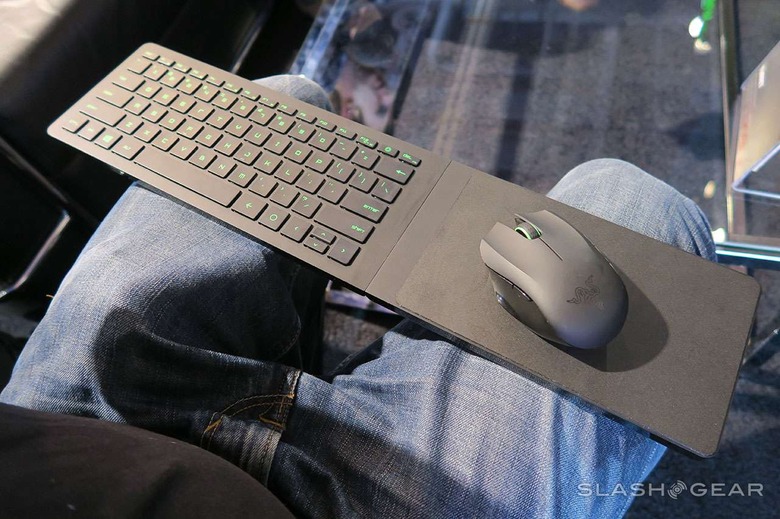 Both the mouse and the keyboard have internal batteries, both charged up by a dock that comes with the package. Both the mouse and the keyboard light up with lovely green LEDs, and both are entirely wireless.
Above you'll see images of the lapboard, the mouse, the dock, and the metal points at which they connect wirelessly to charge.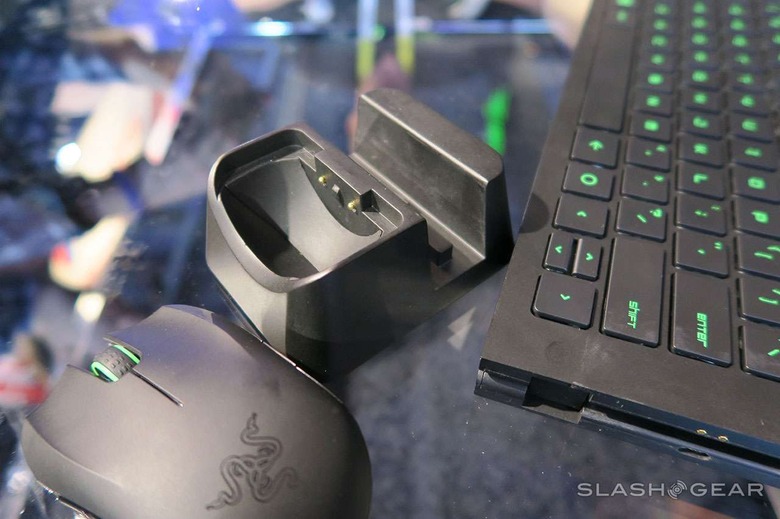 The Lapboard (the keyboard) works with anti-ghosting for up to 10 key presses at the same time. With chiclet keys, this keyboard is comparable to a MacBook Pro keyboard in both quality and spring quality. That's a very, very good thing.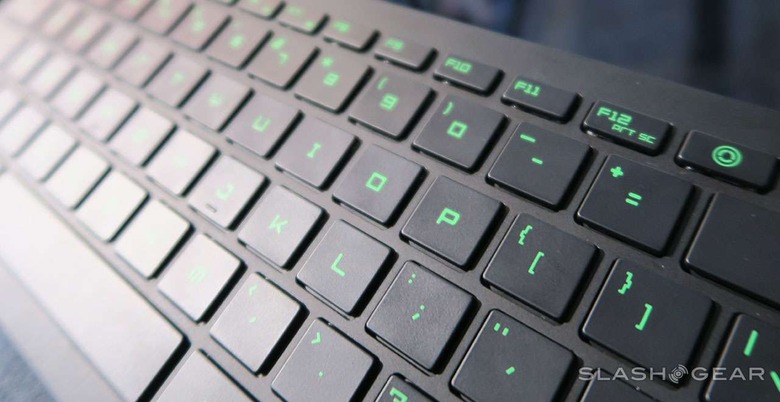 While the life of the battery in the lapboard depends on use, Razer suggests you'll be able to get four MONTHS out of it.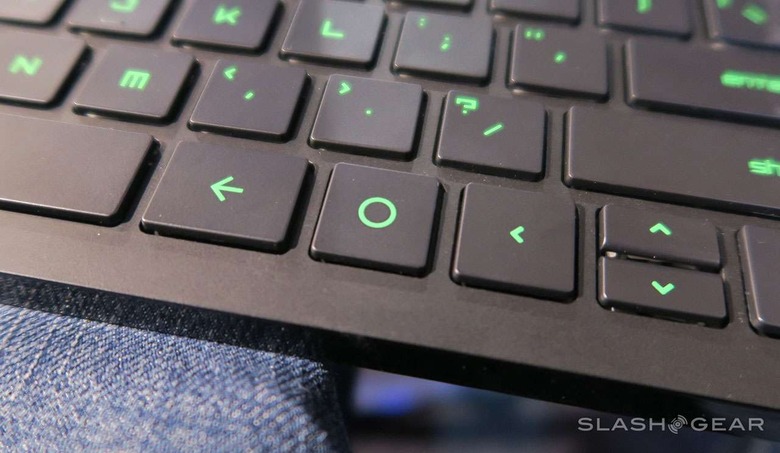 There's a set of dedicated Android buttons and a Cortex quick-launch button – as well as a Windows button. Razer is showing this keyboard off with the Forge TV, but they suggest that you're more than welcome to use it with any other computer system – Windows PCs included.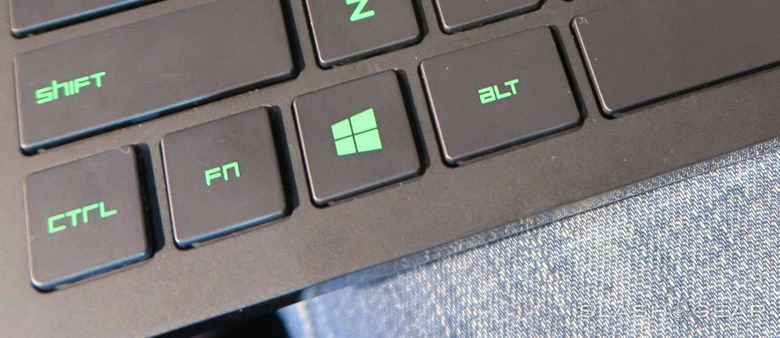 The mouse you're getting here is small and not quite as luxurious as a Razer DeathAdder, for example, but it's not really meant to be. Instead you've got a mouse that's more than nice enough to work with Android apps and readily sufficient for streaming PC games. As you'll see below, we've not gotten enough time with the streaming functions of the Forge TV to make final judgements just yet.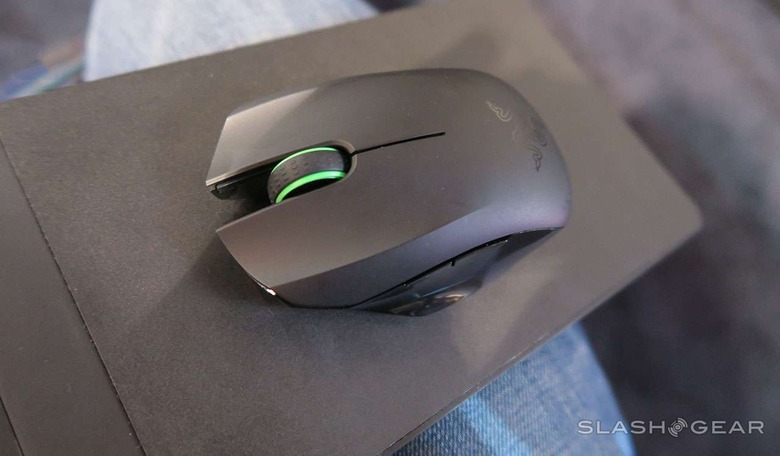 The mouse is designed to be friendly to both lefties and righties. Meanwhile the lapboard's mouse pad only folds out on the right. It's not clear at the moment whether a more ambidextrous lapboard will be released when the time comes for Turret to hit the market.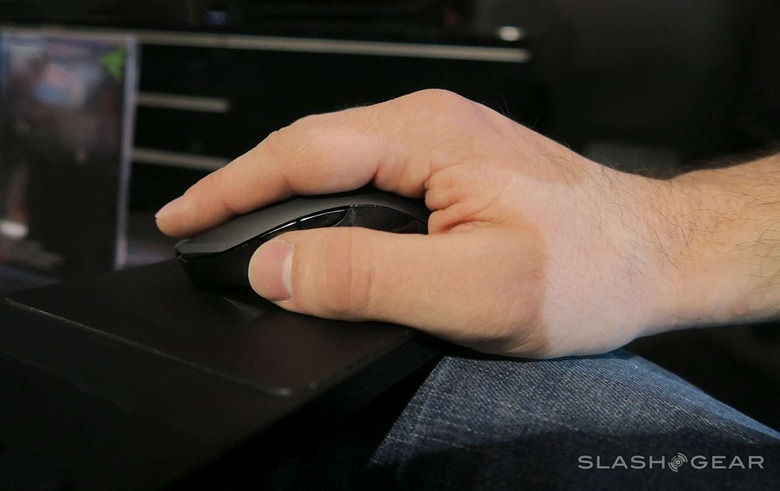 While it's not final hardware, the Turret feels like a winner. It's heavier and seemingly more robust than you'd expect – not something you're going to break if you accidentally step on it. The mousepad folds out with an extremely strong hinge.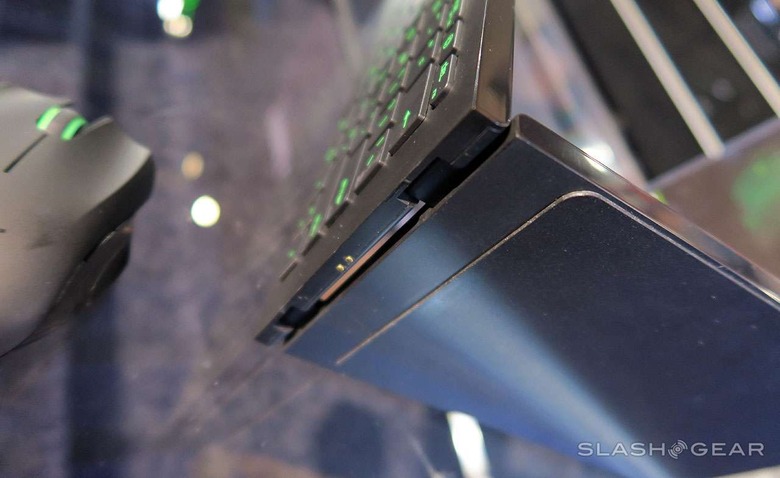 The most unique feature in the Turret here is the magnetic bits between the mouse and the mousepad. The magnets are in the mouse, and the amount of magnetism you've got is a balance between good (good enough to stay put if you hold this set at an angle) and too much.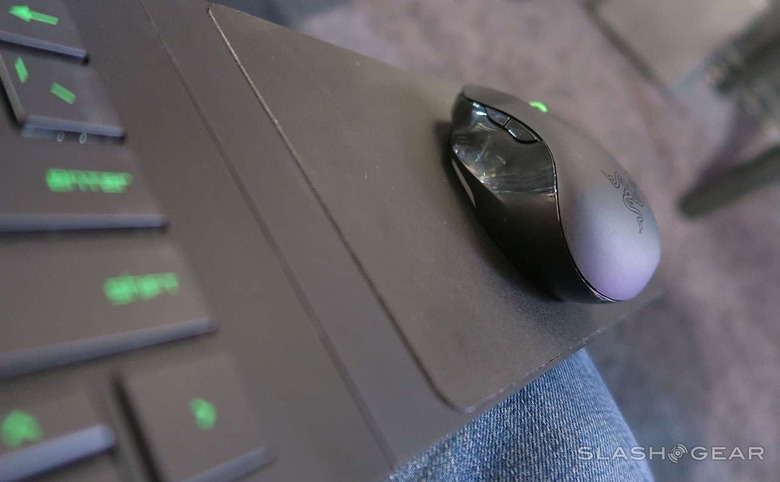 Too much magnetism and the mouse functionality suffers, too little and there's no point in magnetizing at all. Razer says they'll be working on the balance in the future – but for now it's already feeling like a good spot.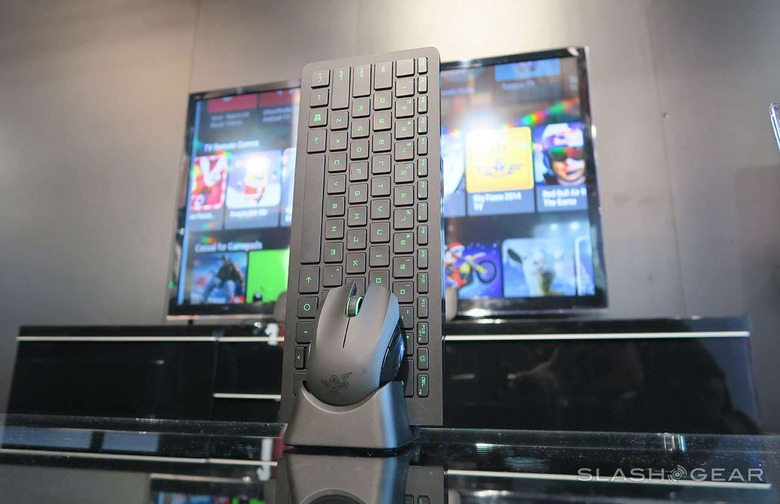 The Turret will be released sometime in the second quarter of this year, and it'll cost you a cool $130 USD.
Razer Serval
The central controller of the box – this is the Razer Serval. This product is not relegated to the Android TV-based Razer Forge TV. Instead, this is a controller you can use with any Android device just so long as it has Bluetooth.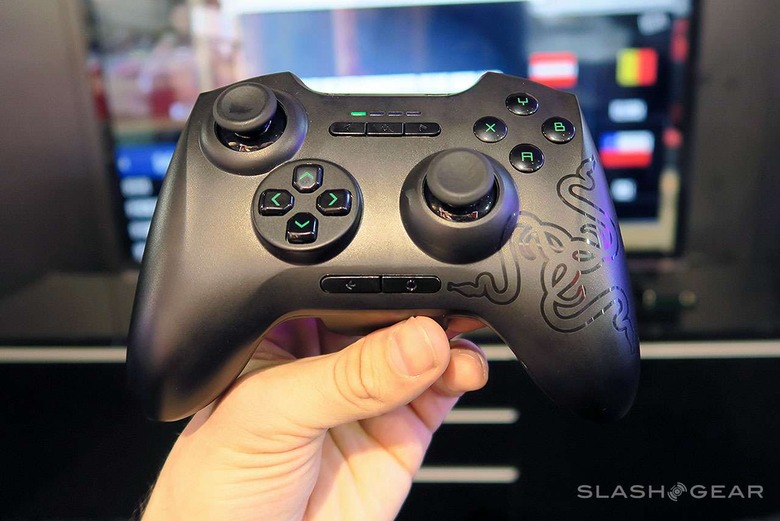 The Razer Serval controller comes with an Adjustable Game Clip (smartphone dock) you can use to connect to your smartphone for playing games on the run.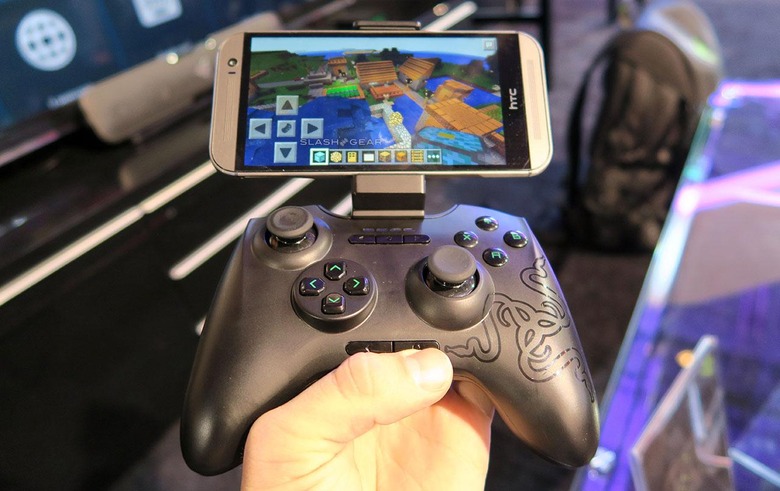 It's an easy, yet secure click to attach the dock to the controller, while the smartphone holder is a spring-held clamp with rubbery bits to make certain your phone is cradled with care.
The Razer Serval controller works with Bluetooth 3.0 for wireless connectivity as well as a 1.5-meter Micro USB to USB cord for Wired Mode connections.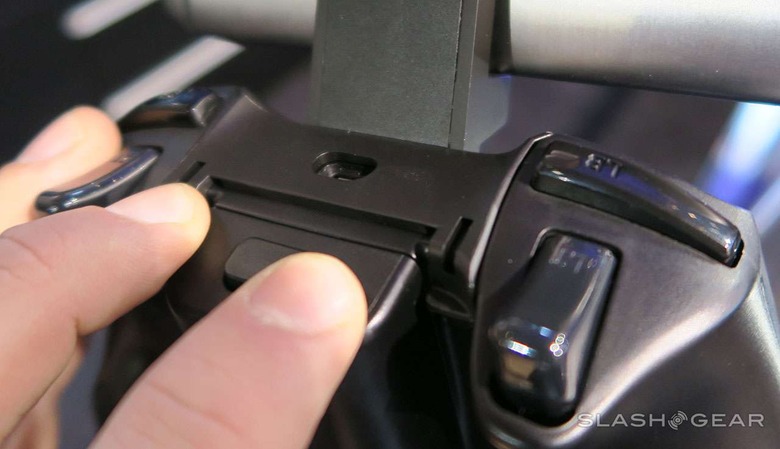 You've got four LED lights to indicate which controller you're using in a group – you can connect up to 4x of these controllers to the Razer Forge TV at once.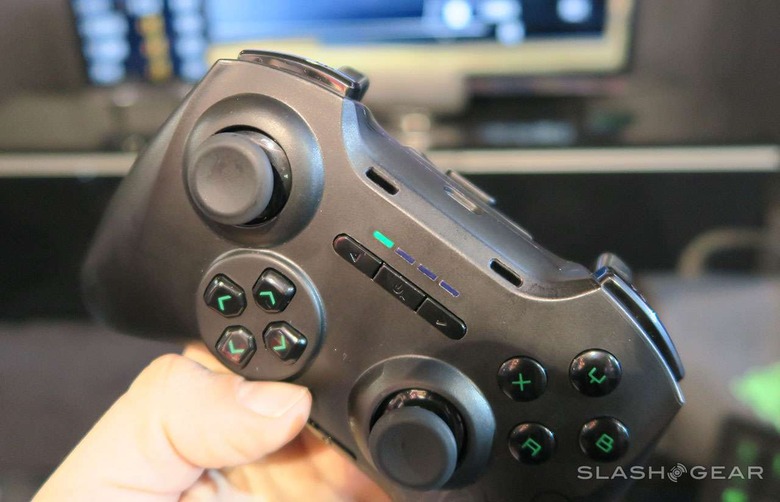 Two Analog stick rubbery grip caps are included with the controller, but what's included on the two joysticks you have in the first place is more than sufficient for the average gamer. We expect there may be small changes made to the controller before its released, so we'll reserve judgement on grip for then.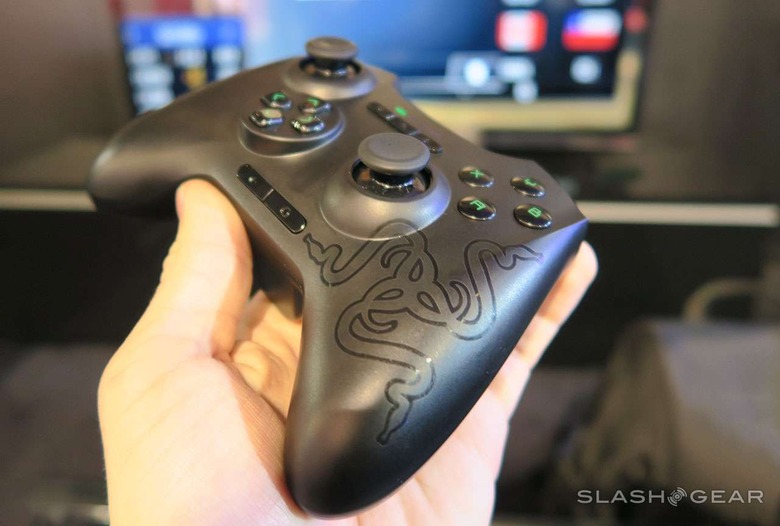 Four "Hyperesponse action buttons" (XYAB) are included on the right, and directional buttons are included on the left. at the base you'll find Android-friendly navigational buttons (both back and home), while a power button and a couple more physical buttons are included near the top of the controller just below the LED lights.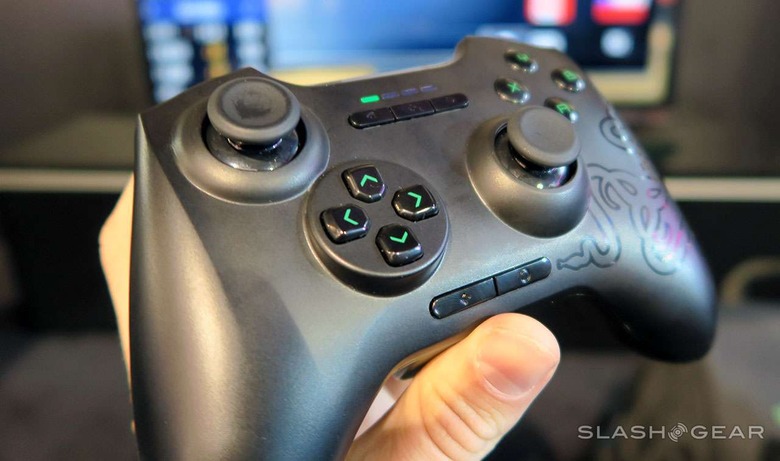 There are two more buttons in the front of the controller just above two trigger buttons as well.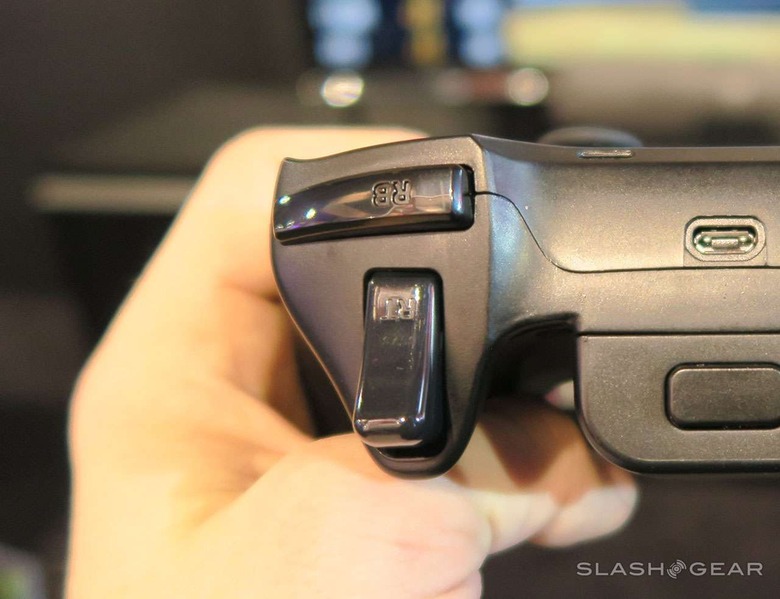 Battery power is provided by a removable pack that sits out of the way underneath the controller. This battery pack is easy to remove and replace – we've not yet seen the battery charger to know how well it'll function.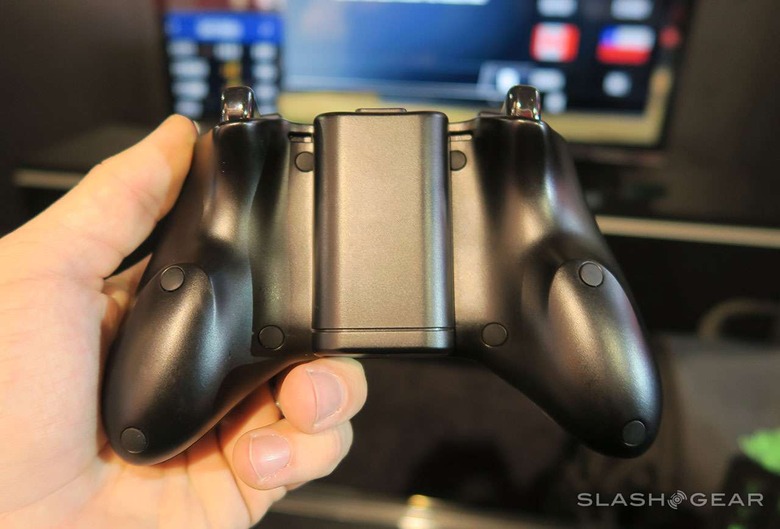 This controller is robust – somewhere right around the quality of the Xbox One controller and the NVIDIA SHIELD Wireless Controller. Again, the final hardware for this controller has yet to be released, but it feels pretty good so far.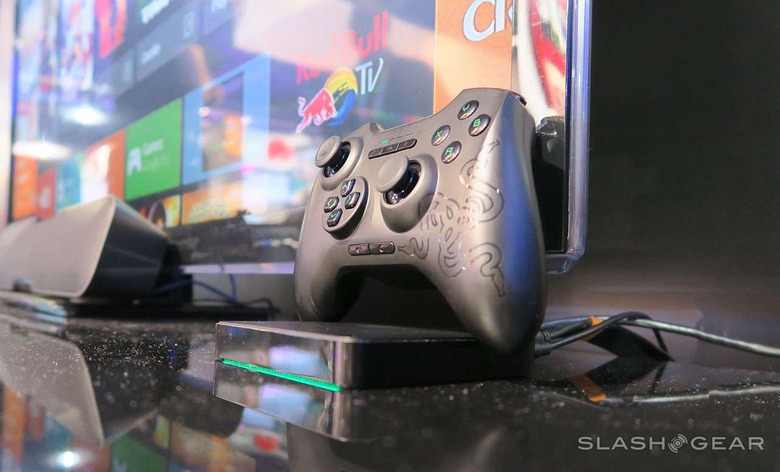 Good enough to play Asphalt on the Forge TV without a hitch, anyway. Whether or not the controller will be awesome enough for the full $80 USD it'll cost you when it's released this Q1, we'll just have to see. For now it's looking very likely Razer has created a fine competitor for the best Bluetooth gaming controllers on the market today.
Razer Forge TV and its software
The Razer Forge TV is a tiny device. It's no so small you're going to want to put it in your pocket, but it's certainly small enough to take with you on a trip. Inside the box you've got Android 5.0 Lollipop running an Android TV interface out to your HDTV using a full-sized HDMI 1.4 port.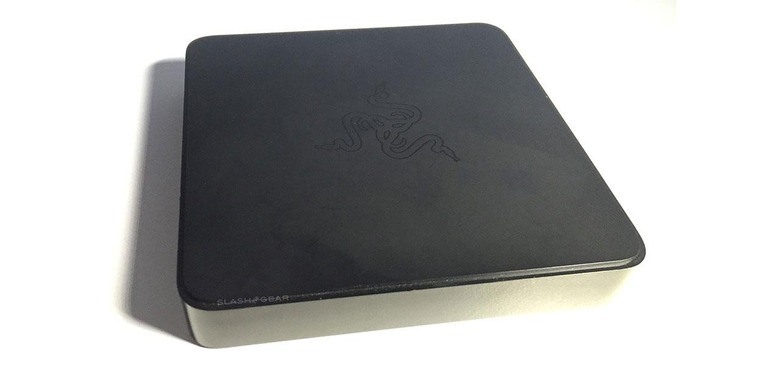 You'll also be able to connect to an accessory – whatever you want – with a one USB 3.0 port, and you've got internet connectivity with a Gigabit Ethernet port. You can also connect to the internet wirelessly through Wi-Fi 802.11ac 2x2.
Powering the Razer Forge TV is a Qualcomm Snapdragon 805 processor with quad-core Krait 450 CPU clocked at 2.5GHs per core. This chip also works with Adreno 420 graphics. This is a lot of horse-power, so to speak, for an TV device.
Razer using this processor makes it clear they're not aiming to battle Apple TV or Amazon Fire TV for gaming prowess – they're aiming well above the lot.

You'll be rolling with 2GB of RAM and 16GB of internal storage as well. You've got the potential to use that one USB port for an external source of storage if you feel so inclined, too.
This device works with Bluetooth 4.1 + HS so you can successfully connect to the keyboard and gamepad mentioned above. You'll also be connecting to power with a standard DC power plug included in the box.
ABOVE: Taking a peek at the near-zero latency between the controller and the Forge TV – ON the showfloor at CES 2015. If the controller works this well before final hardware and in the middle of a tech convention with thousands of other signals blasting it from all directions, we're convinced it'll work great in our living room too.
While the Serval or the Turret will likely be the controllers you're going to want to have to control the Forge TV, you can also use your Android or iOS smartphone. A Razer Forge TV Remote App will be available for Android devices and iPhone once the device is launched.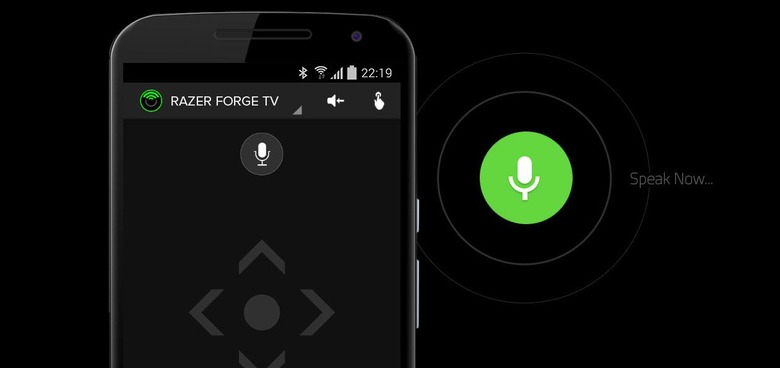 While it's not clear whether you'll be able to play games with the Remote App as a controller (likely not), you can use voice search for looking through your media.
Like all Android TV devices, the Razer Forge TV is Google Cast (see: Google Chromecast) ready. Your Android device will be able to cast media at will, without the aid of a Chromecast device separately.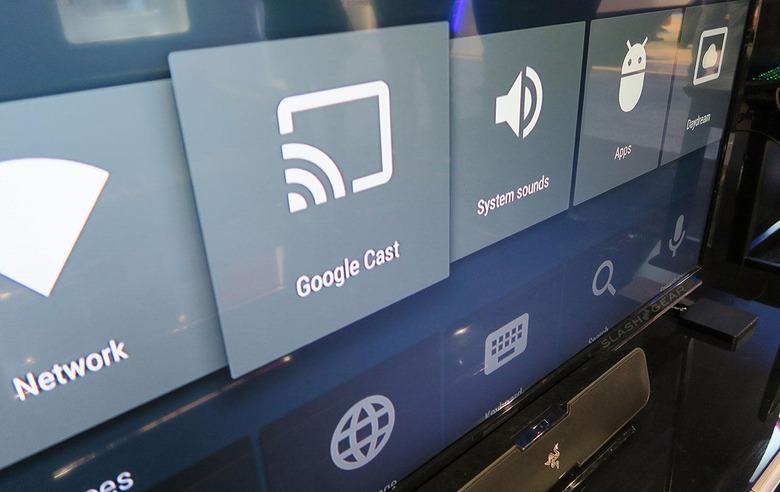 While software is not complete, gaming on the Razer Forge TV is already impressive. We'll have to wait for more time with this device once it's review time to see how it compares to devices like the NVIDIA SHIELD Tablet, but for now it's clear Razer is ready to fight with the big guns.
Working with Android TV is swift and impressive. Cycling through movies, apps, and games is simpler here than any other interface we've yet tried. Especially now that we've got a gaming controller to do it.
The UI is largely Google's, of course, but this is easily the finest implementation (for speed, mostly) we've seen yet.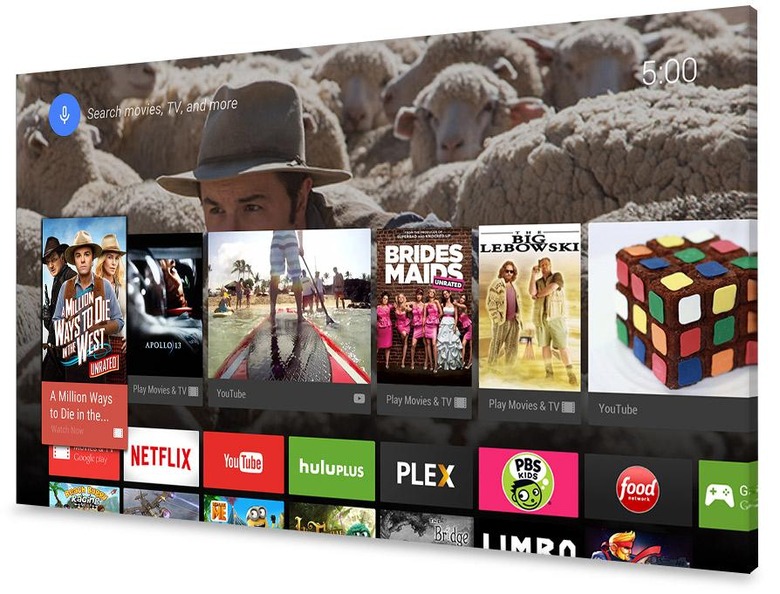 As for Razer Cortex: Stream, we're going to have to reserve judgement for back in the review lab down the line. We simply cannot in good faith judge such wireless connectivity here at a tech convention where countless signals run back and forth in the interim.
What Razer suggests we'll be seeing is "PC streaming from your living room no matter which room your PC is in." The obvious big competitors here are NVIDIA GameStream and Valve's Steam In-Home Streaming. Razer has some fairly well-established systems to buck up against – it'll be great to have another system in the mix to put the fire under the feet of the other two.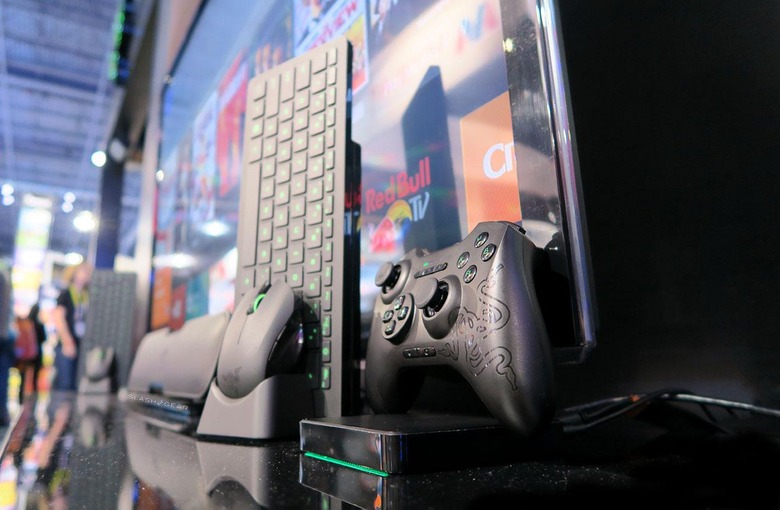 As with all Android-based gaming systems, we'll be interested to see what Razer brings to the table with promoting game developers for their system. While NVIDIA has Valve bringing games like Portal and Half-Life to Android, there's still a lot Android has yet to do – like bring more AAA games to the mobile platform.
Like streaming, we're glad Razer is entering this war zone to encourage the market to expand.
Wrap-up
Easily one of the most well presented products at CES 2015, we're excited about the potential of the Razer Forge TV. Unlike many products shown at CES – especially in the gaming space – we're expecting this system to make its way to the market in full form very soon.
The Razer Forge TV will be sold for $99.99 / €99.99 straight through Razer on its own. You can also get a Forge TV/Serval Controller bundle for $149.99 / €149.99, or each of the accessories separately. Stick around as we continue to dive into Android TV at large and Razer's next big initiative* – taking back the living room.
*One initiative of several, that is to say. They're also aiming to open source Virtual Reality with OSVR and to open up the gamer-friendly wearables world with Nabu X.