Google Chromecast Review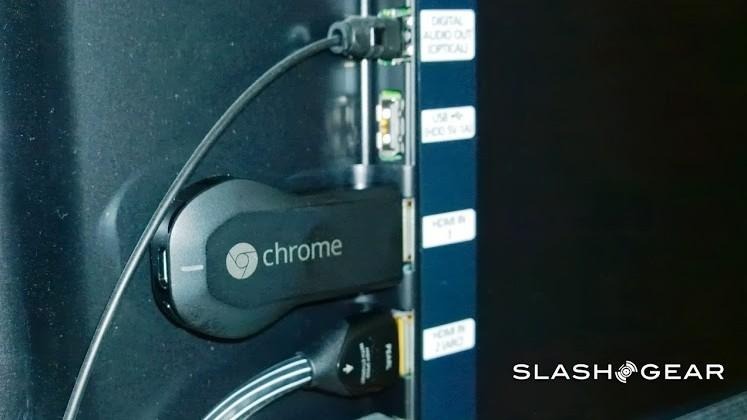 Google Chromecast was a surprise addition to the company's range of own-brand hardware, a $35 streaming stick that, wounds licked after the Google TV and Nexus Q fiascos, promises a cheap and simple way to get browser and streaming content on your big-screen TV. So instantly popular as to sell out online in minutes, and already commanding premium pricing on eBay, the Chromecast could be third time lucky to get Google into the living room. Does it deserve the hype, however? Read on for the full SlashGear review.
Hardware and Setup
Where Google TV left industrial design to hardware partners like ASUS, and the Nexus Q was a beautifully over-engineered orb of US manufactured aluminum, the Chromecast is an altogether more modest affair. A sturdy, if uninspiring, black plastic dongle that looks like an oversized USB key, its stunted lollipop shape has an HDMI plug on one end and a microUSB port on the other, the latter next to a button that's the only physical control on the device.
In the box you get a short HDMI extender cable – more to accommodate low-profile HDMI ports that don't leave space for the body of the Chromecast – along with a long USB cord and an AC adapter. You can power the dongle either from that adapter or, if you've got a TV with a spare USB port, from there instead.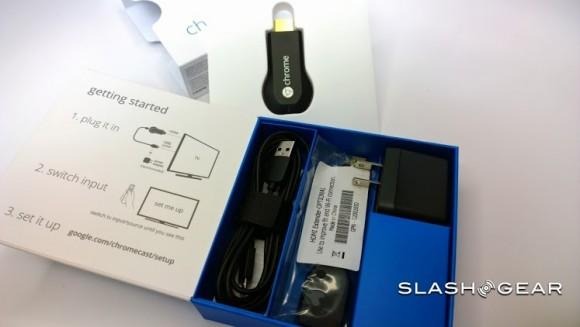 From then on it's pretty much hands-off from the hardware, unless you need to move it to another set (the power supply adds a little fuss, but you could still easily dump the whole thing in your bag when you're traveling). Connectivity is via WiFi b/g/n though only using 2.4GHz, which is a missed opportunity since we've had better video streaming results with 5GHz networks generally.
Inside, you're effectively looking at an Android phone, albeit a low-powered one. A Marvell chipset is its beating heart, paired with 512MB of memory and 2GB of storage, while wireless options include Bluetooth and FM alongside the WiFi, though they're not currently implemented.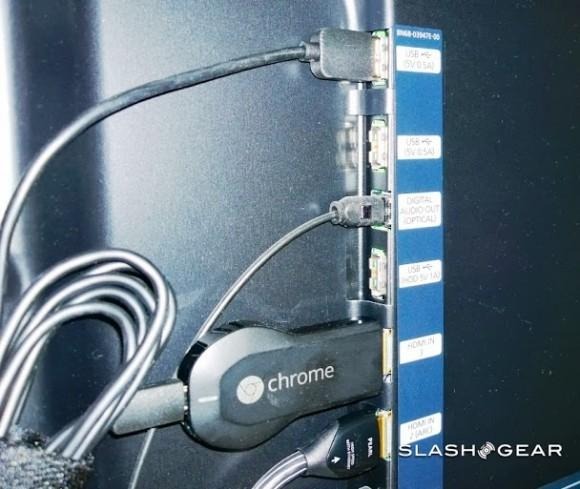 Actually hooking the Chromecast up to your WiFi network is done with the free app Google offers for Android, PC, and Mac. Beyond that, though, all control over media playback is done either within your browser (Chrome only, unsurprisingly) or through the streaming apps which support Google's Chromecast standard; there are no "master remote" media controls in the setup app itself.
Software and Performance
In use, the Chromecast basically offers two ways to get content onto your TV: from apps that support it directly, or by "Casting" content from the Chrome browser. So far, only three titles actually fall into the former category – Netflix, YouTube, and Google Play – though the solid experience they deliver leaves us hopeful that more will follow.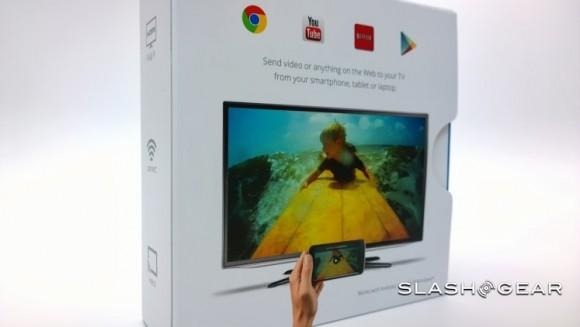 Effectively, you use your Android or iOS device (the Netflix and YouTube apps for iPhone and iPad support Chromecast, just like their Android counterparts) as a remote control and browsing pane, while the Chromecast dongle handles the video. Sifting through the catalogs of content, hitting the "Cast" button, and then choosing which Chromecast you want to stream to hands over playback duties, leaving your device free for more browsing, building a playlist of YouTube clips, or even switching to other apps or off altogether.
Just as with the communal playlist vision the Nexus Q proposed, more than one device can line up content in YouTube using the "Add to TV Queue" feature. In fact, any device with Chromecast support on the same network as the dongle can send video to it; there's no way of limiting who can send what, and to which display if you've got more than one Chromecast.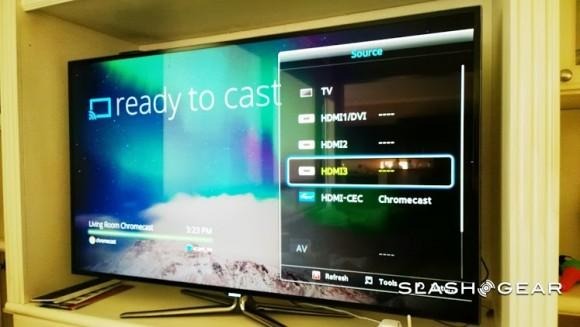 It works well, for the most part. We had a couple of glitches at times, but 720p video streamed cleanly and there's the option for 480p or 1080p depending on what headroom your network has. Switching between Netflix, YouTube, and Google Play takes a couple of seconds, no more frustrating than regular source-jumping on your TV.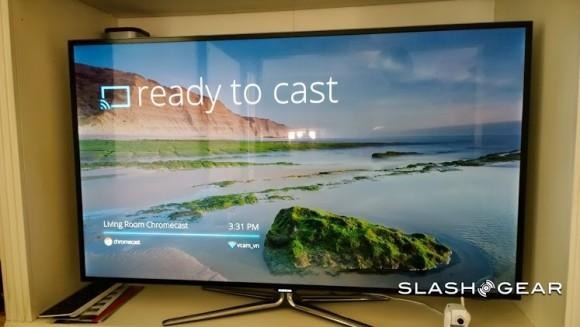 The other option is more buggy, but arguably more interesting. A new Chromecast plugin for Chrome on PC, Mac, and Chromebook allows you to stream whatever is in the browser (or, alternatively, mirror your whole display) onto your TV. Just as with the dedicated Cast button in the apps, clicking the extension opens up a list of Chromecast dongles on the same network.
Google Chromecast demo:
Regular webpages look great – though you'll likely get black bars if the aspect of the page doesn't match with that of your TV – and there's support for HMTL5 and Flash, though not Silverlight. It's screen mirroring, rather than the independent streaming in the YouTube and Netflix apps, which means that if you navigate away in the Chrome tab you'll also lose your big-screen playback.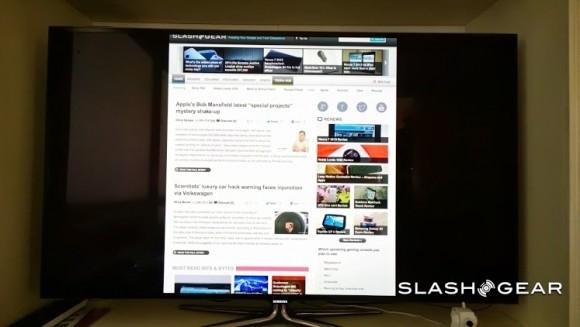 However, it works well for most services yet to support native Chromecast streaming, and in fact thanks to Chrome's support for playing local music and video files, also means you can quickly throw your own content over to the TV. Dragging and dropping media files into a browser tab opens them up on the Chromecast, with support for MP4, AVI, and MKV video and MP3 audio.
The downside is the reliance that all has on local processing. You need a machine with reasonable crunching power to encode the Chromecast stream, and if you're on a Chromebook then it'll really need to be the latest Pixel if you want anything more than a jittery mess. There's always the option to step down to 480p, but it's beta functionality and performs as such.
The Competition
The world isn't short on media streaming gadgets. Perhaps best known is the Apple TV, a $99 box to put not only iTunes content on your big-screen, but anything streamed from iOS or OS X using AirPlay. As a standard – and one baked in at OS level – AirPlay is more established than Chromecast, and it works with more apps and services, too, though you'll have to be an Apple user since there's no official AirPlay support for any other platform.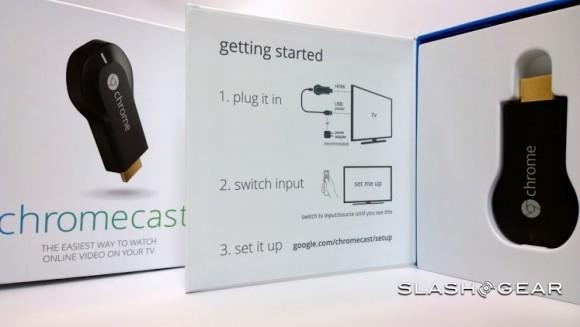 If it's Netflix streaming you want, there are various boxes from Roku, Netgear, WD, and others. Most competitive on cost and 1080p streaming support is probably the Netgear NeoTV with a street price of $39, though you don't get screen sharing with that; models with support for Intel's WiDi screen-mirroring are available, but can be double the Chromecast's price.
Wrap-Up
Google TV stagnated. The Nexus Q was (sensibly) axed before it had a proper launch. With the Chromecast, though, it's hard not to be swayed. Yes, only a few native apps have Cast options yet, but the Chromecast is just $35. True, the browser integration can be unstable at times, but the Chromecast is just $35. The whole streaming system might be naive in places, but – in case you've forgotten – the Chromecast is just $35.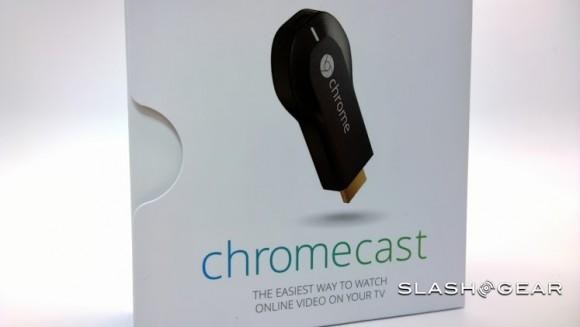 If you're hoping to get your online content onto your TV, without stringing cables or splashing out on a digital media player (or, even more expensive, a home theater PC), then the Chromecast is one of the easiest ways to do it. It'll take Google persuading developers and content providers to adopt its cross-platform streaming standard to push it into the mainstream, but even in day-one form the Chromecast has us convinced.