Amazon Fire TV Review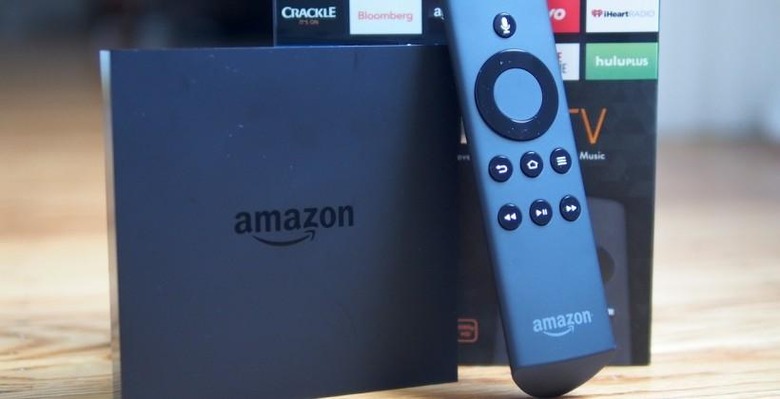 Does the world need another streaming box? Amazon Fire TV argues "yes" and says speed, voice search that actually works, and proper gaming set it apart from the Apple TV, Roku 3, and Google Chromecast. As we've seen with the Kindle Fire HDX tablet range, Amazon can certainly build some impressive hardware when it puts its mind to it, but is the Fire TV quite ready for primetime? Read on for our full review.
Hardware and Design
Amazon has gradually settled into its own aesthetic for hardware, with the Fire TV borrowing the Kindle Fire HDX's scheme of matte and gloss black plastic, and embossed logos. It's the Darth Vader of set-top boxes, all crisp edges versus the similarly-sized Apple TV's curves.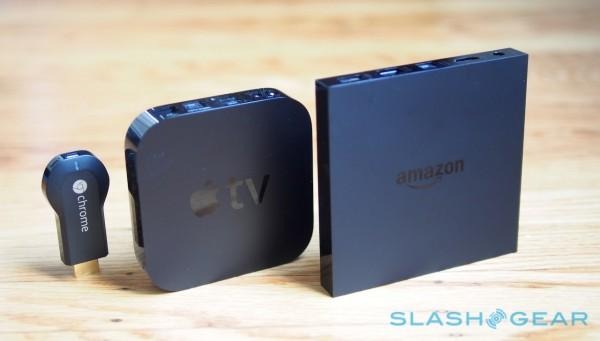 Even though it's not the Chromecast-style dongle many expected from Amazon, Fire TV isn't huge. Wider and deeper than Apple TV, though flatter, at 4.5 x 4.5 x 0.7 inches, it's certainly discreet, with only a single status LED on the narrow front panel to distinguish it.
On the back you get a power socket – Amazon unfortunately opts for a wall-wart power supply, where Apple TV manages to accommodate all that bulk internally – together with HDMI supporting 720/1080p 60fps, optical audio out with 5.1-channel surround sound, a 10/100 ethernet port, and a USB 2.0 port. Don't get any ideas about using the latter for hooking up external storage or a digital camera for easily browsing your latest shots, however, since right now the USB isn't actually used.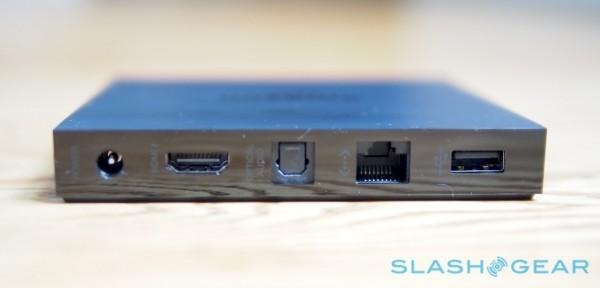 Inside is part of Fire TV's charm: a Qualcomm Snapdragon 8064 Krait 300 1.7GHz processor, paired with Adreno 320 graphics, and 2GB of memory. They're specifications you might more commonly find on a recent tablet or smartphone, not a media streamer, and they help give Amazon the grunt it needs for Fire TV to be taken seriously as a gaming platform. 8GB of storage is included, though only around 5.5GB of that is available for local content out of the box.
Plugging in an ethernet cable isn't the only way to get online, with Amazon including WiFi a/b/g/n with dual-band, dual-antenna MIMO for better throughput and range. We tested both wired and wireless connections and had no issues with either, though to avoid frustrating glitches in the middle of a movie marathon, wired is usually the way to go if you're within ethernet cable's reach of your router. We can forgive Amazon for not including an ethernet cable in the box, but opting not to bundle the necessary HDMI cable seems unduly cheap.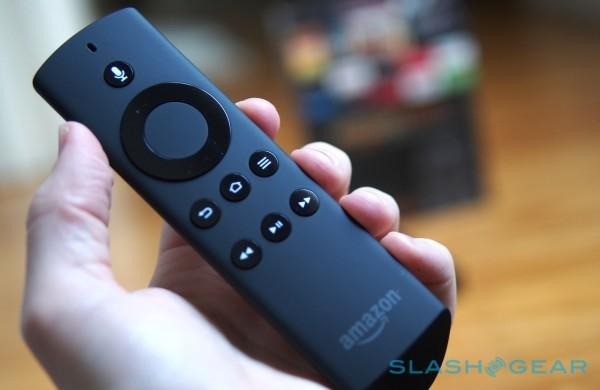 What you do get is the compact Fire TV remote, a chunky little 5.5-inch long lozenge of black plastic that hooks up to the box via Bluetooth 4.0. That means no need for line-of-sight, allowing you to tuck Fire TV away in a closed-up cabinet and still control it, but it also limits the box's support for most universal remotes. To make up for that, you can use a Kindle Fire HDX as a remote, or – eventually – Amazon's apps for iOS and Android devices.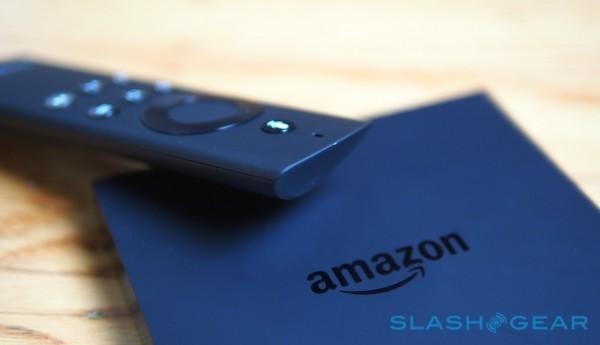 Amazon has eschewed a QWERTY layout for the remote, choosing instead to keep things simple. At the top there's a microphone and a button to trigger voice search – more on which later – along with a four-way directional pad with center select. Underneath that are two rows of keys for back, home, menu, rewind, play/pause, and fast-forward. It's powered by three AAA batteries which Amazon includes in the box.
Software and Performance
Amazon nailed the getting-started process with the original Kindle, preconfiguring devices with the buyer's account so that they're already registered the first time you turn them on. The same is true Fire TV: plug in HDMI and power (and optionally ethernet) and then the box swiftly boots; if you're opting for WiFi, you allow it to scan for networks, choose yours, and punch in the security passcode with an onscreen keyboard.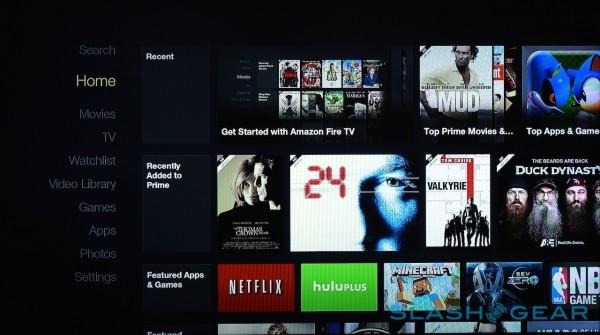 From that point on, your existing Amazon content is already available – at least, for the most part, and once you've skipped through a mildly-patronizing cartoon intro guiding you through the Fire TV experience. Movies and TV shows you've bought are there in your Video Library, but Amazon Cloud Player for music won't be up and running for another month.
Fire TV's UI isn't far removed from that of the Kindle Fire HDX, only tweaked to suit users sitting across a room staring at their big-screen TV. As with the tablets, it's Android-based but heavily modified from the kernel up to suit Amazon's purposes, with a sober color scheme predominantly consisting of black and grey, with a little gold for highlights. Apps like Netflix, Hulu Plus, and individual games get big, colorful icons that look a little like Windows Phone's Live Tiles (though they don't dynamically animate to show new content).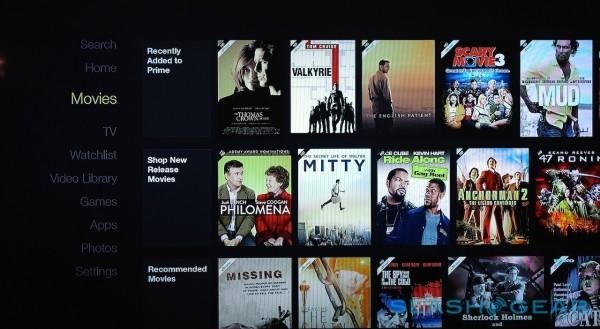 Freshly set-up, Fire TV is clearly an Amazon-centric product. While there are apps for Hulu Plus, Netflix, and others out there, you'll need to manually install them from the appstore, and then punch in your login credentials. Given Fire TV is already linked to your account, we found ourselves wishing we could do all that online through the browser, and have sign-in information pushed straight to the box.
In terms of which third-party services are available, no one platform offers them all. If you're an iTunes user, Apple TV remains your only real option; Chromecast has support for Google Play, while Roku 3 actually supports Amazon's own Instant Video, though without the bells and whistles that Fire TV includes. Right now, Amazon's box gets Netflix, Amazon Instant Video, Hulu Plus, Crackle, YouTube, Showtime Anytime, WatchESPN, Bloomberg TV, Vevo, and Pandora.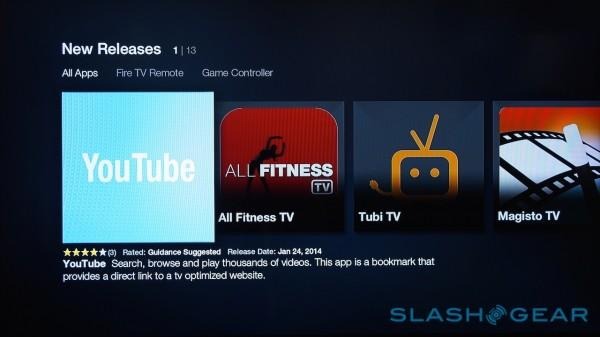 Conspicuously absent from that list is HBO Go, along with Spotify and Vudu. For some they'll be omissions worthy of passing on Fire TV; others won't care. Amazon is, of course, opening the box up to developers to port their services across, though there's no timescale for any of the high-profile omissions to be added.
Playback can be started on Fire TV itself, or using the Second Screen feature on Kindle Fire HDX. You also get X-Ray for pulling up IMDB-based show content on your tablet while you watch, synchronized to the current point in the show; Amazon says that'll be added to iOS and Android later in the year.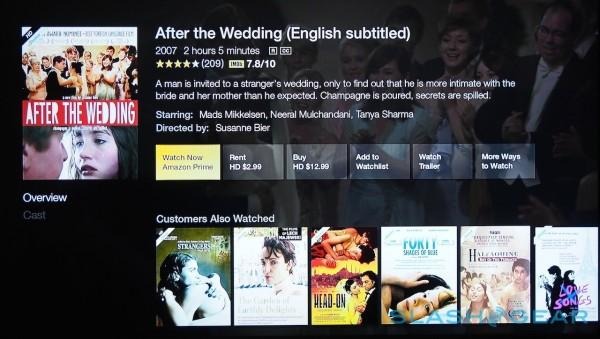 The USB port may not be active, but local playback is available thanks to Plex. Set up a computer or NAS on the same network with your video, music, and photos, and you can stream them to your TV through Fire TV. It's something we've seen to good effect on Chromecast, and is a welcome inclusion on Fire TV.
Amazon is particularly proud of how fast its new box is, and sure enough we have no complaints on performance. Boot-up is a matter of seconds, and content starts playing from Amazon Instant Video within a scant moment of hitting the play button. Similarly, shuttling through Amazon videos is smooth too.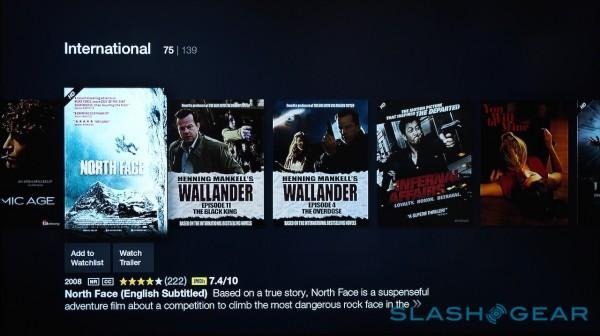 There's also the claim of predictive preloading, with Fire TV guessing what you might want to watch and then starting the download before you even hit play, though it seems it's too early to see that in action since we noticed no real difference across times. Third-party apps aren't quite so whippet-fast, but there's still a marked improvement over the speed on Chromecast, Roku 3, and Apple TV.
Playing content might be fast, but sometimes finding it can be time-consuming. Fire TV's launcher is organized chronologically: the app or game you used most recently is first in the menu. While on the face of it that's convenient, in practice it means there can be a fair amount of hunting involved to pin down what you're looking for, since there's no single predictable place it'll be.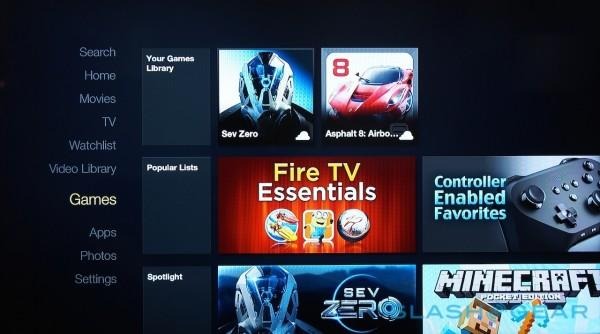 Amazon could fix that with the ability to pin a few apps in place, but as it stands we could easily see it being confusing to less tech-savvy users who rely just as much on position in a grid as they do a recognizable icon. It also falls short of being entirely consistent: individual Amazon titles are chronologically ordered, but scroll through into genres and the order there is fixed.
The other key UI frustration is how little integration there is between Amazon's interface and what third-party content providers are streaming. There's only Amazon-streamed titles in the Recent feed, for instance, and you won't get recommendations on the homescreen from any source other than the retailer itself.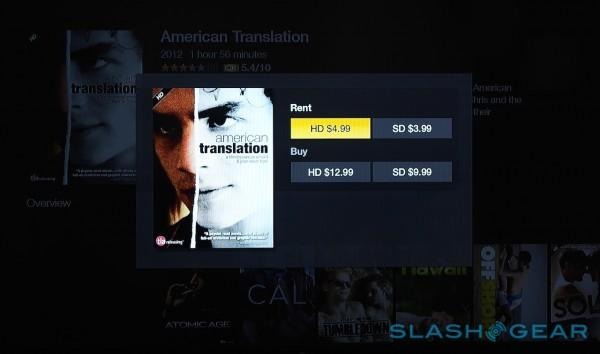 Once you find a title you like, you have to pay attention to the wording underneath. "Add to Watchlist" means it's available to purchase but not free as part of Amazon Prime Instant Video; "Watch Now" means it's free as long as you're a Prime subscriber. A small corner-tag on the thumbnail also gives a hint to which are Prime included, though it's small when you're viewing it from the couch. From within the listing, you sometimes get the option to watch a trailer, or "More Ways to Watch" which usually includes Amazon rental and purchase options in SD or HD.
Voice Search
Searching on smart TVs is typically a usability nightmare, involving frantic navigation around an on-screen keyboard pecking out words. Those keyboards still show themselves on the Fire TV at times – you're stuck with it in third-party apps, for instance – but Amazon has introduced Voice Search to try to streamline content discovery.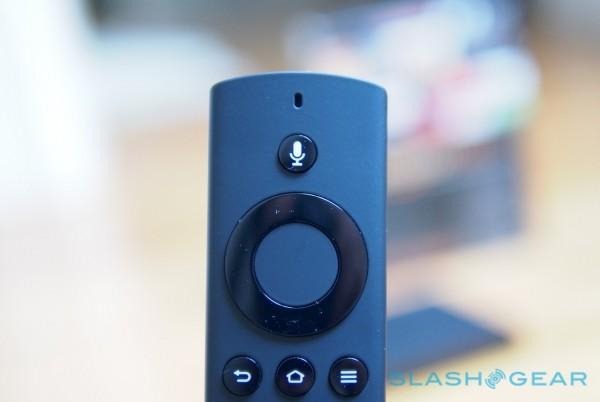 Hit the button on the top of the remote, mutter the name of a movie, TV show, actor, director, or genre, and Fire TV goes hunting. Like the rest of the interface it's definitely swift, and it's also surprisingly accurate. Some foreign actor names tripped the system up – as did saying foreign movie titles with the appropriate accent, with Fire TV happier when we butchered the pronunciation – but otherwise we were able to call out most shows and pull them up on-screen.
Unfortunately, as much as Voice Search's efficiency and accuracy impresses, its actual results disappoint. For a start it's limited to 100 results per category – movies or apps – with no way to change that. More annoyingly, it's incredibly Amazon-centric: you'll get Hulu Plus results on some shows if you're a subscriber there, but for the most part it's only Amazon Instant Video results.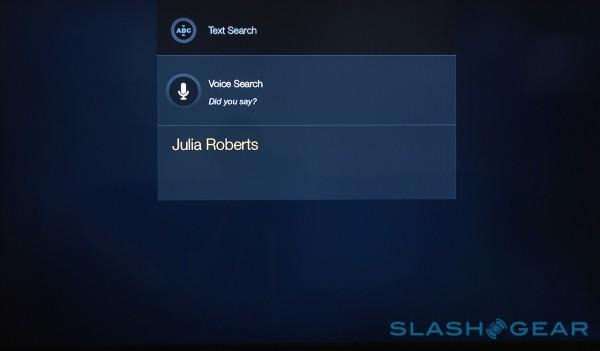 That's most frustrating when you know the same content is available on Netflix, say, or Crackle, but Voice Search doesn't go looking through their catalogs. Amazon's results may tell you whether the discovered content is available to purchase or rent for instant streaming, or available free through Amazon Prime (which isn't mandatory, but certainly makes sense with Fire TV), but we inevitably found ourselves second-guessing them all the same, and manually searching Netflix just to make sure we weren't about to pay for something a different subscription could get us free.
Amazon arguably can't be blamed for all this. As Hulu Plus demonstrates, with some background effort third-party content can be included in Voice Search (it's also worth noting that Hulu Plus looks great on Fire TV, whereas the Netflix app – like others – looks like it has effectively been ported straight over from generic Android), and Amazon isn't necessarily to fault if that process hasn't been completed yet.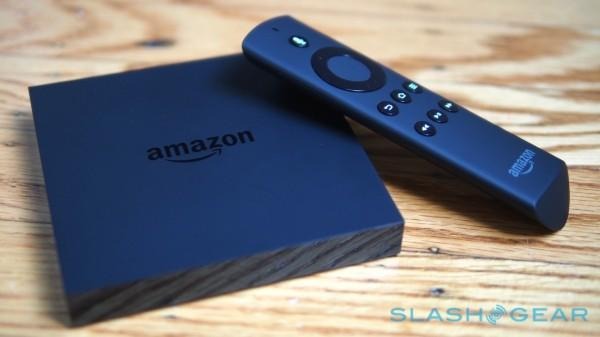 Still, no matter the culpability, Voice Search is a feature we wanted to use but couldn't quite trust to be filtering up the entirety of the eligible results. We'd also have liked to have been able to use it, Xbox One style, to navigate around, but there's no provision to use spoken commands to load apps or games. Hit the button while you're in a third-party app, meanwhile, and it'll take you right out to an Amazon search. Meanwhile, the most obvious use for it – quickly going browsing through Amazon's catalog of products – is a no-go, since shopping isn't supported at all on Fire TV.
Gaming
If speed and search are Amazon's first two selling points for Fire TV, then gaming is the third. The company has ambitious plans to make the set-top box a casual console, including using the fruits of its own game development studio at launch, like Sev Zero, effectively a Halo-style first-person shooter.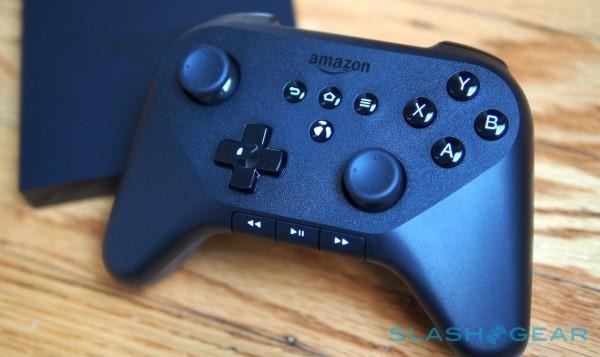 Games can be played with the regular remote, but Amazon expects its $39.99 Fire Game Controller to be popular among anyone more than vaguely serious about gameplay. That also uses Bluetooth 4.0 to connect, with several simultaneous 'pads supported, and resembles a somewhat bland Xbox controller clone.
Almost all of the key buttons from the standard remote are included for normal navigation – the big omission is a Voice Search key – but you also get two analog sticks, a D-pad, shoulder buttons, and A/B/X/Y keys. A GameCircle button for leaderboards and achievements is in the middle.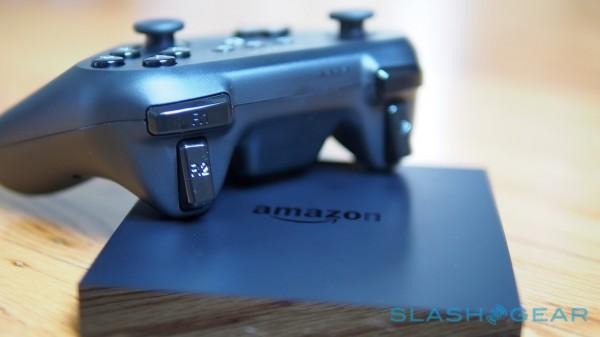 The keys are a little mushier than we'd like, but it's generally responsive, and the whole thing runs off a set of AA batteries that Amazon claims are good for up to 55 hours of use. It's also worth noting that if you've got an existing Bluetooth gamepad, the Fire TV should be able to support that, too.
As for actual gaming, think more along the lines of OUYA or an Android tablet hooked up to your TV, rather than Xbox One or PS4. The quadcore chip is certainly good enough to run smartphone games at a decent clip – we didn't notice any stuttering, even during what would be considered relatively graphically-intense stages – however these are definitely mobile games rather than "proper console" titles.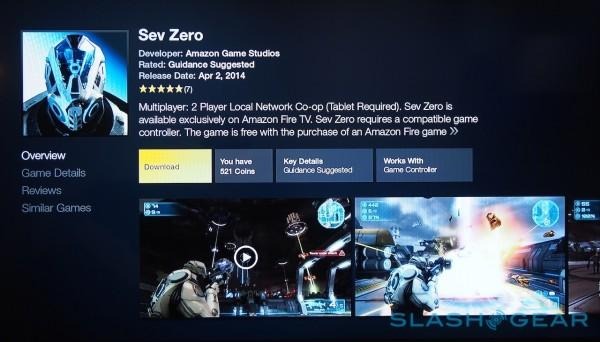 Individually, most of the games are cheap: either a couple of dollars upfront, or free and supported with in-app purchases. Deus Ex: The Fall, Asphalt 8, NBA 2K14, and Sonic the Hedgehog are all on offer, and certainly provide a distraction, but it's worth considering that – for Fire TV and official controller – you're looking at a roughly $140 setup.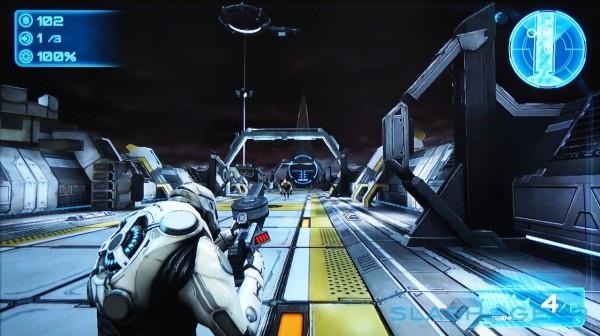 In contrast, take a step down and an OUYA is $89.99, capable of playing a similar range of games. Look slightly above, meanwhile, and you'll find you can get an Xbox 360 for $179, with graphics that certainly outclass even what the capable Fire TV can deliver. In short, right now gaming on Amazon's box feels like a useful extra, but lacks the must-have titles to really distinguish it.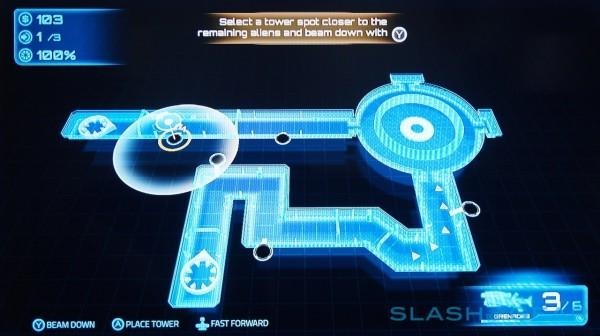 Wrap-Up
Fire TV is a first-gen product, and it feels it. For all the clear benefits – the fast processor, ease of setup, accurate Voice Search, and solid picture quality – there are still glitches. The UI can be confusing, and searching by voice ignores the vast majority of non-Amazon content.
Meanwhile, Amazon's useful Mayday on-device video support service is absent, and FreeTime – the subscription-based parental content controls – is on the roadmap but still to arrive. Cloud Drive photos show up, but not Cloud Player music. Most damning of all is the fact that you can't shop using Fire TV, despite voice searching through the virtual aisles seeming to us the fastest way for Amazon to have users filing their baskets.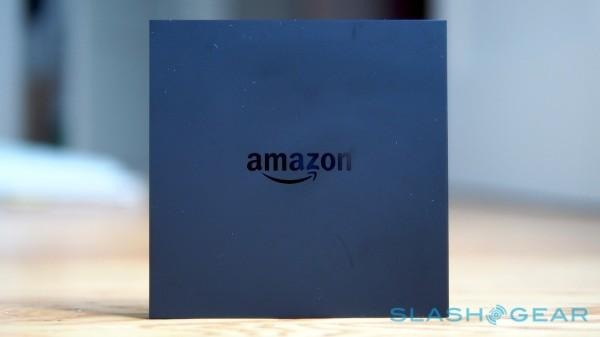 Overall, then, as we found with the Kindle Fire HDX, whether you should opt for a Fire TV or a different streaming box depends on how wedded you are to Amazon's services. If you opted for Amazon Prime Instant Video in preference to Netflix, it's a no-brainer: true, Roku 3 supports Amazon too, but Fire TV's Voice Search makes finding content considerably easier.
Fire TV arrives at a turbulent time for home entertainment. Apple TV is overdue an update, and Google's Chromecast SDK is gaining traction. Amazon's version certainly has speed on its side, but there's a sense that its potency isn't quite being fully taken advantage of yet. Were it $30-40 cheaper, it would be easier to jump in now and wait to see what comes through the pipeline, but at $99 (or nearly $140 for the gaming setup) it's a promising but not fully convincing start for Amazon Fire TV.