Razer OSVR Headset Hands-On: A Platform, Not A Competitor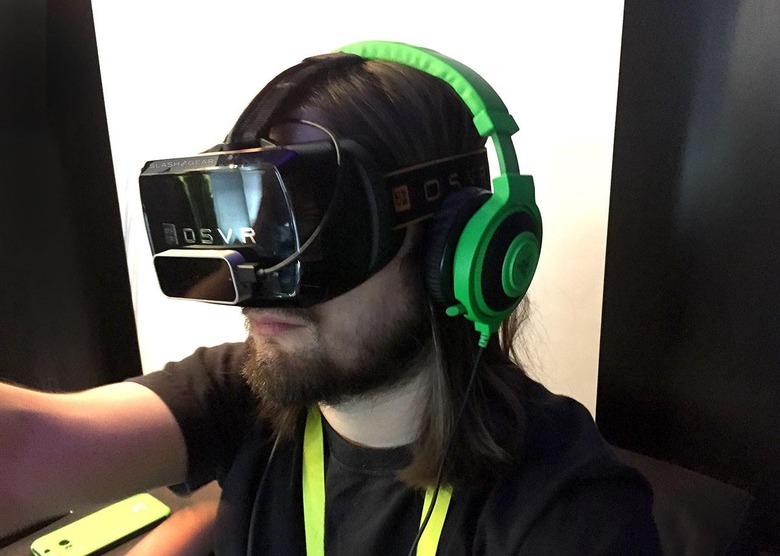 The teams at Oculus Rift, Samsung, Google, and the rest need not worry – Razer isn't really gunning for them with the VR headset you're about to see here. Instead, this unit is part of a long-term plan for Razer in which their software is utilized by other companies – in other words, this isn't a headset you're going to be buying in a store any time soon. The model we're seeing and using here is just the first step in a long-term plan by Razer to make their big play in the ever-expanding virtual reality ecosystem.
Unfortunately it's the software that's important here, it's the software we're not really able to show off well quite yet. You'll be able to tell very little about what's going on here in the video we're able to share.
What we can tell you is the innovative bits Razer is bringing to the table. One of them is in the lenses of their headset. While Razer has no immediate plans for producing this headset for the open market, they do happen to have some interesting ideas about how a future VR headset might be made – with two sets of lenses, for example.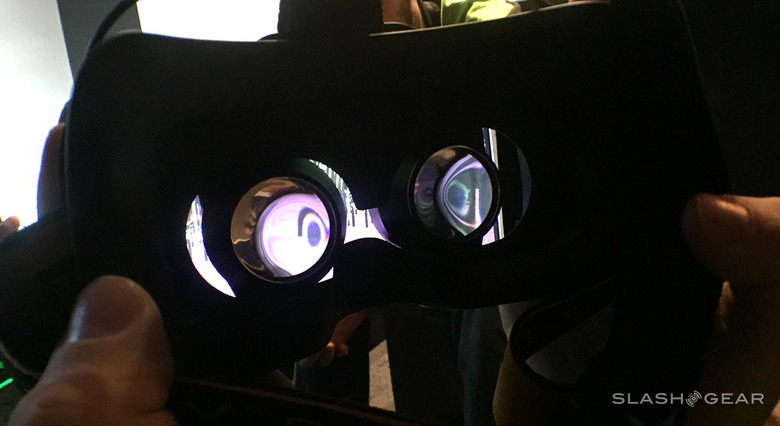 Dual-element aspheric optics allow you to see a slightly more real-feeling image around the edges of your vision. Instead of having to ignore the blur, I was able to feel like I didn't have to limit my mind at the edges of my primary field of view.
Perhaps the most important piece of innovation here on the hardware side of this initiative is the ability to adjust the lenses in the headset.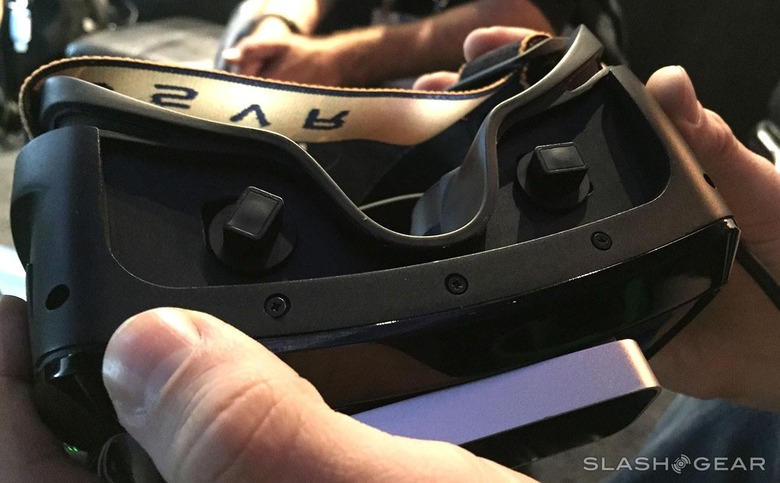 You've got 4-axis adjustments available, moving left, right, forwards, and backward, adjusting focus and making certain the eyepieces are centered on your eyes, no matter how close or far apart they may be.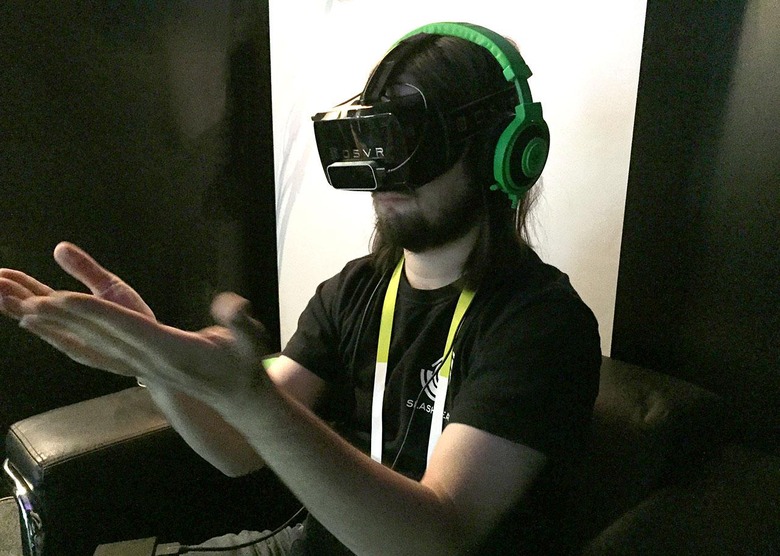 The HMD model you see here works with a sensor hub that includes an accelerometer, gyroscope, and compass. You'll be able to to connect accessories (we're not really using any here beyond a hand sensor) with a single USB 3.0 externally as well as 2x USB 3.0 connectors internally for software expansion.
Above you'll see the slightly more public demo area for the OSVR system for CES 2015 attendees. This isn't a cloak-and-dagger operation – it's made to be seen right now.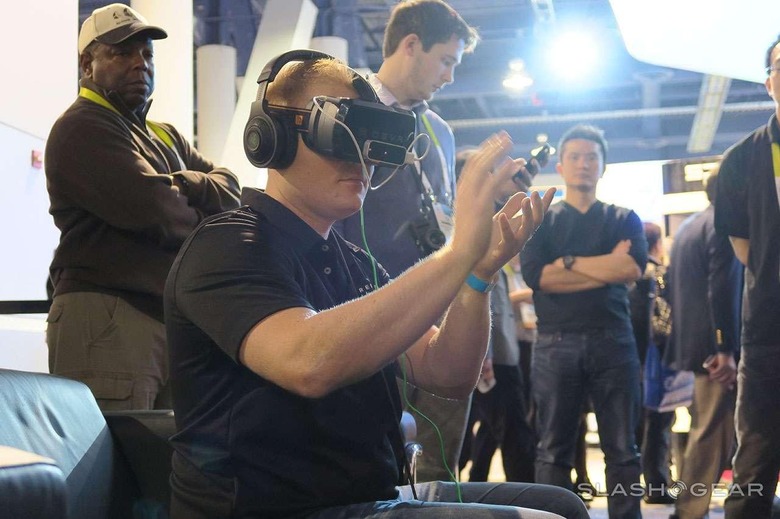 The display inside this device is not as fantastic to view as the Galaxy Note 3 display in the Oculus Rift DK2 – or the Galaxy Note 4 in the Samsung Gear VR. It does the trick, on the other hand, with 5.5-inches of screen and 1080 x 1920 pixels.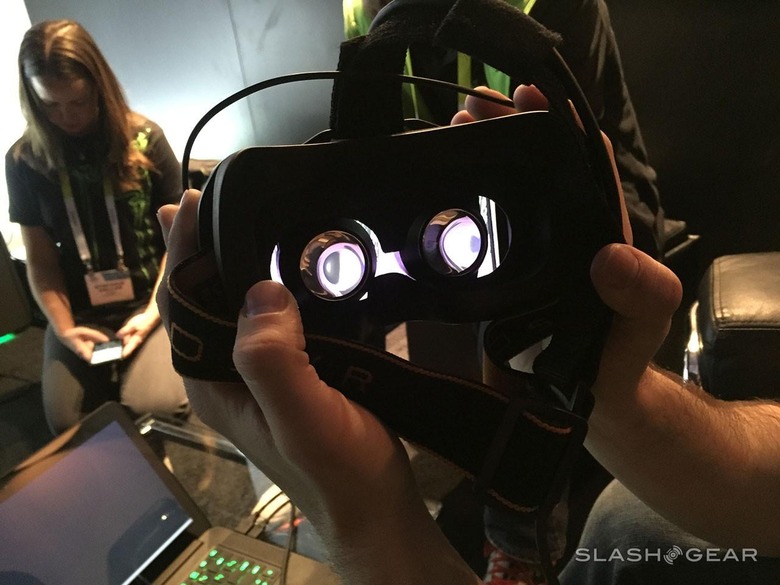 This system is able to display graphics at up to 60fps and developers will be able to switch out pieces (and displays, of course), to improve the kit at will.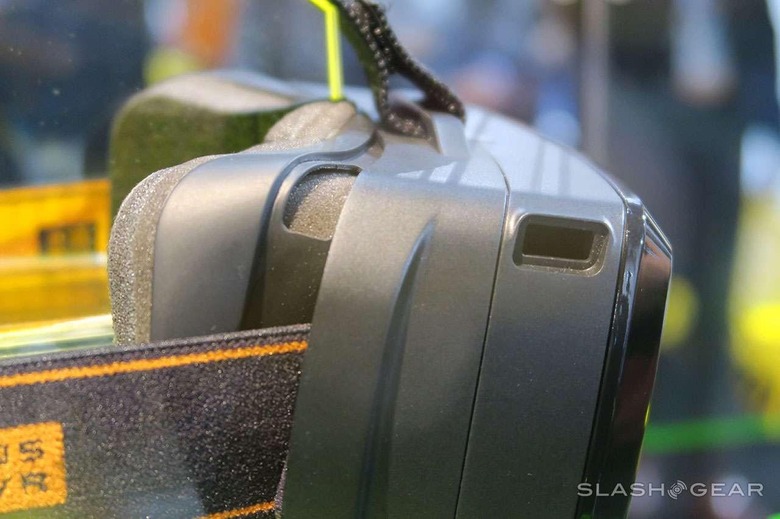 There's also a removable face mask – again, you can modify this machine to all get-out – as well as what they describe as a "bamboo charcoal microfiber foam layer for additional comfort".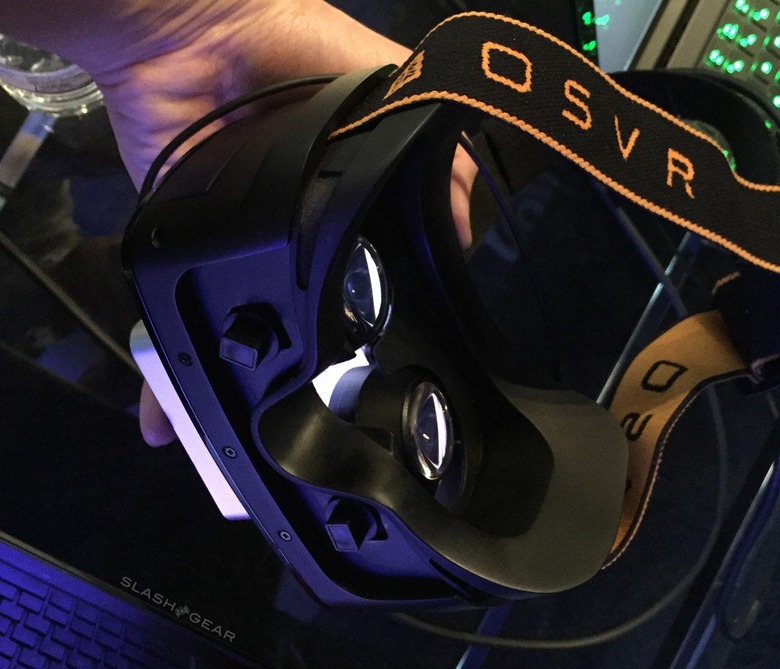 What you can take from that is that it's very comfortable to wear. It's really simple – just a strap around the back of your head and another strap over the top for additional support, but like the optics, it certainly does the trick.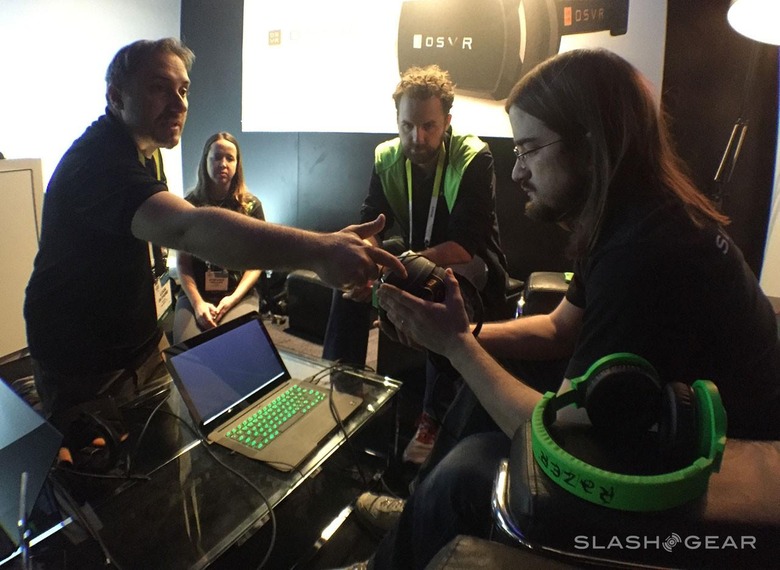 ABOVE: Razer makes clear this is a platform that's meant to be hacked. It comes apart easily, has interchangeable parts, and is meant to be a set of starting blocks for a quickly expanding VR ecosystem.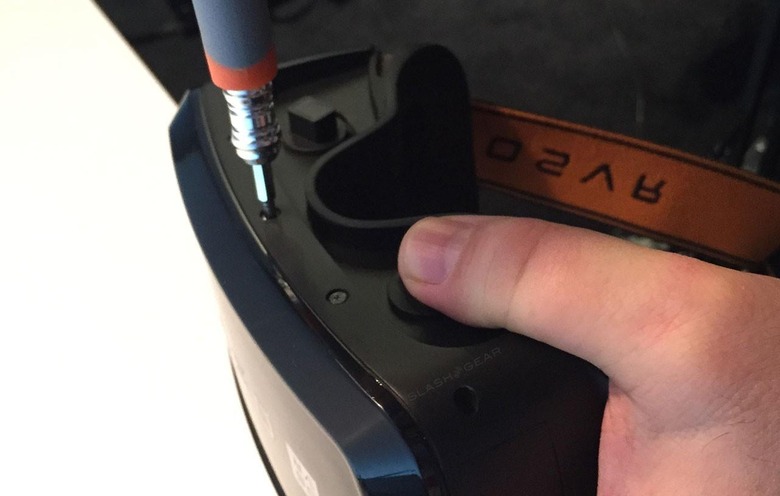 BELOW: The first kit is extremely easy to take apart and fiddle with. Very few screws and many snap-in pieces.
Razer intends to push this headset and software in the open-source environment. OSVR stands for Open-Source Virtual Reality, after all.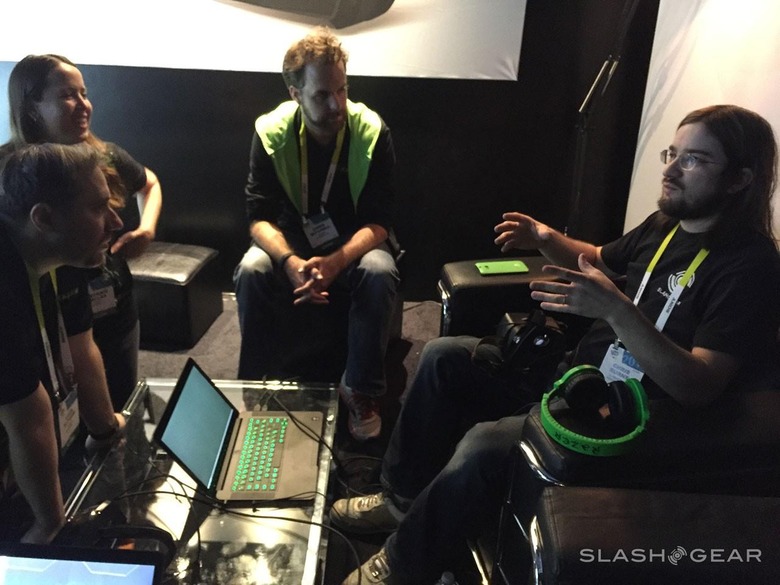 This is a development period for Razer. They're aiming to give the Virtual Reality space a jumpstart with this open source program – and they're more than willing to hear outside perspectives on how the VR world should be expanded.
Sort of like how Google distributes Android or Valve distributes SteamOS (or will soon, that is to say), Razer wants to make VR their own. At the same time, Razer wants to make VR a system that belongs to everyone – open source is open source.
We'll see more of this machine in a Hacker Dev Kit that'll be coming later this year.
Razer suggests that their system – whatever it ends up being – will be affordable as well. They say "buy at cost", and we'll be pumped to see the results.