RadioShack Soon Carrying Barnes And Noble Nook And Nook Color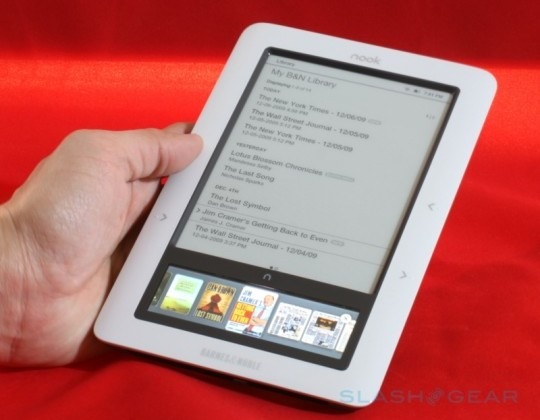 Right on cue before another big release from Barnes & Noble in the form of a autumn release of the Nook Color 2 comes a brand new carrier for the massively popular electronic reader. This announcement contains both the original Nook which is priced currently at $139 and the Nook Color which is currently set at $249. Both devices will be available at RadioShack soon, while onlookers see this as a move toward a more broad coverage of mobile computing devices at the retail chain.
This past Sunday was also the final closing of the doors of Borders, one of Barnes & Noble's biggest competitors. Whether or not this was due directly to the fact that they didn't bring their A game to the eReader court or not is still up to debate. What Barnes & Noble has here is an expanding model that's set to continue to grow through the future along with their physical book store chain which is suddenly, with the death of Borders, looking a lot more ubiquitous on the book buying circuit. RadioShack also has 4,675 stores in total in the USA and Mexico that it can add to the physical representation of the Nook.
Barnes & Noble's OTHER competitors, Amazon.com, may well be bringing out another barrel of fire in the near future with an Android tablet that's set to go up against the Nook Color directly. Word is that it's possible this eReader / Android tablet hybrid will encompass the entirety of Amazon.com's cloud computing efforts, this leaving Barnes & Noble perhaps looking to amp themselves up for the Nook Color 2 as well.
You can check our massive week-long review of the NOOKcolor back when it was one word here on SlashGear right this moment, have a look!
A Week with NOOKcolor: Hardware
A Week with NOOKcolor: Reading (aka Core Apps)
NOOKcolor Unboxing and Hands-on
A Bit of Extra Clarity for Would-be Developers of NOOKcolor Apps
and of course A Week with NOOKcolor: 3rd Party Apps and Final Wrap-Up
Also you can have a look at our original Nook review from all the way back in 2009. Time to upgrade, all you readers of eBooks!