NOOKcolor Unboxing and Hands-on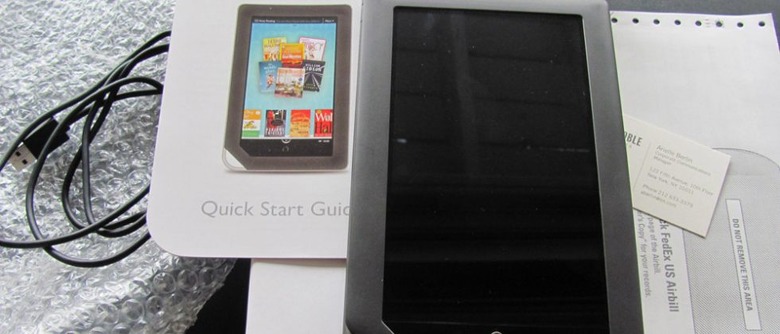 Welcome to the official SlashGear NOOKcolor Unboxing and Hands-on. I received this lovely treat in the mail at about 9AM through FedEx – joyous day! You know the NOOKcolor from its first official coming out ceremony back on October 26th (2010). This is Barnes and Noble's first fully color Nook: it's a 7-inch portable tablet aimed directly at those wishing to have a full reading experience. It costs right around $250 and is host to over 2 million titles (books, enhanced books, newspapers, magazines, and children's books.) Inside you'll see the slick box it comes in plus the accessories and feel of the device itself.
The folks at Barnes&Noble really know what they're doing as far as graphic design and packaging. This box makes the Nook seem amazing (we'll see how amazing it really is (or isnt?!) in the review.) They've got that part down. The box is thick and brilliantly printed. Once you figure out (it took me a minute) that you've got to break the circle sticker seals on the side, you realize that it's an excellent fold-back design, complete with magnets(!) to hold it open or closed.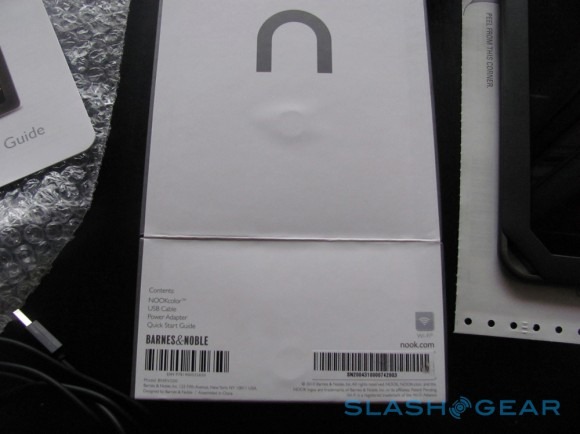 Once inside you'll find what appears to be a free-floating NOOKcolor, but in fact it is being held in place by two sturdy pieces of board padding. Alongside the NOOKcolor you'll find a beautifully laid out pamphlet roughly the same size as the device telling you how to get everything going. The reason this pamphlet seems so short and limited is because it is: the extended User Guide, it says, can be found inside your library on the NOOKcolor device itself.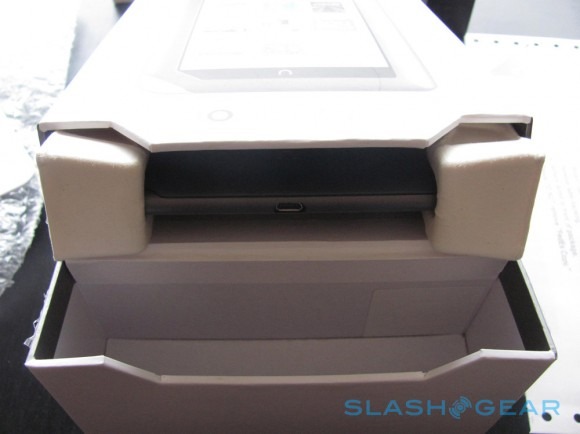 Next you'll be searching for the USB cord and wall plug, both can be found in a cute little box in the smaller end of the folded back package. I'm foolish so I wrecked the side panel with the Nook "n", of course, but you'll know right away that this box opens just like any reasonable box, right on the top or bottom. When the cord is plugged into the device, you'll see a cute little light up "n" again, in green or orange letting you know if the charge is complete.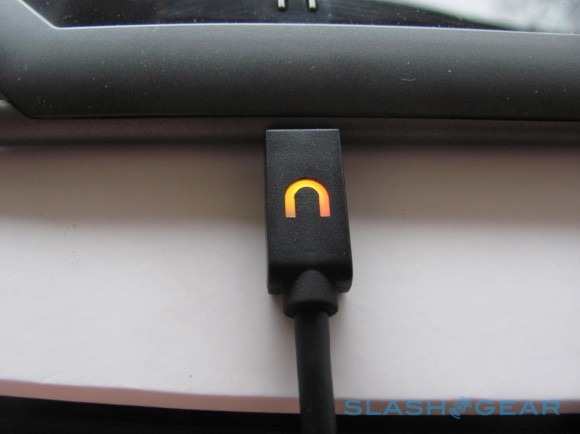 Next, you'll take a look at the NOOKcolor and think "oh let's try it out" but you cant! Take a look at the plastic protective sheet on the front of the device (I tore it off without even reading it) and you'll find that it says you'll have to plug the device in before attempting to explore it. The instant you do plug it in, however, you're able to turn it right on and start your reading adventure.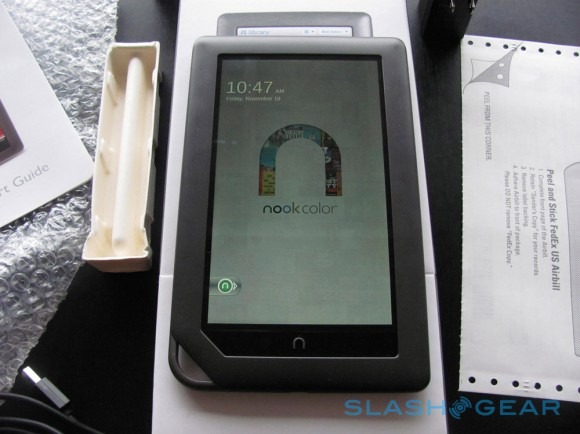 The device is medium weight – you're not holding a telephone here, this device weighs at least as much as one of those soft-cover Harry Potter books you've heard so much about. The back is rubbery and will never slip out of your hands, the touchscreen is extremely responsive (more on this in the review), and the lights are bright. I can just barely wrap my hand around the device to hold it – I expect most people to be using two hands to keep a grip whilst reading.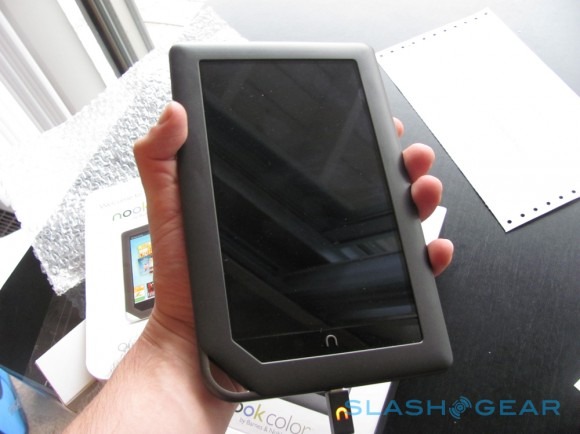 Over the next few days (I mention the possibility of just one, but I've got to dive deeper than that) we'll be taking a look at NOOKcolor and all of its neato aspects, seeing how it lives up to itself. You'll have your full review then. UNTIL then, take a peek at this sweet shaky-cam unboxing and see me struggle like a fool attempting to decipher this easy-to-understand package.
[vms d13dce35fa99fa4161c6]
Now that our "A Week With" cycle is complete for NOOKcolor, take a look at all of the posts in turn:
A Week with NOOKcolor: HardwareA Week with NOOKcolor: Reading (aka Core Apps)NOOKcolor Unboxing and Hands-onNOOKcolor DemoA Bit of Extra Clarity for Would-be Developers of NOOKcolor Apps
and of course A Week with NOOKcolor: 3rd Party Apps and Final Wrap-Up