Barnes & Noble nook review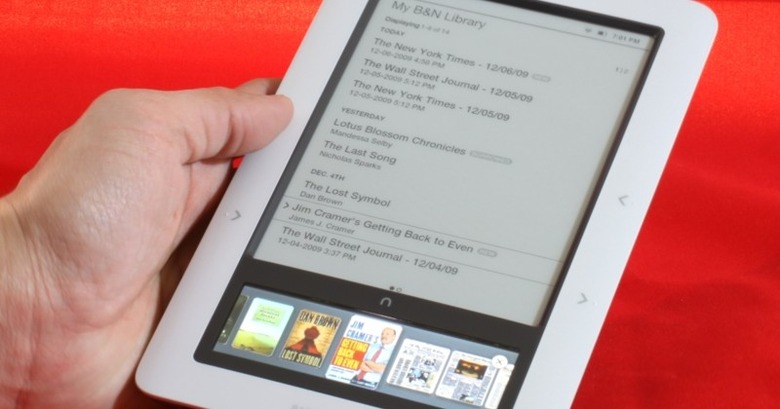 Kindle beware: there's a new wireless-toting ebook reader on the scene. The Barnes & Noble nook packs not only the backing of a serious retailer but some interesting design and usability features like ebook loaning, dual displays and touchscreen navigation. The mere promise has been enough for holiday demand to exceed supply, but does the nook experience live up to hype? Check out the full SlashGear review after the cut.Unboxing Barnes & Noble nook ereader powered-by Android:
[vms f75b90a9d49f53f15a85]
Leaving aside the question of its design origins, the nook is distinctive among the rank and file of ebook readers. At 7.7 x 4.9 x 0.5 inches it's shorter, narrower but slightly thicker than the Amazon Kindle (at 8.0 x 5.3 x 0.36 inches), and both use a 6-inch E Ink Vizplex display capable of 16 levels of grayscale. What helps the nook stand out is that, where the Kindle has its hardware QWERTY keyboard, Barnes & Noble have employed a 3.5-inch color capacitive touchscreen. While both devices have integrated 3G wireless, courtesy of AT&T's network in the US, the nook throws WiFi b/g into the mixture and, when you're in a B&N store, you'll have free wireless access; while it might seem contrary to be still trying to lure ebook reader owners into a bricks & mortar location, B&N have a few tricks up their sleeve to sweeten the deal (more on that later).

On the base of the nook there's a microUSB port – used for charging and for side-loading content – together with a 3.5mm headphone socket and (mono, despite the two grills) speaker, and you also get a microSD card slot for expanding the 2GB of onboard memory (which B&N say is good for up to 1,500 ebooks). The physical shape of the nook is slightly bowed in cross-section, with the left and right edges being thicker and then tapering in to the center; that adds up to a device that's arguably easier to hold than the narrower but flat Kindle. There's also a user-accessible battery – unlike the Amazon device – though the payoff is a slightly reduced runtime in comparison: up to 10 days with the wireless shut off, B&N say, versus the Kindle's 14 days.
Build quality is very high, and at first glance it's hard to tell that the back panel – which has a soft-touch non-slip coating – is removable. Underneath is the battery (which is held in place with a single screw) microSD slot and, blocked by the battery, the SIM card. While taking off the back cover demands some force, the quality plastics hardly flex and we don't think breakage is likely.

The primary hardware controls are large page-turn keys built into the left and right screen bezel, a pair on each side to suit both left- and right-handed readers. There's no physical volume control; everything else is handled by the touchscreen, powered by a heavily disguised Android OS. Unlike Android smartphones, which generally allow access to the standard UI, Barnes & Noble have taken pains to hide the open-source platform with their own interface. The three most common views are touch menus, a touch-keyboard – for searching (or through) ebooks – and Show Covers of titles, which can be browsed by swiping, left and right and then opened by tapping. The keyboard works well, though there's no spelling correction or word suggestion, which can mean unusual author names are tricky if you're not sure of them exactly.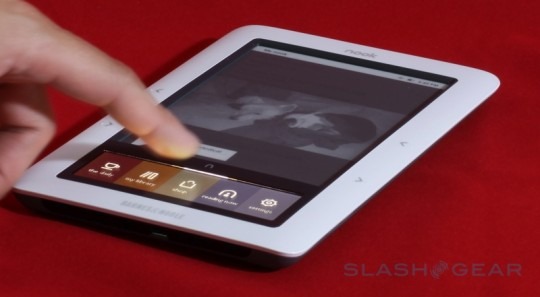 B&N's use of a touchscreen allows for faster navigation than using the E Ink panel to show menus. Whereas every menu refresh on E Ink requires the whole screen to be redrawn – and therefore a pause as the panel blacks out then comes back to life with the new layout – the LCD display is as responsive as a smartphone and of course shows color. 3.5-inches, but squeezed into a letterbox aspect, the panel is broad enough to show five book covers with the front text still legible. Since a capacitive rather than resistive touchscreen is used, finger-swipes can be light and gentle (though it also means there's no using a regular stylus, and no ability to add handwritten notes). The "n" logo called the nook button in-between the E Ink and touchscreen displays acts in a similar way to the iPhone's home key, waking the LCD if it has turned off (you can set the time-out to 10, 30 or 60 seconds, and either manually adjust brightness or leave it on automatic), and returning to the top navigation level. However we have had a few occasions where the button – which is touch-sensitive rather than a physical key – fails to register first time, and requires a second tap. It's also worth noting that the physical clicking of the page-turn buttons is reasonably loud. While Barnes & Noble isn't broadcasting the page swipe gesture feature for the touchscreen, it is available – it needs to be dark. They're working to optimize the experience – so stay tune.
Despite offsetting navigation from the E Ink panel – which consumes power only when refreshing, not when displaying a still image – the LCD seemingly consumes more battery than it saves. With wireless turned on, and if you use the MP3 player, Barnes & Noble say you'll be recharging every two days or so. We've only had our nook for a couple of days so it's too soon to say exactly what sort of runtimes you can expect from a single charge; we'll update with that information when we have it.
Format support for ebook readers is reminiscent of the situation in the PMP segment, with users demanding open standards and device providers – especially those, like B&N and Amazon – unsurprisingly pushing for DRM-encrypted files they can control. Like the Kindle, the nook isn't perfect in its roster of file-types: from Barnes & Noble, Fictionwise and eReader you'll get DRM-laced EPUB, PDB and PDF files, though there's no support for Amazon's AMZ format. You can also read non-DRM or Adobe DRM EPUB files, non-DRM PDB and PDF files, though not Microsoft Word DOC files or plain text TXT formats; similarly there's no support for LIT format or Sony's LRZ or LRX as used on their e-readers. In contrast, the Kindle throws HTML, DOC and non-DRM MOBI files, together with PRC and Audible files, into the mixture, though some of those will require conversion before they'll display. You'll not get EPUB, PDB or DRM-encrypted PDF support on the Kindle, however.
For a user new to the ebook segment it's unlikely to present too much of an issue, especially if they're content to buy their paid-content from Barnes & Noble and occasionally throw the odd PDF file on from the internet. For those who have already built up a library of files, it's a tougher sell: Kindle scores points merely by virtue of being first-to-market, and we can't imagine B&N will be happy to offer free replacements for those wanting to jump the Amazon ship. If your files are DRM-free then that makes things easier; you can't use WiFi to transfer them wirelessly to the nook, but you can side-load them via USB or microSD card, and Barnes & Noble include the necessary USB to microUSB cable in the box (together with a compact AC adapter that supports international voltages). Plugging the nook into a computer shows folders for audiobooks, "my B&N downloads", documents, music, screensavers and wallpaper.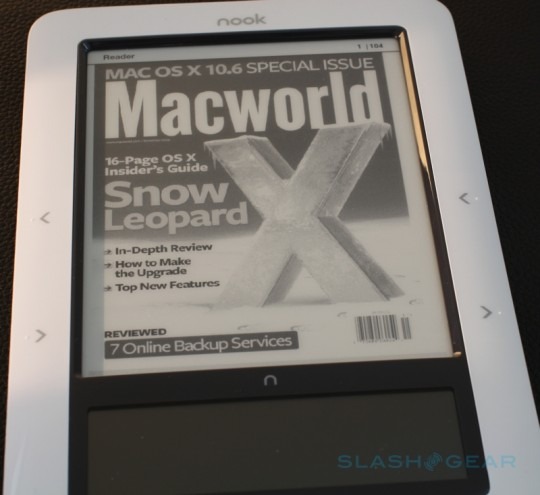 The nook automatically imports any new content into its library, whether side-loaded or on microSD card, and during that process the ebook reader is locked and unusable. We added a large amount of content initially, via memory card, and the process took several minutes; smaller amounts are obviously processed more quickly. Similarly, whenever you load new ebook content – even if that content is from the Barnes & Noble store – the nook has to "reformat" it, again taking a few moments and locking the device for the duration; this happens every time you load a file, not just the very first time. It's frustrating, but B&N tell us an OTA (over-the-air) firmware update expected early in the New Year should reduce the time it takes. Once content is loaded, it can be switched between the nook's internal storage and a memory card from the ebook reader itself.
Since the nook uses the same sort of E Ink panel as the Kindle – and most other ebook readers on the market – the actual reading experience is pretty familiar. Text is crisp and sharp-edged, with 2-3 font styles and different sizes supported, and since there's no backlighting it's an easier read than attempting to do the same with an LCD screen. Barnes & Noble also offer periodicals on the nook – which can be automatically delivered each day via the wireless connection, if it's turned on – and while the full range wasn't prepared in time for our review, these are especially formatted to suit the reader's display. The end result is a clean reading experience, similar in many ways to that on the iPhone.
Annotations are handled by the touchscreen; at any point during reading you can choose the "Highlights and Notes" option and pick from "Hide highlights", "Add highlight and notes" and "View notes for this page". Choosing to add an annotation brings up an on-screen 4-way directional pad, and you can scroll down the E Ink page line-by-line as well as left and right. Once you reach the desired point you can begin highlighting it in the same manner and then, optionally, add a text note using the onscreen QWERTY keyboard. It's also possible to edit existing notes and delete them. To be blunt it's not as straightforward or quick as jotting a handwritten note using a touchscreen, such as on some of Sony's Reader devices, but it's functional and notes are preserved across different platforms rather than solely the nook that you make them on. The nook will also allow you to view only the highlighted portions of the text in a single document, which makes reviewing key points easy.
The benefit of not being first-to-market, of course – and of having a chain of physical stores to take advantage of – is that you get to learn from your rival, heed the user feedback, and eventually one-up them. Barnes & Noble's plan is twofold, and both schemes offer a little of the experience you'd have from a traditional book. First up is in-store browsing, with the aforementioned free WiFi access in B&N stores. Rolling out in stores throughout this month are exclusive offers and content to nook owners along with discounts and the like; however, early in 2010 owners will also be able to browse the store and read not only the ebook excepts (that are available to preview anywhere you have a connection, whether 3G or WiFi) but, when in the B&N stores, complete ebooks. Such previews will be limited to an hour per book, per 24-hour period, though you can flip through as many titles as you like, even if the physical versions aren't in stock at that store. Unfortunately, since the in-store WiFi experience for nook users at B&N retail stores is rolling out through this month, we were unable to test out those features; we'll do that as soon as we can, and update with our feedback.
Second is the ability to lend ebooks between friends and family with B&N LendMe, just as you might pass around a recommended paperback. The usual period is fourteen days – though that might change on a per-title basis, depending on publisher request – and the recipient need not have a nook of their own; they can use Barnes & Noble's free eReader app which is available on PC, Mac, iPhone and iPod touch. The BlackBerry client will be updated with ebook-lending support early in the New Year, we're told, as well as versions of the software for other smartphones including Windows Mobile and Android.
LendMe distribution uses the recipient's email address, so you'll need to know which account your friend signed up with, and as with a physical copy of the book, while it's loaned out you won't be able to read it yourself (and you can only loan to one person at any one time). At the end of the LendMe period the ebook is automatically "returned", reappearing for access in your nook library and leaving your friend with a simple link to buy it for themselves. You can store a list of commonly-used email addresses on the nook, rather than entering them each time, but there doesn't appear to be a way to synchronize an address book onto the nook rather than manually inputting emails.
Update: B&N have made clear that, at launch, you will only be able to loan each ebook once, even if you attempt to loan it to a different person. We're chasing a comment on this decision.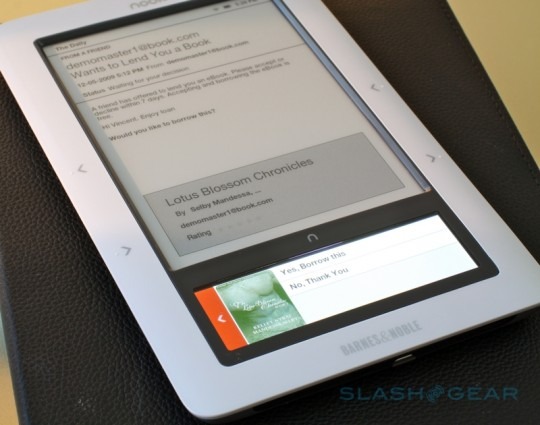 LendMe is handled by B&N's equivalent of the Kindle's WhisperNet, which come 2010 will handle bookmarks across reading platforms, notes and annotations, and periodical content. If you're the recipient of a new LendMe title, or a new magazine or newspaper edition arrives, the nook shows a notification flag to alert you to that. However, it's worth noting that – unlike the latest international-edition Kindle – you can't use the nook's 3G connection outside of the US, only its WiFi. Even then, you're not able to purchase new content aboard, only download existing titles in your digital library (but not locally stored on your nook) or receive periodical subscription updates. Similarly, despite the connectivity on offer, nook has no web browser and the B&N store is the only place you can buy content. Shutting off wireless requires a trip into the settings pages, whereas we'd have preferred an easily-accessible hardware switch to toggle it on and off.
Like the Kindle, there's a limited media-player app on the nook, which will play MP3 files though no other format. Playback control is more straightforward thanks to the touchscreen, though it's a basic experience, and you're able to play music in the background while reading, browsing the library or the shop. Audio quality is high, particularly for audio books, though unsurprisingly better with a stereo headset plugged in rather than through the mono speaker, which is merely passable. Basic image viewing is supported (as well as custom screen-savers), with the nook handling JPG, GIF, PNG and BMP formats, but absent is text-to-speech (TTS) for reading out ebooks. Since the TTS experience on the Kindle is merely passable at best, we're not especially bothered by its omission.
It's tempting to judge the nook's success by the shortage of units: order now, for instance, and Barnes & Noble say you won't see your new toy until the middle of January 2010 at the earliest. Barnes & Noble began shipping last week to the first customers who pre-ordered and they should begin to arrive with those customers mid-week . B&N is making every effort to deliver before December 25 those pre-orders made before November 20. All customers making pre-orders after that date have been give an expected ship date in January 2010 and the offer of a special holiday certificate if the nook is a gift.. Still, the Kindle's initial patchy availability didn't do it any harm; in fact it only stoked the sales interest, and we've a feeling the nook will see the same response.
Ease of use is the biggest element in the nook's favor, with the touchscreen UI perhaps the most intuitive way of navigating the ebook experience that we've tried. For first-time ebook buyers, then, we reckon it's pretty much a no-brainer: unless they travel significantly and want to buy new content while they're away, or they have a particular need for DOC or HTML compatibility, the nook's user-experience bests that of the Kindle. After all, by the time the nook is generally available, we'll hopefully have seen the impact of the upcoming software update, which should slim down reformating delays. Those who've already bought ebooks from elsewhere, however, or who are considering a leap from the Kindle specifically, have a harder choice to make. Locked-down ebook formats (not to mention hardware investment) strongly dissuade platform hopping, and while Barnes & Noble offer bestsellers and new releases at $9.99, together with half a million free ebooks, it could still be an expensive transition. We can't see that situation improving any time soon, but if we had to opt into any ebook user experience on the market right now, we'd opt for the Barnes & Noble nook.  Barnes & Noble nook website: www.nook.com
Barnes & Noble nook hands-on video:
[vms ca02b0d42dabeb8e46bb]