Pogoplug Mobile Review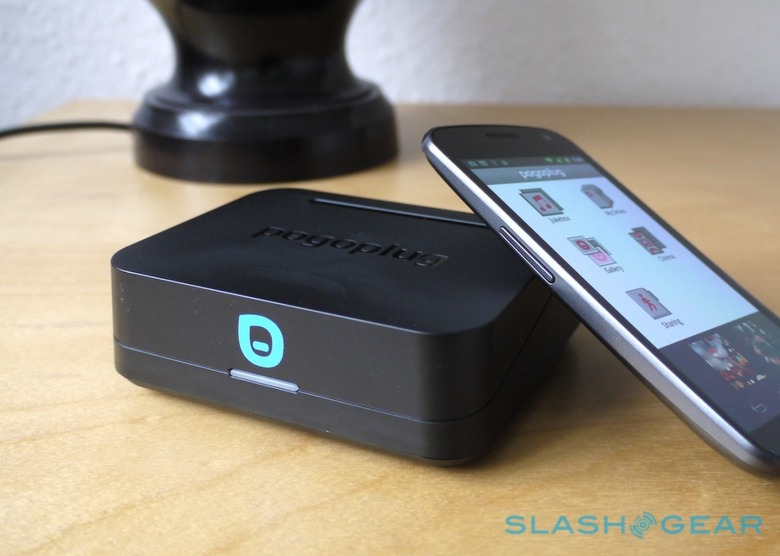 You can hardly click on the internet these days without stumbling across cloud storage, with seemingly anybody with some spare server space offering it up for offsite storage. What if you're more interested in hosting your own little cloud, though, with no monthly subscription fees but still access when you're on the move? Pogoplug has been helping set up self-hosted shared storage for some time now, but the Pogoplug Mobile promises to do it with an even smaller footprint and in a way that works seamlessly with your smartphone. Read on for the full SlashGear review.
Hardware
Pogoplug used to be known for its bright pink "internet devices"; now the company has matured into a far subtler black box with a discrete blue logo that doubles as an indicator light. It's considerably smaller than the original design, though you pay for that in connectivity: just one USB 2.0 port instead of five. You still get a gigabit ethernet port, but whereas the AC adapter was integrated previously there's now a wall-wart plug instead.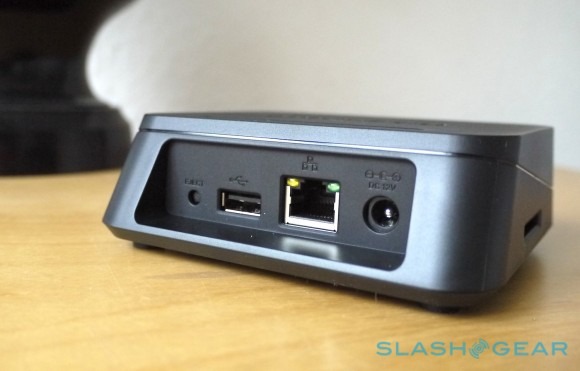 What you do get differently is a full-sized SD card slot on the side, meaning digital photographers can instantly get their pictures and videos onto the network. Those who have more external drives can step up to the Pogoplug Series 4, $20 more than the $79.95 Pogoplug Mobile, which adds a pair of USB 3.0 ports and a SATA/USM connection. The original Pogoplug v2 – now known as the Classic – remains on sale at $49.95.
Setup is indecently straightforward: plug in the power, hook the Pogoplug Mobile to your router via the included ethernet cable, and then open up the company's site to register a free account. That also gets you 5GB of free online storage, which is handy for offsite backups of your most important files. Pogoplug reckon you can do it all in sixty seconds, and as long as you've got a spare ethernet port on your router and a spare mains socket nearby, they're probably not too far off.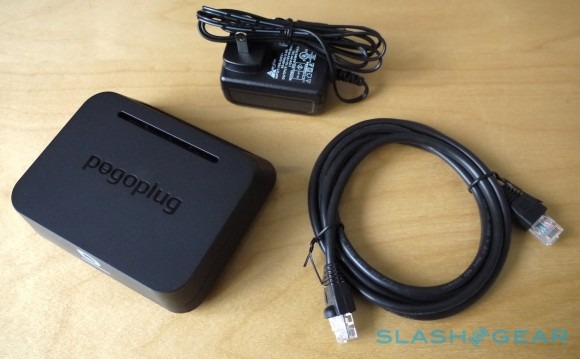 After that, it's simply a case of choosing what storage you'd like to use and plugging it in. Any USB drive should work, with mobile drives being powered from the port as usual, and you can have both a drive and an SD card connected simultaneously.
Software
Pogoplug Mobile is most easily accessed through the browser interface, either across your home network or remotely. You can, however, mount the volumes as drives in OS X and Windows for more straightforward drag/drop use. The internet-based UI offers access to files, as usual, and various multimedia sections, but Pogoplug has also released the Pogoplug Browser app for PC and Mac. That too shows files and folders, as well as gallery, jukebox and cinema sections that automatically pull out all the multimedia files on your storage and present them in a simple manner.
Files to be added to the Pogoplug can be dragged and dropped straight to the Pogoplug Browser app, and there's sharing support as well to make firing off photos or other content via email or other routes easy. You can also set up an auto-sync folder that automatically copies any files saved to it over to a dedicated folder on the Pogoplug storage.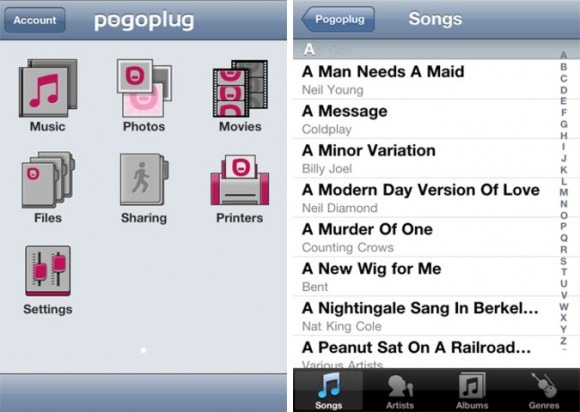 It's the mobile apps that the company is really pushing with this new model, however. Versions for iPhone/iPod touch, iPad and Android are available, each a free download, with generally the same remote access options as the desktop software. You can browse through files/folders, stream photos, music and video, or download multimedia directly to the local storage on your handset. Conversely, you can set the apps to automatically upload photos and videos taken by the phone to your Pogoplug Mobile storage, meaning they're ready and waiting when you get home. It's a little like Apple's iCloud, only with cross-platform support for both iOS and Android devices.
Performance
The bottleneck of the Pogoplug Mobile's data-transferring abilities will inevitably be the USB 2.0 connection; factor in the inherent shortcomings of even 802.11n wireless networks and it's inevitable that for most users access speeds will be significantly curtailed in comparison to a directly-connected drive. Still, we were able to watch an HD video stored on a USB 2.0 drive and streaming over an 802.11n WiFi connection to our laptop.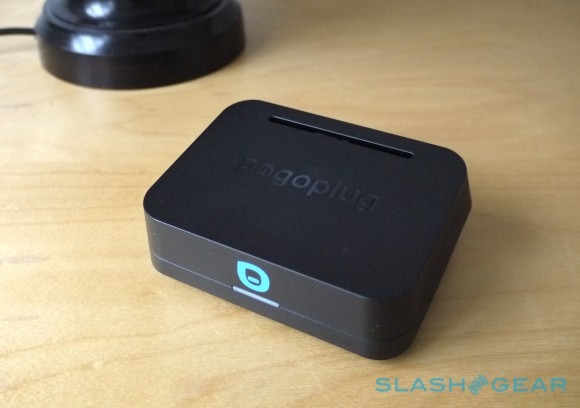 On the move, the mobile apps are very much dependent on your connection – both the download speed of your mobile network and the upload speed of the broadband connection the Pogoplug Mobile itself is connected to. Whereas you can generally rely on a commercially-hosted cloud storage service having a fat upload pipe, most domestic upload speeds are a fraction of the download speed.
That's not so great an issue for accessing the odd file, browsing a photo gallery or even streaming music, but video could be a trickier issue. The mobile apps offer a choice of watching the original format clip – as long as you have a suitable playback app to handle the codec – as well as an "optimized" version that the Pogoplug Mobile converts into a more mobile-friendly format. The downside to that is the time and space required to actually do that transcoding; you can set it to automatically convert all video or do so on demand, the former obviously occupying space on your hard-drive, and the latter generally proving too slow when handling 720p/1080p original files to watch the clips when we actually wanted to.
Wrap-Up
Compared to regular cloud-storage services, the Pogoplug Mobile costs more upfront – the $79.95 unit itself, and then whatever storage you choose to plug in – but, with no subscription fees, less over time. If you've already got a USB drive you're halfway there; alternatively, there are dual-HDD USB drives that you could plug in if you want some hardware redundancy. Since the Pogoplug Mobile itself is fanless, if you opt for an SD card then you'd have a silent, cool-running storage device that's easily hidden away.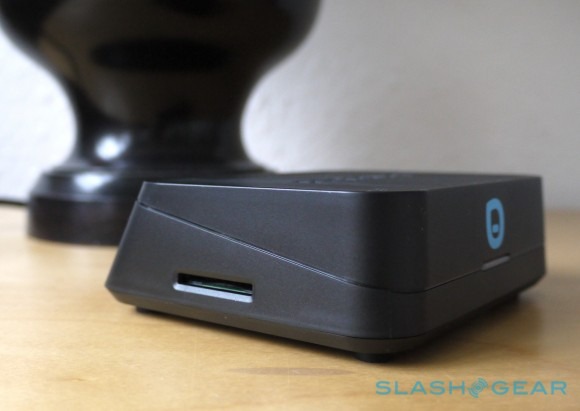 Alternatively, rely on USB drives for regular storage and then SD cards for when you want to quickly review the photos you've just taken on a tablet or phone which lacks a full-sized memory card slot (in other words most of them). It's certainly convenient, as is dumping all your photos, music and video onto a single drive and streaming them around the home, rather than maintaining copies on each computer and gadget.
Those who can put up with a little noise and who aren't bothered by SD compatibility might choose to grab the Pogoplug Classic, saving money and getting some extra USB ports in the process. For most mainstream users, though, the Pogoplug Mobile ticks most of the important boxes: ease of setup, ease of use and low cost of ownership.